Germany Three Tenors: Voices for Eternity – 30th Anniversary Event:  a film (90 mins) from C Major Entertainment and Signed Media Produktion and screened by Cinema Live in the UK and selected places in Europe from 6 October with Australia and New Zealand to follow on 22 October. (JP)
As some advertising for Three Tenors: Voices for Eternity suggests 'As opera houses remain silent and football stadiums are empty of supporters, fans can relive the moment history was made by The Three Tenors in Rome 1990, and remember the night when the "Beautiful Game" crossed a cultural divide and changed classical music forever.' It also becomes true that the recent pandemic – with no current end in sight – has blighted the cinema industry and there is nothing much to see at your local multiplex that you can't find online or stream elsewhere, or – of you are 'old school' – already have on DVD/Blu-ray.
To be truthful you may already have Voices for Eternity because if you have purchased the recent Decca 30th Anniversary 'special edition' release of this legendary Three Tenors concert, it included this 'making of' documentary. If you haven't seen it, to see and hear how that great night at the ancient Baths of Caracalla in Rome on 7 July 1990 came about is fascinating; though if you had seen Ron Howard's recent tribute to Luciano Pavarotti (reviewed click here) you will see some of the same (back)ground retrodden again.
We heard first from its producer Mario Dradi saying how 'I've read many stories about this concert; I've read about many fathers but I'm the mother. There is a Latin saying, "The father is doubtful, but the mother is certain" and that's me, I'm the mother.' The idea to put something on at the forthcoming World Cup gestated in in the middle of 1989 at a dinner with the Major of Rome following a José Carreras concert that Dradi (his manager) was at. Carreras had already sung ten concerts in Rome and urged them to 'come up with something different'. That they certainly did, and the rest is classical music history.
The first meeting was at a hotel in Rome later in December and with José Carreras, Plácido Domingo, Luciano Pavarotti, and Maestro Zubin Mehta 'on board' and around a piano everything began to take shape. Certainly, throughout the film you can clearly appreciate that placating the three of them cannot have been an easy task. Indeed, Dradi says 'It's true that there was a lot of competition between Pavarotti and Domingo, not to say, even a tiny bit of antipathy, professional, or even, personal.' According to Norman Lebrecht – the first of a number of 'talking heads' we hear from – there was actually 'terrible envy' but 'shared sympathy for Carreras'.
It is Carreras who comes best out of Voices for Eternity and we are reminded by Seattle oncologist Rainer Storb of Carreras's stem cell transplant for acute leukaemia and his subsequent remarkable recovery; not just to live a long life but also to sing as well as ever. For Pavarotti – who Lebrecht called 'the leader of the pack' – 'The most important reason [for the concert] was José coming back to life, coming back to our world of opera.'
There is lots of rehearsal footage in the run-up to the July 1990 event and – at least for their first Three Tenors concert – Carreras says, 'We had a lot of fun, let me tell you.' All three wanted to do their party pieces it seems and as Mehta rightly said, 'Each one could have sung all the arias, it was their repertoire'. It was Lalo Schifrin's medley that for Carreras 'really interested people' in this concert, as well as their future ones. Unforgettable is the – apparently hastily arranged – Rome encore of 'O Sole Mio' with Pavarotti's interpolated trill being a thing of beauty and the subsequent one-upmanship it engenders. In the present day, how wonderful it was to hear – a now extremely fragile – Schifrin reminiscing about his medley arrangements and watching him play his famous Mission: Impossible theme at the piano.
We heard from TV director Brian Large who explained how he wanted to bring Rome 'to the screen' and how Pavarotti was convinced no one would come, though the tickets could have been sold many times over. Nobody expected it to have any lasting impact although it was watched by a global audience of 800 million. In the end – perhaps to their surprise? – Decca cashed in selling 500,000 records over three days, a million and a half within seven, and three million within a month!
The film will leave you with the impression that this 'fun' might have stopped once the money men got involved, whether they were executives at Decca Records or subsequently Tibor Rudas – who working with Pavarotti – we heard 'milked it as much as he could' and had the reputation as a 'bully'. At least for the first concert in Rome all proceeds were donated to charity. Nevertheless, as the money went up it was good to hear from Dr Storb how Carreras used his money 'to feed into his Foundation' that continues to fund research into finding a cure for leukaemia.
It becomes increasingly evident, however, that as Dradi says 'the first concert was made mainly from the heart, the others came from the head and the wallet', especially when Hollywood discovered the Three Tenors for a repeat performance in Los Angeles's Dodger Stadium in front of 56,000 at the 1994 World Cup. There Pavarotti is featured singing 'My Way' in front of Frank Sinatra who we see mouth 'Bravo!' and give the three of them a standing ovation. After LA which reached 1.3 billion people there was a world tour during 1996/7 and in 1998 there was a final World Cup hurrah in Paris.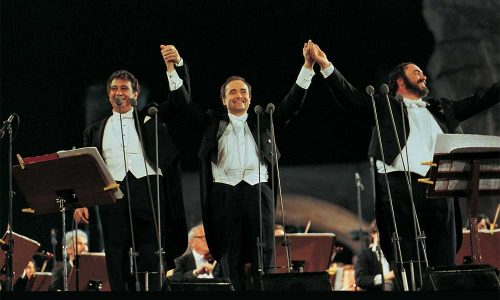 Many of course are ambivalent about Plácido Domingo because of recent allegations, though it is easy to agree with Bryn Terfel that he was a 'singing-actor undoubtedly'. Of course, Pavarotti died in 2007: as his widow Nicoletta Mantovani reminded us, he created 'a big emotion in the heart of the listener'. What a remarkable instrument it was, the like of which we will never hear again. Carreras also had a most beautiful voice, though without the ease of Pavarotti's. He was clearly the best musician of the three as he didn't need the score in front of him as much as his two colleagues.
It is the nature of films like this that they are afraid of letting the music do all the talking it needs: no aria or song seemingly goes uninterrupted by someone saying something and not all those we hear from have something useful to add (mentioning no names). This extended to Lebrecht's carping how the Three Tenors bandwagon was 'really bad for music, really bad for opera. It was the beginning of the pop-isation of classical music'. Does that mean classical music should be reserved for just a privileged few? I profoundly disagree and if there is one good thing about this dispiriting global pandemic it is how accessible a diverse range of performance has now become thanks to live streaming. Is popularisation of classical music – which began long before The Three Tenors – really such a bad thing?
Part-celebration and part-dissection, if you need a night out and want to spend 90 minutes in the company of three of the greatest singers in the history or opera with their voices at their prime, then this will be for you and it is thoroughly recommended.
Jim Pritchard
For more about Three Tenors: Voices for Eternity click here.