Switzerland Schumann, Schubert: Daniel Müller-Schott (cello), Lausanne Chamber Orchestra / Simone Young (conductor), Tonhalle Maag, Zurich, 19.10.2020. (JR)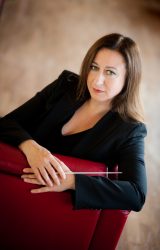 Schumann – Cello Concerto in A minor Op.129
Schubert – Symphony No.6 in C major D.589
This concert should have featured the Budapest Festival Orchestra under the baton of Iván Fischer with Britten's Four Sea Interludes from Peter Grimes, Liszt's Second Piano Concerto and Beethoven's Fourth Symphony. Coronavirus put a stop to that when Hungary went onto Switzerland's 'red' list. The concert organisers and financial sponsors, Migros Kulturprozent Classics, quickly organised the Mozarteum Salzburg but Austria also came under the cosh of the pandemic. Locals had to be found in the shape of the Lausanne Chamber Orchestra, of whom I had heard good things from our critic in Geneva, so was keen to hear them first-hand. Migros persuaded them to bravely cross the Röstigraben, the mythical ditch full of potato 'Rösti' which separates the German and French-speaking parts of Switzerland, just west of the Capital Berne, rather like Offa's Dyke.
The Schumann Cello Concerto is not a particularly popular work, though definitely gaining familiarity. Its difficulty lies in the fragmentary first movement, where Schumann does a great deal with a short melody ('Amazing what Schumann does with just three notes' uttered my neighbour). It was never performed during Schumann's lifetime, and spent many decades in obscurity. There is also, some double-stopping apart, a paucity of passages written to display the technical skill of the cello soloist, though he hardly gets a breather. The slow movement is short, lyrical and inward-looking; here the rich tone of Daniel Müller-Schott's 1727 Venetian instrument shone through and kept the audience rapt. The third movement finally displays some of the exuberance and colouring evident in Schumann's symphonies. I enjoyed Müller-Schott's performance, not as passionate as played by Jacqueline du Pré, not as astringent as others. Intonation was flawless with no hint of histrionics. Trained by Heinrich Schiff, Steven Isserlis and Mstislav Rostropovich, and coached by Anne-Sophie-Mutter, his talent is for all to hear. Simone Young was a very sympathetic accompanist, always ensuring the soloist had the limelight. By way of encore, we were treated to Pablo Casals version of the Catalan lullaby 'The Song of the Birds' – don't cellists have other encores?
Schubert's Sixth Symphony is now nicknamed the 'Little C major' to distinguish it from the Ninth. When Schubert wrote it, aged only 20, he dubbed it 'The Great C major', little knowing what masterpiece he would write three symphonies later. Simone Young caressed each bar and injected vigour and a sense of fun into each movement. Galloping ponies came to mind in the refreshingly light first movement, gracefulness in the slow movement, attack and dance in the foot-tapping Scherzo: Presto reminiscent of Beethoven's Seventh Symphony (written just a few years earlier) and effervescent spontaneity in the Finale. The performance was greatly enjoyable.
It is a sobering thought that Schubert never heard any of his symphonies performed in concert, while his Sixth Symphony was the only one he heard played in rehearsal, albeit with an amateur orchestra. Performing Schubert symphonies with a chamber orchestra may deprive the listener of a sonic feast but instills a high degree of authenticity. This performance was by no means Schubert-lite, with plenty of hard-hitting accents from the strings and timpani. Fewer strings (three desks) made for a clarity of textures and gave prominence to the orchestra's superb woodwind section. I was greatly impressed by the sound and discipline of orchestra, all playing with masks (other than – of course – woodwind and, strangely, the timpanist) though surprisingly not socially distanced and sharing music stands. That this ensemble is of the highest quality should not surprise, given the stature of their Music Directors over the years; founded in 1942, the orchestra has counted amongst its Artistic Directors Armin Jordan, Lawrence Foster, Jesús López-Cobos and Christian Zacharias. Current Music Director Joshua Weilerstein makes way for Renaud Capuçon next September.
Simone Young, after many years mainly in German-speaking lands and in the States, will return to the Sydney Symphony Orchestra (in her homeland) in 2022. She conducted this symphony without a score and was captivating throughout. She brought a great sense of drama but, above all, a sense of flow and radiant joy to this charming work.
John Rhodes