United Kingdom Fanny Mendelssohn, Berg, Bizet, Poulenc, Satie: Louise Alder (soprano), Roger Vignoles (piano), with Julien Van Mellaerts (baritone, Les mamelles de Tirésias). Wigmore Hall, 9.10.2020, reviewed on Wigmore Hall's YouTube. (CC)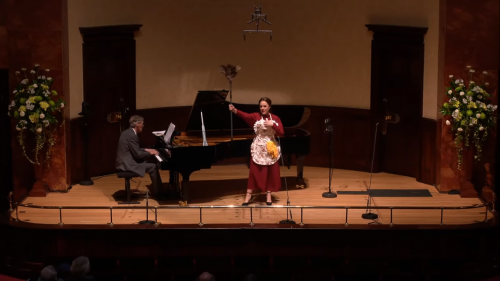 Fanny Mendelssohn – 'Bergeslust', Op.10/5; 'Warum sind den die Rosen so blaß', Op.1/3; 'Nach Süden', Op. 10/1
Berg – Sieben frühe Lieder
Bizet – Vingt mélodies Op. 21: No.17 'Chant d'amour'; No.2 'Ouvre ton coeur'; No.16 'La coccinelle'
Poulenc – Métamorphoses
Satie – Trois Mélodies ('La statue de bronze'; 'Daphénéo'; 'Le chapelier')
Poulenc – Les mamelles de Tirésias ('Non, monsieur, mon mari')
Satie – 'Je te veux'
Magnificent, sophisticated programming was one component of enabling this to be a most satisfying recital. But more than that was the excellence of Louise Alder and the ever-sensitive pianist Roger Vignoles. They began with 'Bergeslust' ('Mountain Rapture', words Eichendorff), the last song that Fanny composed, and whose final words appear on Fanny's own tombstone as epitaph. No trace of death in this freshest of songs, the somewhat Schubertian atmosphere (think Die schöne Müllerin) perfectly captured by Vignoles's ever responsive, rhythmic playing and Alder's fresh voice. 'Warum sind die Rosen so blaß' ('Why are the roses so pale', Heine) was suffused with sadness, the phrases naturally rising and falling.  The final Fanny Mendelssohn song of the group, 'Nach Süden' ('To the South', words Wilhelm Hänselt), supremely fresh (and a tricky piano part, too).
One might have thought that to Berg's Sieben frühe Lieder (Seven Early Songs) would be a huge step, but these exquisitely fragranced miniatures clearly sit on the cusp of late Romanticism and the later extensions of the Second Viennese School. The slowly swirling harmonies of the opening 'Nacht' (words Carl Hauptmann) led to a meditatively ecstatic plea 'Trinke Seele! Trinke Einsamkeit' ('Drink, soul, drink solitude'). 'Schilflied' ('Reed Song', text Nikolaus Lenau) held huge Innigkeit, opening out naturally into that echt-Romantic Lied, 'Die Nachtigall' ('The Nightingale', Theodor Storm). Alder's German diction is superb: we hear every syllable, but nothing interrupts the line.  Inevitable that a song entitled 'Traumgekrönt' ('Crowned with Dreams', Rainer Maria Rilke) would take us into more subjective, near-Expressionist harmonic realms, and so it is, as Berg's harmonies align themselves closely with the palette of his Op.1 Piano Sonata (the songs were written 1905-8, the Sonata, 1909). Alder opted for simplicity of utterance for the first word, 'Herbstsonnenschein' ('Autumn sunshine') of 'Im zimmer' ('In the room', Johannes Schlaf), a structurally-derived decision to ensure maximum contrast to the mystery of 'Liebesode' ('Ode to Love', Otto Erich Hartleben), and the final 'Sommertage' ('Summer Days', Richard Stokes), an impassioned outpouring that found Alder's voice flying to the furthest reaches of the Wigmore Hall. A fabulous performance, and a reminder of the stature of this group of songs (in its time much enamoured of the late great Jessye Norman, of course, whose London performances with Pierre Boulez still live on in my mind …).
Bizet offers a huge contrast; from Austria to France and the glorious melodic flow of 'Chant d'amour', the Spanish-inflected 'Ouvre ton coeur', and the witty 'La coccinelle' ('Ladybird'), this last with piano contributions of the utmost beauty. Alder lives her songs, and nowhere more than here.
The piece Métamorphoses by Poulenc comprises three pieces, two fast surrounding a beautiful, central mélodie. It was the quicksilver final song that impressed the most. Three Satie mélodies are characteristically quirky in terms of poetry set (a Bronze frog furnishes the subject of the first, for example), but how wonderful to hear these exquisite miniatures. Satie's voice is immediately his own, offering plenty of opportunities for Alder to bring the songs to life, inimitably.
Magnificent comedy follows with the opening of Poulenc's opera Les mamelles de Tirésias, with Alder entering with a feather duster and an apron and joined, in time by Julien Van Mellaerts. A couple of small balloons that had nestled in Alder's chest and a stick-on moustache were, it turned out, yet more props. But it was the combination of characterisation, diction and vocal beauty that made this so special. Van Mellaerts dressed in a most colourful bow tie (there was a suit, as well) was an ideal foil for Alder.
The waltz-song 'Je te veux' by Satie was the final offering, sans Mellaerts, its risqué text accompanied by a deliciously slinky piano part.
A recent disc by Alder of Richard Strauss's Brentano-Lieder with the Deutsches Sinfonie-Orchester Berlin under Robin Ticciati reveals all the strengths heard at this recital (see my blog post click here). But do catch Alder and Vignoles's recital: it is up on the Wigmore website for a month.
Colin Clarke