Pianist Eleonor Bindman talks to Robert Beattie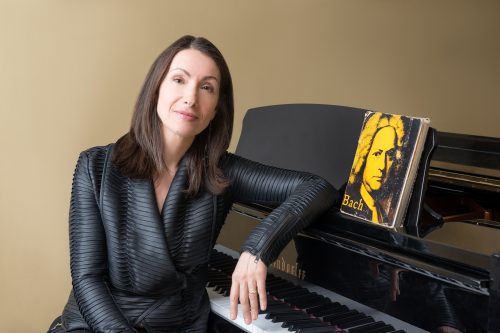 Eleonor Bindman is a New York based pianist and chamber musician who has received extensive praise for her piano transcriptions. The New York Times commented on her 'lively, clear textured and urbane' performances and 'impressive clarity of purpose and a full grasp of the music's spirit'. Eleonor has appeared at Carnegie Hall, The 92 Street Y, Merkin Hall, Alice Tully Hall, and on solo concerto engagements with the National Music Week Orchestra, the Staten Island Symphony, the Hudson Valley Philharmonic, the New York Youth Symphony, and The Radio and Television Symphony Orchestra of Moscow, Russia. She is a prize winner of the New Orleans, Busoni and Jose Iturbi international piano competitions and is a recipient of a National Foundation for the Advancement of the Arts award.
Eleonor was born in Riga and her first piano teacher, Rita Kroner, hailed from the studio of Heinrich Neuhaus, who famously taught Richter, Gilels and Lupu. After her family immigrated to the United States, she attended the High School of Performing Arts. She received a B.A. in music from NYU and completed her MA in piano pedagogy at SUNY, New Paltz under the guidance of Vladimir Feltsman. The Poughkeepsie Journal describers Eleonor as 'a strong pianist who attacks her work with great vitality and emotion…and mesmerizes her audiences with her flair and technique' (Barbara Hauptman).
Eleonor's discography includes two solo recordings Tchaikovsky's The Seasons on MSR Classics, and her debut recording, 'Three Works by Modest Mussorgsky' which includes her own transcription of A Night on Bald Mountain. She also released 'Out of the Blue' with pianist Susan Sobolewski under the name Duo Vivace, which features two-piano and four-hand arrangements of works by Gustav Holst, Leonard Bernstein, and George Gershwin. Eleonor has composed several piano compositions and transcriptions, including Mussorgsky's 'A Night on Bald Mountain', a set of original piano works for children, 'An American Calendar', both published by Carl Fischer, Inc., and 'Stepping Stones to Bach', a multi-volume set of easy/intermediate piano arrangements of J.S. Bach masterworks, available from Naxos Publishing and from Eleonor Bindman's website (click here). (Details of her recordings are available if you click here.)
Eleonor has always been devoted to the music of J.S. Bach, and after curating and performing in 'The Bach Project' series for the Old Stone House in Brooklyn in 2014, she was inspired to compose a new arrangement of the six Brandenburg Concertos for Piano-four-hands. Her Brandenburg Duets were completed and recorded in 2017 and released by Naxos Records on the Grand Piano label in March 2018, becoming that year's best-selling album. The score is available from Naxos Publishing and the printed versions are available in the Russian 'Muzyka' Edition. Eleonor's latest recording of her new transcriptions of J.S. Bach's Cello Suites for Solo Piano has just been released by Grand Piano records.
I spoke to Eleonor about her background as a professional pianist, what drew her into making transcriptions of other composer's works and about her latest transcription of Bach's solo cello suites. Some of the most recent transcriptions are for amateur pianists and we spoke about how these motivate and inspire enthusiastic amateurs.
Robert Beattie: Can you tell us about your background as a professional pianist and what drew you to make transcriptions of other composers' works?
Eleonor Bindman: When I was in college we were encouraged to study a wide range of repertoire ranging from Baroque to contemporary music and virtuoso works. I enjoyed playing transcriptions by composers such as Liszt, Busoni and Rachmaninov. My piano teacher, Vladimir Feltsman, encouraged me to think about how to capture orchestral textures, colours and sonorities when performing these works. I performed Mussorgsky's Pictures at an Exhibition at a number of competitions and this work featured in my first solo recording. I included my own transcription of Mussorgsky's A Night on a Bald Mountain in that recording. In my second recording I performed Tchaikovsky's The Seasons and included Liszt's transcription of the Polonaise from his opera Eugene Onegin. Once again, I also decided to record my own transcription of the waltz from Eugene Onegin.
RB: You then went on to record a number of transcriptions for piano duet with Susan Sobolewski and Jenny Lin. Can you tell us about them?
EB: Susan and I recorded the version of Holst's The Planets for two pianos. Holst originally scored seven of the movements for two pianos before scoring it for large orchestra. This was bookended by a transcription of Bernstein's Candide Overture and Gershwin's Rhapsody in Blue. I then started to look at transcriptions of Bach's Brandenburg Concertos for piano duet. There is a transcription by Max Reger for piano duet, but I found this work very uneven and lopsided as the primo piano part is much more dense and busy than the secondo part, which has much less to do. I then worked on my own transcription of the Brandenburg Concertos for piano duet and tried to distribute the material much more evenly among the two parts. Jenny Lin and I made a recording of this transcription in 2018 and this was well received by the critics and the general public.
RB: You then composed a series of Bach piano transcriptions specifically tailored for amateur pianists. How did this project come about?
EB: I have a number of adult piano students and I was conscious of the fact that many of them found it difficult to negotiate Bach's contrapuntal lines. I often found it easier to teach composers such as Chopin where they have to play a melody and accompaniment. I love Bach's music and I wanted to create a series of short pieces which would allow amateur pianists to find a way into his music. I therefore composed 48 short pieces which I called Stepping Stones to Bach which were distillations of his orchestral, choral and instrumental works such as movements from the cantatas or Passions, orchestral suites or instrumental works. These pieces are idiomatic and satisfying to play and they have helped many of my students to develop technique. They are intermediate level pieces and they are useful for students of all ages. I developed a playlist on Spotify to accompany the pieces which allows students to listen to the original works before playing the pieces.
RB: You have just recorded your own new transcription of Bach's Cello Suites for Piano Solo. There are of course existing transcriptions of these works as well as for the solo violin works. How do your transcriptions differ from these?
EB: There are transcriptions of some of the movements from the cello suites by Alexander Siloti and Leopold Godowsky. Siloti transcribed four of the 36 movements of the cello suites for solo piano. The Godowsky transcriptions are virtuoso Romantic works in which the composer adds additional notes and harmonisations. They are very much in the style of the Bach transcriptions by Liszt, Busoni and Rachmaninov. There also transcriptions of the complete cello suites by Joachim Raff – the only set for piano, before mine, of all six – and I researched these very closely when I was composing my own transcriptions. They are not virtuosic like Godowski's but Raff transforms Bach's original conception by adding in Romantic harmonies.
I was not aware of any transcriptions which captured the purity of Bach's original works. I had received very positive feedback on social media for my earlier Bach transcriptions and, in light of this, I decided to make my own transcription of the Bach cello suites. I realised that the music's simplicity already ensures its suitability and accessibility for amateurs, so the pieces are once again at intermediate level. Amateur pianists enjoy playing music and I think it is important that there is repertoire available which they can enjoy playing and which is not too difficult. While the pieces are not technically demanding, some of the music is very profound such as the wonderful Sarabande from Bach's Cello Suite No.5.
RB: There are of course excellent precedents for creating transcriptions which do not add extra notes or harmonisations such as Brahms's transcription of the Bach's D Minor Chaconne. What in your view makes for a good transcription?
EB: It is important to understand the composer's language and to provide a faithful rendition of the text which captures the sentiment of the original. One also needs expertise in the instrument which you are transcribing for. The transcriptions of Bach by Busoni and Rachmaninov are wonderful works but these composers are creating something new which is based on the original, but which departs from it. The Rachmaninov transcriptions of the Bach solo violin works, for example, sound like other works by that composer even thought they are based on Bach. My transcriptions are more straightforward and maintain a fidelity to the original work. Many amateur musicians derive pleasure and inspiration from making music at home. They want to spend time on their own personal growth and to find opportunities for their own artistic expressions. These transcriptions allow them to do this while at the same time developing their technique.
RB: Thank you very much for talking to us. I did very much enjoy listening to your performance of the Bach cello suites and I hope that many amateur pianists will derive pleasure practising and working on this music in future.