United Kingdom Berg, Wozzeck: Soloists, Chorus and Children's Chorus of Bavarian State Opera (Chorus master: Stellario Fagone), Bavarian State Orchestra / Vladimir Jurowski (conductor). Bavarian State Opera, Munich, 14.10.2020. (ALL)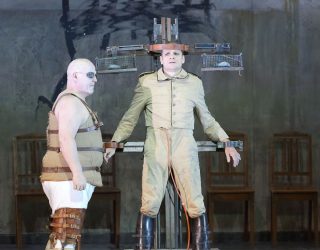 Production:
Director – Andreas Kriegenburg
Settings – Harald B. Thor
Costumes – Andrea Schraad
Lighting – Stefan Bolliger
Cast:
Wozzeck – Simon Keenlyside
Marie – Anja Kampe
Drum Major – John Daszak
Andres – Tansel Abzeybek
Captain – Wolfgang Ablinger-Sperrhacke
Margret – Ursula Hesse von den Steinen
Doctor – Clive Bayley
Madman – Ulrich Ress
Marie's Child – Alban Mondon
This production of Wozzeck was Andreas Kriegenburg's first work at Munich's Bavarian State Opera back in 2008, before working on celebrated stagings of Wagner's Ring and Zimmerman's Die Soldaten.
12 years later, this modern and expressive concept still retains its full power. In a dehumanized world populated by anonymous shadowy figures and deformed bodies, Wozzeck and Marie represent some form of humanity although both, tragically, cannot embrace their roles and fates. Wozzeck is unable to express his emotions, wiping off the word 'Papa' that his child wrote on the wall, and Marie cannot resist the advances of the Drum Major (John Daszak). Throughout the production, there is a subtle use of lights, settings, and costumes to enhance the sense of malaise. This is modern 'German Expressionism' at its very best.
As is the case in Germany, pandemic regulations meant that the hall was at 25% capacity. One row out of two was empty and only every other seat was filled. The orchestral forces were reduced: only three double basses and four cellos, for example. But as a counterbalance to ensure that sound could carry the weight of the work, the pit was elevated and extended to accommodate for the number of musicians.
Seeing the musicians proved to be fascinating in the numerous interludes of the work where visual contact helped understand which groups of musicians were playing. The sublime Mahlerian passage following Wozzeck's death had more transparency, while retaining its emotional and dramatic content.
Some singers took time to adapt, either because it was the premiere of the series or because of the unusual orchestral settings. Wolfgang Ablinger-Sperrhacke, who was such a strong Herodias in Strauss's Salome under Kirill Petrenko, was not at ease in the first scene, shortening the long notes at the end of the famous: 'Er hat keine Moral …' but the dialogues with the Doctor (sonorously sung by Clive Bayley) were delivered with care. Simon Keenlyside's baritone may have lost a bit of its previous shine but he knows the part inside out and made so much of the words.
There was no concern at all that Anja Kampe would shine, and her debut in the role of Marie was simply a revelation. Hers was a strong character and not a victim. Her acting was forceful. She was on top form with vocal power that could enable her to achieve compelling phrasing and 'sing not speak' her parts. She is known for her vocal qualities in Wagnerian roles, but this house has seen her in personal, convincing portrayals of Leonore (Fidelio) and Katerina Izmailova (Lady Macbeth of the Mtsensk District) and appreciates her versatility.
It is Vladimir Jurowski who will take over the musical directorship of the Bavarian State Opera next season. He is familiar with Wozzeck, which he conducted in Salzburg three years ago. He may not have the physical presence of a Petrenko whose control of complex scores has been a feature of the Munich opera scene, but the musicians seemed comfortable with his clear beat and sense of direction, delivering a dramatic reading.
Of course, he will be conducting many further works and so  we can certainly look forward to more exciting evenings in Munich.
Antoine Lévy-Leboyer
For more about the Bavarian State Opera click here.