United States In Focus/Episode One, Inspirations: Cleveland Orchestra / Franz Welser-Möst (conductor). Performed at Severance Hall, Cleveland, and live-streamed on 8.10.2020, and currently steaming on Cleveland's Adella app. (MSJ)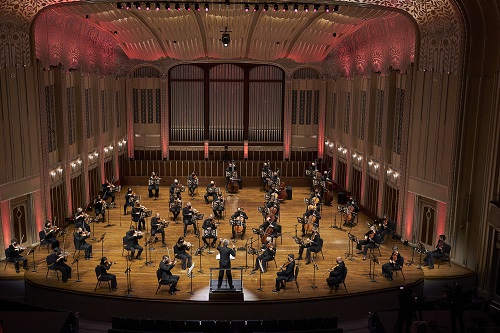 Respighi – Ancient Airs and Dances, Set III
George Walker – Antifonys
Tchaikovsky – Souvenir de Florence
After a highly successful release of a recording of their March 2020 concerts, aborted by the onslaught of the Covid-19 pandemic, the Cleveland Orchestra is now cautiously returning to musical life. The means is a new streaming app called Adella, after the orchestra's founder, Adella Prentiss Hughes. The plan for the time being is to hold recording sessions attended by a small, socially-distanced audience, and then to begin streaming the concert on demand a week later, with the stream remaining available for a number of weeks.
This is a welcome return, for in recent years the Musical Arts Association, which runs the orchestra, has made moves to reinvent how they do recordings of this stellar ensemble. In the past, Cleveland's live recordings were serviceable but didn't truly capture the special warmth of Severance Hall. Launching the orchestra's new in-house label early this year, they demonstrated that advances had been made. This ability to make first-rate recordings of one of the world's leading orchestras, combined with musical director Franz Welser-Möst's innovative programming, bodes well. That fine sound is present here.
Streaming this concert was an acid test, of sorts, for this particular critic. When I review the Cleveland Orchestra, I commute an hour and forty-five minutes north from the Appalachian highlands of Ohio to the shores of Lake Erie. To stream their concerts leaves me dependent upon satellite internet that is sketchy at best, thanks to politicians who are more interested in petty power grabs than in serving rural constituencies. When the weather is rainy, or if the nearby campground is busy with lots of campers trying to use their smartphones, my ability to stream anything is dicey. Live concerts, with limited buffering, are completely impossible.
Pre-recorded streams have better consistency. I tried the worst-case scenario by attempting to stream this concert during a heavy rain, and I was able to get a minute or two at a time, followed by an interruption for further buffering. A day later, under clear skies, it ran almost faultlessly. Suffice to say, there is no problem with the app: it's all dependent on the user's local internet capabilities.
For their return to concert life, Welser-Möst and the Clevelanders chose a characteristic program. It contains no obvious reference to returning but offers ample opportunity for the players to revel in the moment of being together again. It also offers new challenges, one of which is the requirement of social distancing. To solve the need for safe spacing, this concert uses only the strings, spread out across the stage. All the players and the conductor wear masks. The immediate impression is that the ensemble has largely picked up where they left off. The strings' sound is handsome, deep where needed but lithe and clear. They have adapted remarkably well to the unusual spacing although, for recording purposes, the cellos are somewhat distanced by their positioning. The basses, which are behind them, receive sonic support from the rear wall of the Severance stage, while the cellos don't get the same reflection of sonority. The added sense of air from this stage-wide placement, though, is quite attractive.
Ottorino Respighi's third set of Ancient Airs and Dances is an unassuming way for the ensemble to return to concert life, but it quietly says a lot. In the past, popular recordings of Respighi's high-calorie arrangements of Baroque music included such purveyors as Herbert von Karajan's hectoring with the Berlin Philharmonic or Antal Doráti's colorful but scrappy Philharmonia Hungarica. Welser-Möst and the Cleveland Orchestra are something completely different.
Without going to extremes, this performance reinvents the music with lighter, more flexible textures. This includes a string vibrato that is reined in, only deepening occasionally as musical expression warrants. An example would be the ravishing yet pure depth of tone from the violas in the second movement. The ensemble is crisp, with only the slightest imprecision. For the strings to be deployed in a new configuration after an enforced hiatus of eight months and still come out sounding this lucid and unified – this is a triumph. It is lithe and buoyant music-making, in the best Cleveland tradition.
The orchestra, like many worldwide, has responded to social unrest in recent years by focusing on expanding the reach and diversity of its programming. A welcome result on this bill is the Cleveland premiere of Pulitzer Prize-winning African-American composer George Walker's Antifonys, which packs a lot into only five minutes of playing time. It is introduced in the stream by Cleveland Orchestra violist Eliesha Nelson, who was a friend of the composer and a performer of his music.
'George Walker's music is very intellectual', Nelson said. 'It can be thorny but, at the same time, very heartfelt and emotional'. That's a succinct summary of Antifonys, which starts with a bristling energy before reaching in numerous emotional directions to gather a bouquet of serious but approachable vignettes, said to be inspired by Walker's memories of his years in Paris, where he was yet another of the geniuses shaped by master teacher Nadia Boulanger. It is an intriguing piece from a voice worth hearing more often.
It's a mystery to me why Tchaikovsky's Souvenir de Florence isn't performed as a string orchestra piece more often. It makes the transition from original sextet scoring to a full complement of strings much better than most such arrangements. I suspect it is for no greater reason than the misleading title, which seems to promise a light travelogue like the Capriccio Italien. What Tchaikovsky actually wrote here, though, is a full-scale piece, one which he just happened to start writing while in Florence. Its energy is bright – despite the prevailing minor keys – but it comes across here as a first-rate string symphony.
This is the sort of underserved repertoire that Franz Welser-Möst relishes. He is a fine Tchaikovskian, honoring the composer's deep – and usually forgotten – Mozartian roots. This performance offered no exaggerated bending of tempos nor juiced-up dynamics. Instead, it savored the built-in range of emotions, particularly in the first movement which ranged from anxious to buoyant. The Cleveland strings played with precision, but it was a precision that also allowed a 'swing' to the most vigorous fiddling. The finale's coda was exhilarating. What a glorious return to concert life this was.
The direction of the video by Don McClung is as poised and flowing as the playing, with quiet changes to the color of background lighting on the stage and in the auditorium that reflect the music being played. There are frequent highlights of individual musicians, allowing one to see the players engaging with the music and with each other. One could even see how the vigorous attack of the violins near the end of the Tchaikovsky had broken a hair on one violinist's bow, the kind of detail that would be invisible from the balcony where I normally sit.
The best aspect of the video is the chance to watch Welser-Möst's eyes. In a normal concert situation, one doesn't see his face at all. While he is not quite an Adrian Boult or Fritz Reiner of minimal movement, Welser-Möst certainly does not jump around wildly on the podium. But here, even with the bottom half of his face covered by a black mask, one can see how he achieves the coherency and connection of his performances. His alert eyes are everywhere, sweeping the stage constantly for connection with the players, indicating intensities and expression more than his arms and hands do.
The program notes for the concert are condensed down to a 'mobile-friendly' format in the app, for those who like that sort of thing. I don't, but the orchestra said they are considering including a link for those who would prefer reading the notes in a desktop/laptop-friendly format.
All in all, this was a welcome and beautifully produced return by the Cleveland Orchestra. One hopes that conditions will permit it to continue, for the enforced hiatus in music-making has made it clear how much live music matters.
Mark Sebastian Jordan
For information on the Cleveland Orchestra streaming click here.