United Kingdom Live from the Barbican – Sir Bryn Terfel with Britten Sinfonia: Live-streamed (directed by Matthew Woodward) from Barbican Hall, London, 4.10.2020. (JPr)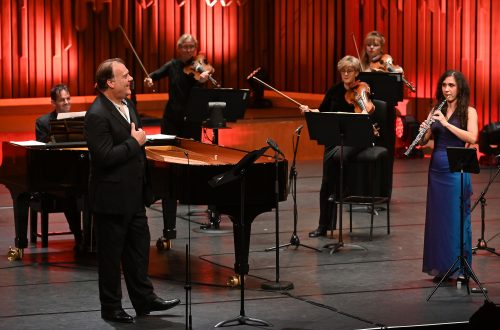 J. S. Bach – Cantata No.82, 'Ich habe genug'
Finzi – Let us garlands bring, Op.18
Novello (arr. Iain Farrington) – 'I can give you the starlight'; 'My dearest dear'; 'Keep the home fires burning'
Trad. (arr. Chris Hazell) – 'Ar hyd y nos'
Trad. (arr. Bryan Davies/Chris Hazell/Iain Farrington) – 'Ar lan y môr'
Encores:
Novello (arr. Iain Farrington) – 'We'll gather lilacs'
Trad. (arr. Mack Wilberg) – 'Still, still'
How wonderful it was to have live music back at the Barbican Hall even if it was only the socially distanced fifteen musicians of the Britten Sinfonia rather than – as we are often used to – a full-sized orchestra crammed onto the smallish concert platform. The audience were equally spaced out throughout the large Barbican Hall and – in these odd times we are living through – numbered only, I believe, 300. Sir Bryn Terfel – who I first auditioned as an ambitious youngster – is a very avuncular presence these days and this concert clearly meant a lot to him, despite his own obvious concerns. He said at one point, 'You cannot even imagine what's been even going through my mind at the moment, but first and foremost I wanted to be safe, I wanted to be healthy, and the Barbican Centre are doing an incredible, meticulous job in the circumstances.'
The Bach Cantata he had just sung has a personal connection because he revealed it was 'around the corner' at the Guildhall School of Music and Drama where he had first studied the work and 'After the Cardiff Singer of the World, it was my first ever professional concert in London to sing this actual piece.'
'I habe genug' translates as 'It is enough' and I have certainly had 'enough' of this coronavirus pandemic and the effects it has on our lives; but that is something for another time. Bach composed it in 1727 for the Feast Mariae Reinigung (Purification of Mary) and it tells of Mary meeting an old man, Simeon, who recognises the baby Jesus as the Messiah. 'Ich habe genug' is deeply introspective since it concerns the last moments in someone's life when they say farewell to the world. Another translation of 'genug' could be content and Simeon – having seen Jesus – stoically approaches his life's end.
I felt Terfel's interpretation offered solace but precious little in the way of hope. For me there was plenty of resignation about approaching death in his performance, though with no genuine rejoicing in the second recitative and final aria at the release it will bring, as I suspect Bach might have intended. Earlier when Terfel sang 'Mit Freuden sagt ich' there was no great joy in his voice. Oddly, 'Schlummert' ('Sleep') seemed to lie a little low for Terfel's voice which, for me, has always been more baritone than bass though it ended with a heartachingly beautiful 'Süssen Friede, stille Ruh'. 'Ich freue mich' ('I am happy') could have had even more transcendence for someone who was embracing the prospect of his death with great fortitude. Occasionally, Terfel found Bach's more florid writing for the voice a little too taxing, though on the plus side, he was so very well supported by members of the Britten Sinfonia (under their leader Jacqueline Shave) and the plaintive sounds from Nicholas Daniel's oboe.
Let us garlands bring, Op 18, is a setting of five Shakespearean songs by Gerald Finzi which bore the inscription 'For Ralph Vaughan Williams on his birthday Oct. 12th 1942'. At least one of these had a personal connection to Bryn Terfel since we heard how 'The first song "Come Away" was my audition piece for the Guildhall School of Music. So, I blame Finzi for the roller-coaster I have been on for the last three decades.' Twelfth Night's 'Come Away, Come Away, Death' was imbued with sadness and regret, and the joyous 'Who Is Silvia?' probably would have benefitted from a lighter sound than Terfel's. However, he brought an affecting, haunting quality to 'Fear No More the Heat o' the Sun' (from Cymbeline) which is rightly regarded as the emotional centre of the collection and clearly is a meditation on the passing of time, on aging, and that we are all going to die. Thankfully, to lift the prevailing mood somewhat, there was the lighter relief of the remaining two songs, 'O Mistress Mine' (Twelfth Night again) and 'It Was a Lover and His Lass' (As you like it) where I certainly felt there was more warmth emanating from Terfel's voice and he obviously relished the repeated refrain 'With a hey, and a ho, and a hey nonino'.
The final section of Terfel's short 75-minute concert was a celebration of the land of his birth, also famous as 'The Land of Song'. Pant Glas-born Terfel sang songs by Ivor Novello who was born in Cardiff, as well as two, possibly three, of his absolute favourites, 'Ar Hyd y Nos' ('All Through the Night') and 'Ar Lan Y Mor' ('Down by the Sea'), and the lilting Austrian Christmas(!) carol 'Still, still, still'. The latter was one of two encores, described as the 'quickest' he had 'ever made in my whole career'). We were introduced to the young Welsh oboist Myfanwy Price who is part of Barbara Hannigan's Momentum: Our Future, Now project, and in the traditional Welsh songs she seemed to be nearly as accomplished as her mentor Nicholas Daniel. The Novello songs were in arrangements by Iain Farrington who – moving up from the chamber organ he played during the Bach – now acted as Terfel's 'music director' at the piano.
As I have appreciated – other times when I have heard Terfel sing – he was at his most relaxed and communicative singing in English or his native Welsh language. There is nothing distancing the listener from what he is singing about, and we can appreciate how much he can inhabit each song to reveal all the emotions of the music. Also, everything he sang could only benefit from Terfel's mellifluous sound. 'Ar hyd y nos' was almost prayerful and 'We'll gather lilacs' came across as moving and plaintive. Best of all was 'Keep the home fires burning', a patriot WWI song composed in 1914 with an inherent nationalistic fervour. We know where Terfel heart lies and the song works just as well for a Welshman as for any 'Englishman' the lyrics can sometimes refer to. The accomplished Farrington provided a near perfect march-like accompaniment, not only with his fervent arrangement, but at the piano.
Live from the Barbican continues until 13 December and is available for both live attendance and via live stream. For information about forthcoming concerts please click here.
Jim Pritchard