United States Mozart, Così fan tutte: Soloists, Pittsburgh Opera Orchestra/Anthony Walker (conductor). Pittsburgh Opera Headquarters, Pittsburgh, 29.10.2020. (RP)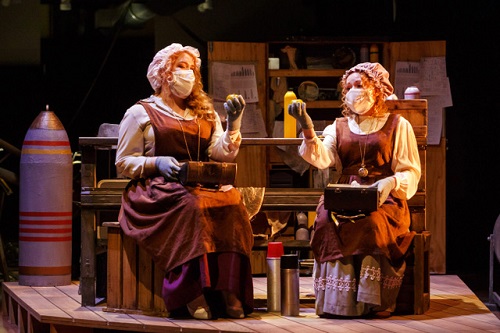 Production:
Director – Crystal Manich
Sets – BinhAn Nguyen
Costumes – Jason Bray
Lighting – Cindy Limauro
Wigs & Make-up – Nicole Pagano
Cast:
Fiordiligi – Madeline Ehlinger
Dorabella – Maire Therese Carmack
Ferrando – Angel Romero
Guiglielmo – Yazid Gray
Despina – Véronique Filloux
Don Alfonso – Jeremy Harr
Just listening to the orchestra warm up and checking out the set were exciting. What followed was as wonderful as it was remarkable: the last of the Pittsburgh Opera's six, sold-out performances of Mozart's Così fan tutte that, apart from a few concessions to the current reality, would pass muster anytime and anywhere. Luck played a part, but the company's collective ingenuity and the guts to dream big were essential ingredients for this delightful night at the opera.
Pittsburgh Opera had three key things going for it: space, talent and resourcefulness. Originally built in 1870 to house the George Westinghouse Air Brake Factory, the company's headquarters includes a former warehouse that is spacious enough to accommodate the set, a seventeen-piece orchestra and a masked audience of 50 seated the requisite six-plus feet apart. On the talent side of the equation, the company assembled an ingenious creative team and has six exceptional singers in its 2020-21 Resident Artist Program.
The plot of Così fan tutte has never seemed more plausible than it does in Crystal Manich's staging, which is set in Italy during World War I when the Spanish Flu was raging. Men were indeed suddenly called off to war, while women stayed home and worked in munitions factories. There was wit, sparkle and plenty of laughter here, as well as a subtle undercurrent of eroticism, but the action was grounded in reality.
Then, as now, governments mandated the wearing of masks with varying degrees of success. Pittsburgh Opera is an exemplary enforcer. Everyone, excepting brass and woodwind players, wore a mask, including the singers and conductor Anthony Walker. Social distancing was also maintained with the cast. When the lovers did get close to each other, it was usually a matter of feet not inches.
The comedy played out on opposite sides of a factory floor, where Fiordiligi and Dorabella worked making bombs of all sizes. The smallest of these received a particularly enthusiastic rubdown from Fiordiligi when she was flustered by Guiglielmo's advances. The male domain was on the catwalk and iron stairs that were part of the building's original structure. Little else was needed: this former warehouse provided more period factory feel than any set could possibly have done.
Madeline Ehlinger and Maire Therese Carmack were ideally matched as the two fickle sisters. Their voices blended perfectly in the duets, and they looked particularly fetching in their 'Little Housemaid' corsets. Ehlinger's soprano has sheen and thrust, which made for easy sailing in Fiordiligi's bravura aria, 'Come scoglio'. Carmack was all peaches and cream, both vocally and dramatically, as the more susceptible of the two sisters.
Their lovers were the golden-voiced tenor Angel Romero and the equally fine baritone Yazid Gray. The two returned disguised as Scotsmen in bright tartans and hauling a treasure chest of jewels and finery to assist in their wooing of the other's beloved. Romero wore a kilt and, for the voyeurs out there, he didn't go commando. He was, however, in total command of his voice, winning hearts with his passionate singing of 'Un'aura amorosa'.
Véronique Filloux's delicious Despina and Jeremy Harr's worldly Don Alfonso would find themselves at home in any production of the Mozart opera – classic buffo characters presented with flare and fidelity. Filloux not only had to sing through a face mask, but also wore the long-nosed one of Zanni, a traditional commedia dell'arte character drawn from the peasant classes who scraped and bowed to his betters, although this Despina did little of that. Harr's Don Alfonso was no less cunning and cynical for being in the prime of youth.
Cuts were made to the opera, reducing it to 90 minutes without an intermission. (Opera houses the world over squish The Magic Flute into child-sized bites, so keep your howling at bay.) It was a bit of a surprise to hear a piano accompanying the few recitatives that weren't cut, but it wasn't the first time in my experience, nor do I suppose it will be the last. Walker led a brisk account of the score and did double duty singing the chorus parts with Filloux. They somehow managed to sound like a few singers.
No excuses were necessary, however. This was live opera as good as it gets – an experience made all the more special in light of opera houses and concert halls around the world sending out emails that very day of still more cancellations and closures.
Rick Perdian
The Friday 23 October live-streamed performance is available to view free until 6 November on Pittsburgh Opera's YouTube channel and Facebook page.