United Kingdom Birmingham Royal Ballet – Lazuli Sky Mixed Bill: Dancers of Birmingham Royal Ballet, Birmingham Royal Ballet Sinfonia / Philip Ellis and Paul Murphy (conductors). A digital broadcast available from 1.11.2020 filmed at Birmingham Repertory Theatre. (JO'D)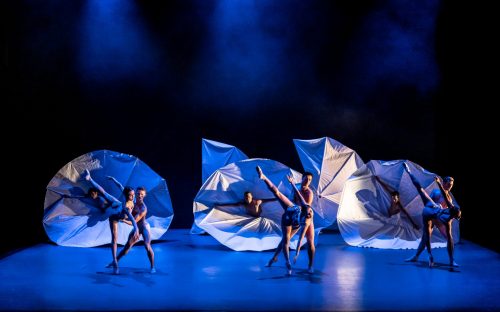 Our Waltzes
Music – Teresa Carreño, Salvador Llamozas, Manuel Guadalajara, Isabel de Maury, Sofia Limonta, Ramon Delgado Palacios, Heraclio Fernández
Choreography – Vicente Nebrada
Lighting – Peter Teigen
Sound design – Yvonne Gilbert
Dancers – Momoko Hirata, César Morales (Red couple); Yijing Zhang, Yasuo Atsuji (Brown couple); Samara Downs, Tyrone Singleton (Lilac couple); Yaoqian Shang, Mathias Dingman (Pink couple); Miki Mizutani, Tzu-Chao Chou (Orange couple)
Pianist – Jonathan Higgins
Liebestod
Music – Richard Wagner (arranged by Iain Farrington)
Choreography – Valery Panov
Lighting – Peter Teigen
Sound design – Yvonne Gilbert
Dancer – Brandon Lawrence
Lazuli Sky
Music – John Adams's Shaker Loops
Choreography – Will Tuckett
Design – Samuel Wyer, Nina Dunn
Video design – Nina Dunn
Costume design – Samuel Wyer
Lighting – Peter Teigen
Sound design – Yvonne Gilbert
Dancers – Damen Axtens, Laura Day, Karla Doorbar, Ryan Felix, Haoliang Feng, Kit Holder, Yu Kurihara, Gus Payne, Emma Price, Tom Rogers, Eilis Small, Yuki Sugiura
'Through thick and thin,' says presenter Alan Titchmarsh of the efforts made by Birmingham Royal Ballet's Artistic Director, Carlos Acosta, in the staging of this triple bill. Filmed in front of a live audience of one hundred at the Birmingham Repertory Theatre, which has a capacity for eight hundred, it contains one 'world premiere', Will Tuckett's Lazuli Sky, and two less dazzling works by Vicente Nebrada and Valery Panov.
Nebrada's Our Waltzes costumes its dancing couples in colour-coded shades of lilac, brown, orange and pink. As a group they look like blossom blown about the stage. But in terms of music and choreography the piece says what it has to say early on. After that, its turns and waving arms and 'Latin-influenced waltzes' (played by an onstage pianist) repeat. Though moving like Jerome Robbins's Dances at a Gathering from opening discord to closing harmony, Our Waltzes lacks that ballet's psychological engagement and thread of underlying tension.
A solo for a male dancer, Valery Panov's Liebestod is briefer and more effective. The rises and falls of Wagner's music (arranged by Iain Farrington) highlight the dancer's development from foetal position to grand jeté and back. Virtuosic dance that must reflect Panov's Bolshoi and Vaganova training, it nonetheless suits what might be described as Brandon Lawrence's very particular corporal sensitivity very well.
As if in reference to the Covid-19 restrictions under which it was created, Lazuli Sky starts with its dancers in separate squares of light and behind a scrim. Movement in the first half of the piece matches the intricate strings of John Adams's Shaker Loops to which it is set: delicate adjustments of port de bras; a synchronised turn of the head or pointing of a foot; a rapid flick of the hips. The language of classical ballet is also there in entrechats, chaîné turns and arabesques en l'air. Behind the scrim, on which rectangular lines of light are projected, the always attractively presented dancers rediscover perhaps what ballet dancers can do.
After three women perform a drifting bourrée, the male and female dancers connect through a balletic 'giving of the hand'. The scrim then rises, the pace of the music slows, and a more contemporary choreographic idiom is introduced. In a coup de théâtre that may become a defining image of socially distanced dance in 2020, the dancers appear in long, white, framed skirts. When raised, these can be seen as fans, sails, wings, webs, screens, even flowers that open and close.
Despite the potentially obstructive nature of the skirts, the dancers in this section perform yearning pas de deux before everything changes again and they return as dancer-athletes. The tempo increases. Through light projected on to the stage floor, the circle replaces the square as motif. Albrecht surrounded by the Wilis in Giselle; the Chosen One of The Rite of Spring: these may or may not be images intentionally conjured up by the choreographer. It is with its dancers gathered in a close-knit circle, at any rate, that the dance ends. Not a circle of death or ritual sacrifice, but of life.
The Lazuli Sky Mixed Bill film is available until 11.59am on 8 November (click here).
John O'Dwyer