United States Brooklyn Art Song Society – Schubert II: Night: Andrew Fuchs (tenor), Daniel McGrew (tenor), Mario Diaz-Moresco (baritone), Jorell Williams (baritone), Michael Brofman (piano), Spencer Myer (piano). Brooklyn Art Song Society, Soapbox Gallery, Brooklyn. First streamed on 14.11.2020. (RP)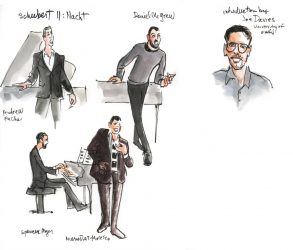 Schubert – 'Wilkommen und Abschied' D.767; 'Der Einsame' D.800; 'Wanders Nachtlied II' D.768; 'An den Mond' D.259; 'Die Sterne' D.939; 'Im Freien' D.880; 'Der Wanderer' D.649; 'An den Mond' D. 193; 'Erlkönig' D.328; 'Auf der Bruck' D.853; 'Der liebliche Stern' D.861; 'Die Gebüsche' D. 646; 'Lied' D.788; 'Der Zwerg' D.771; 'Um Mitternacht' D.862; 'Nacht und Träume' D.827; 'Im Walde' D.708
Schubert was 18 years old when he composed 'Erlkönig'. The song stirs one's imagination with a harrowing tale of a father's frantic ride through the forest at night with his son at his side. The frightened boy sees a menacing specter and hears terrifying noises, both of which his father dismisses as the sounds of nature on a dark and stormy night. Arriving home, the father discovers that his son is dead.
This four-minute song encapsulates the main themes of the early nineteenth-century romantics: the mysteries of the supernatural, the violent unpredictability of nature and emotional extremes. In Schubert's songs, nature would appear in many guises – the first flowers of spring, a bubbling brook, a darting trout, bleak winter landscapes – but the night was special, encompassing a panoply of emotions ranging from the joy of solitude and the beauty of a starry night to fear of the unknown.
Night in its myriad manifestations was the theme of the second concert of the Brooklyn Art Song Society's digital season devoted to Schubert. It is an intriguing mix of some of Schubert's best-known songs such as 'Erlkönig' and 'Nacht und Träume' with relative rarities like 'Die Gebüsche' and 'Im Walde', sung by tenors Andrew Fuchs and Daniel McGrew and baritones Mario Diaz-Moresco and Jorell Williams. Michael Brofman, BASS's artist director, and Spencer Myer were the superb pianists, as gifted as any of the singers in the art of musical storytelling.
Of the singers, Mario Diaz-Moresco and Daniel McGrew stood out. Their success was due to a combination of the brighter, more finely grained textures of their voices – well suited to Schubert's songs – as well as charisma and energy that surmounted the limitations of the digital format. It takes far more energy to make an impact on a small screen than in the concert hall. Whether by design or chance, Diaz-Moresco and McGrew surmounted the challenge: it didn't hurt that both men were in exceptionally fine voice when their performances were recorded.
Never having heard Diaz-Moresco sing before, I can only surmise that he spent lockdown doing breathing exercises and mastering long soaring phrases with subtle dynamic variations, but perhaps that comes naturally to him. For all the warmth and richness of his middle range, it is a voice that wants to soar upwards, whether landing gently on the crest of a phrase when expressing the sweet longing of a lover in 'Im Freien' or crying out in terror in 'Erlkönig'. 'Der Wanderer' found Diaz-Moresco at his best due to the winning combination of his robust sound and straightforward demeanor.
McGrew made a similar impression, totally at ease and natural in the digital realm. The first few words that he sang immediately revealed the delicious torments of an impatient lover in 'Um Mitternacht'. He repeated the feat in 'Im Walde', a joyous paean to nature and the Almighty, a theme to which Schubert would return five years later in 'Die Allmacht' with far more grandeur and majesty. Between the two songs came a poised, inward-focused 'Nacht und Träume', which McGrew sang with seamless legato and an ethereal thread of sound.
The warmth and richness of Jorell Williams's plummy baritone was ever present, even when he lightened it to capture the poignancy of 'Der Einsame' and the wistfulness of 'An den Mond'. The most beautiful singing of the recital was Williams's repetition of the final phrase of 'Wanders Nachtlied II'. The digital format did Andrew Fuchs no favors. He was at his best in the dramatic narrative of 'Der Zwerg', where his deep connection with the tale of a doomed queen and the dwarf, who was both lover and assassin, filled the song with mystery and horror.
An upside of the digital approach is BASS's ability to tap into the expertise of international Schubert scholars such as Joe Davies, a Lecturer in Music at the University of Oxford. Dr. Davis specializes in the relationships between music and its aesthetic, social and cultural contexts, particularly in German-speaking lands. He provided fascinating insights into the artistic significance of the night in the late eighteenth and early nineteenth centuries, followed by a discussion of Schubert's use of nocturnal imagery in songs that were performed in the concert.
Despite its limitations, the digital concert hall is the best possible and, in reality, the only reliable means that BASS has to entertain, inspire and hopefully grow its audience through these expertly curated recitals. Most importantly, BASS is giving young singers and pianists a stage to sing songs. If you don't think that is remarkable, just look around. Then, let me know who else is doing it in New York in November 2020.
Rick Perdian
To view, Schubert II. Night, click here.