United Kingdom Mozart, Requiem in D Minor: Elizabeth Llewellyn (soprano), Dame Sarah Connolly (mezzo-soprano), Ed Lyon (tenor), and Gerald Finley CBE (bass-baritone). Chorus and Orchestra of English National Opera / Mark Wigglesworth (conductor). Pre-recorded (6.11.2020) at the London Coliseum and broadcast on BBC Two on 14.11.2020. (JPr)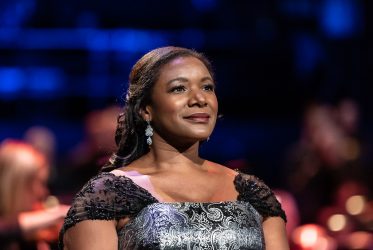 Presenter Danielle de Niese's introduction began 'The London Coliseum is coming back to life for tonight at least, it's been closed since the beginning of the first national lockdown in March. This concert was planned to mark the return of a live audience through the doors but now instead we have the return of lockdown. Mozart's Requiem was composed in 1791 but it still feels like a piece for our time. It was left unfinished due to Mozart's premature passing at the age of only 35. It was a life of fantastic musical success but huge struggle and loss, debt, illness, and even the death of his children. He was buffeted by life and fate and in this way it is not hard for us to relate to the composer as one of us, especially this year, and to be grabbed by this dramatic work into which he plugged such an emotional charge […] All of us have been touched by the pandemic in some way and the Requiem Mass for the dead has particular resonance for those who have lost loved ones. This concert is an opportunity for reflection and remembrance, but it is also about community and hope and looking to the future together.'
ENO Artistic Director Annilese Miskimmon said 'We didn't want to come back into the Coli with something that was just business as normal. So even though we didn't plan it would be in this second lockdown, we wanted something sustaining as a gift to give our audience when we came back and to allow this moment of marking that we are all going through an extraordinary time.'
Intriguingly in place of a live audience the seats of the 2,359 capacity London Coliseum were emblazoned with self-portraits by Year 7 students from seven schools across Liverpool and London, to showcase the creative talents of 700 participating pupils as they marked their transition from primary to secondary school. This was driven by the ENO's learning and participation department Baylis and this I am Here project provided an opportunity for these students to create their own self-portrait. It is part of Baylis's commitment to developing skills in young people across the creative arts.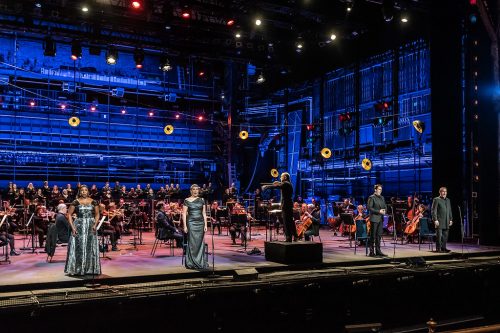 Soloists, chorus and orchestra filled the empty London Coliseum stage right to the bareish back wall and were illuminated by an array of circular lamps. I know the performance space is a big one, but the social distancing was not as extreme as in some of the recent livestreams I have seen from this country. The musicians were at separate music stands but the members of the chorus – surprisingly – almost seemed within touching distance of each other.
It seems when Mozart died in December 1791, much of the Requiem that he had only just begun was mostly incomplete apart from the opening Requiem aeternam and Kyrie. Constanze, the composer's penniless wife, desperately needed the remainder of Mozart's commission fee from Count Franz von Walsegg and so decided to have the work secretly completed by someone from the composer's close circle of students and friends and pass it off as entirely by Mozart. The version widely performed – as on this occasion – is the work of Franz Xaver Süssmayr, who assisted Mozart in the final months of his life but he only mostly 'edited' the work of others and handed his score over to Count von Walsegg with a fake Mozart signature and a completion date of 1792! Mozart would probably not recognise much of what we hear now but I leave musicologists more knowledgeable than I am to continue this debate.
Mozart's Requiem last a little less than 50 minutes and has several sections: Introitus, Sequentia, Offertorium, Sanctus, Benedictus, Agnus Dei and Communio. It is the Sequentia which is the longest of these and this part of the mass can be traced back to the thirteenth century it seems and has God coming down from heaven to pass judgement on the world and punish the ungodly with eternal damnation. And now I will leave others more religious than I am to discuss God's benevolence! In the run-up to this concert ENO released information about how Mozart's Requiem would be sung using the original Latin text since 'The Christian tradition of a Requiem Mass for the dead set to Latin words is such a key part of European classical music tradition that it has now become an iconic performance ritual in itself.' However, the company has always prided itself on singing opera in English so a Requiem Mass in Latin seemed an odd choice for its 'reopening' and even more curious was the lack of subtitles for the broadcast which surely must have alienated a proportion of the audience ENO wanted to engage with?
I have only heard Mozart's Requiem once before and have no real recollection of that. Now I appreciated it as a work primarily for the chorus with the soloists' contribution of much less significance than they are for the equivalent one Verdi composed. Mezzo-soprano Dame Sarah Connolly and tenor Ed Lyons get very little to do. What storytelling there is came from soprano Elizabeth Llewellyn and bass-baritone Gerald Finley. (Kudos particularly to Finley and Dame Sarah's agents because they have been popping up regularly during recent 'lockdown' performances.) ENO's chorus thoroughly deserved their moment on national television for all they have been through in recent years. The lack of numbers (I only counted 39) added to the sense of intimacy from their choral contributions. Nevertheless, there was ferocious attack and dramatic fervour for the Dies Irae, and great conviction in a heartfelt, elegiac, Lacrymosa. As the Requiem becomes more Süssmayr – or someone else? – than Mozart, the Sanctus was exultant and there was some impressive quiet, sad, and exquisitely controlled singing from the chorus for the Agnus Dei.
Gerald Finley created a sense of awe with his long bass lines for the opening of the Tuba Mirum which mirrored the virtuosic solo from Joseph Arnold's trombone. Ed Lyons's 'Mors Stupebit' – even if not quite so resonant – revealed the beauty of his tenor voice. The quartet were splendid individually but outstanding when singing together. It was in the Benedictus – which is shared out between the four voices – that their consummate artistic qualities were heard to best advantage. Dame Sarah Connolly sang with her usual conviction and refinement and Elizabeth Llewellyn made another wonderful impression with her variety of vocal colours, expressivity, and the immense depth and richness of her tone. She brought radiance to 'Lux aeterna luceat eis, Domine' before the resounding chorus brought the Requiem to a rousing conclusion.
From the hushed orchestral opening, it was clear the ENO orchestra – fully committed in their support of the soloists and chorus – were embarking on something special under their former Music Director Mark Wigglesworth. In the end it was more deeply affecting than I expected when it began. De Niese concluded – most appositely – how 'After a journey through loss and pain [there is] transcendent music and healing words of hope "Grant them eternal rest Lord and let perpetual light shine on them."'
Jim Pritchard
This performance is available for an extended period on BBC iPlayer click here.