United Kingdom Handel, Ariodante in Concert: Soloists, Orchestra of the Royal Opera House / Christian Curnyn (conductor). Livestream (directed for TV by Peter Jones) from the Royal Opera House, Covent Garden, 20.11.2020. (JPr)
Cast:
Ariodante – Paula Murrihy
Ginevra – Chen Reiss
King of Scotland – Gerald Finley
Dalinda – Sophie Bevan
Lurcanio – Ed Lyon
Polinesso – Iestyn Davies
Odoardo – Thando Mjandana
In all the hundreds of opera performances I have seen and heard the number of those by Handel could probably be counted on one hand, let alone two! Should I regret this, possibly, if this engaging Ariodante is anything to go by. At about 2½ hours of music we did not hear all on this 1735 Handel opera and I suspect it was mostly the dance music we lost which would have further stopped what 'action' was possible in a loosely-staged concert performance. (I will leave others more knowledgeable to comment on this if they need to.) It was such a wonderful performance that it made someone so dubious – and thereby ignorant! – of early music wonder if there are other musical splendours I have been unnecessarily avoiding. It is – in my understanding – a feature of the Handel's stage works that an often implausible and melodramatic scenario is simply a framework for one da capo aria after another linked by snatches of recitative. This could be quite wearying were it not for their richly expressive variety and the opportunities they give for singers to display their vocal brilliance.
Ariodante was written at the height of Handel's operatic powers and is based on a sixteenth-century epic poem, the same source as Shakespeare's Much Ado About Nothing. It was premiered in the first theatre on the current Royal Opera House site but has never again been performed there since then until now. The convoluted plot of this opera seria concerns the villainous Duke of Albany, Polinesso, who is attracted to the Ginevra, daughter of the King of Scotland, who is in love with Prince Ariodante. After Ginevra spurns his advances, Polinesso plots his revenge and this involves Dalinda, Ginevra's maidservant who – unbelievably – is actually in love with Polinesso herself. Dalinda is persuaded to disguise herself as Ginevra and let Polinesso into her bedroom for the night and seduce her. Scandal ensues, Ginevra's reputation is ruined and the marriage to Ariodante is off. The King disowns his daughter who – in her despair – loses her sanity and this is not helped when she discovers Ariodante – apparently – has drowned himself because of Ginevra's perceived unfaithfulness. Unless a champion appears to defend her honour, the King is determined he will never see his daughter again. Polinesso believes himself to be that champion but is quickly dispatched by Lurcanio, Ariodante's brother. Ariodante – initially in disguise – quickly reappears as Ginevra regains her senses, and two couples – Ariodante and Ginevra, Dalinda and Lurcanio – are united, as everyone, apart from Polinesso, lives happily ever after as this Ariodante rushes to a (much trimmed?) conclusion as all seven singers – as a chorus – proclaim (in translation) 'Where there is innocence, virtue will always triumph.'
Act I is the most joyful and all the expressions of happiness are extravagantly laden with fioritura; the second act has successive emotive declamations of anguish or vengeful fury; and the final act has more of the same but ends with jubilant – if hasty – reconciliation.
For me it could not have been better except (sorry!) it was spoilt by having Iestyn Davies's countertenor as Polinesso, a role which was originally written for a coloratura. Such a high and refined voice does not – in any way – do justice to music expressing a character's jealousy and anger. (On a side issue, perhaps Davies didn't get the dress code? Whilst the other singers where elegantly dressed, he looked as though he had been self-isolating for 14 days and living in the same clothes.)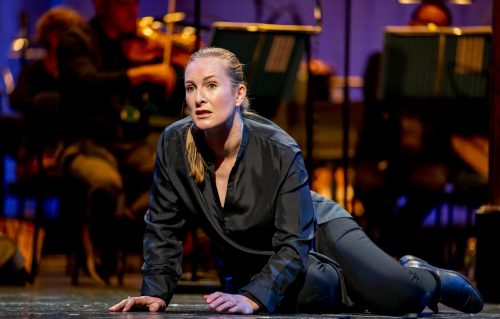 Congratulations to all concerned for putting on a performance which – despite an empty theatre – oddly seemed quite 'normal' in all the Covid-related circumstances. On stage in the Royal Opera House's familiar wooden concert surrounds you could be forgiven for glancing at it quickly and thinking they were performing in the Barbican Hall. Thankfully all the singers knew their roles and this allowed a certain amount of socially distanced interaction which was well choreographed. It was a close-run thing, but Paula Murrihy was the star performer as Ariodante. Dressed simply in black Murrihy was a suitably dashing presence as the opera's hero, even in the concert setting. She tackled all the role's technical demands with great assurance and facility. Handel's florid writing held no terrors for Murrihy, and she handled all the most treacherous runs with consummate ease from her opening radiant 'Qui d'amor', then the demanding 'Con l'ali di costanza' that was the tour de force it must be, to her highlight – for me at least – 'Scherza infida' that was intimate, heartfelt, plaintive and quietly resolute as she confronted Ginevra's apparent infidelity. This was accompanied by an exquisite bassoon obbligato from Miriam Gussek.
Chen Reiss initially sparkled (almost as much as her Act I lime green evening gown) in her house debut as Ginevra, with her luminous and agile soprano voice. Her 'Orrida a gl'occhi miei' was fiercely dismissive of Polinesso, and Reiss displayed laser-like coloratura for her rapturous 'Volata, amori'. Her Act II aria 'Il mio crudel martoro' – which pre-empts many similar later operatic 'mad scenes' – was deeply sad and beautifully controlled and it was interesting how her follow-up 'accompanied recitative' sounded more like a proto-Puccini aria than Handel.
It was not only Puccini that some moments of Ariodante brought to mind, I thought about Wagner too and wondered how much he knew about this opera, again something for those who know more than I do can comment on. Sophie Bevan brought considerable depth to her characterisation of the extraordinarily naïve and extremely conflicted Dalinda. She sang with a considerable sense of dramatic verve and her 'Neghittosi or voi che fate?' had a vehemence we could later recognise as 'Wagnerian', and Ortrud came to find. Another presentiment of Lohengrin was the need for a knight to defend Ginevra's honour!
The remaining roles are basically caricatures, and the singers do their best with the little Handel gives them to do. The King is paternal at first, then treats his daughter harshly before forgiving her, without – I believe – apologising for his actions. Gerald Finley is back (again) for this Covent Garden livestream and – for me – did not sound a natural Handelian, lacking the bass notes and flexibility of voice the role seems to demand. As ever Finley was a charismatic presence whenever he was singing and his Act II lament 'Invida sorte avara' showed him at his dramatic best. Finally, Thando Mjandana sang promisingly in his brief appearances as Odoardo.
Through it all, Christian Curnyn and his small Royal Opera House Orchestra – it did not look more than 30 and included two theorbos – sounded as if they were finely balanced and playing with considerable style and variety of colours. They were fully attuned to the emotional content of Handel's score though it was obvious how sensitive Curnyn was to changes of tempi among the arias, as well as within individual arias.
Jim Pritchard
For more about the Royal Opera House and its current activities click here.