Germany Oper Frankfurt At Home: Various composers and artists, Oper Frankfurt, Frankfurt. Viewed on their YouTube channel. (RP)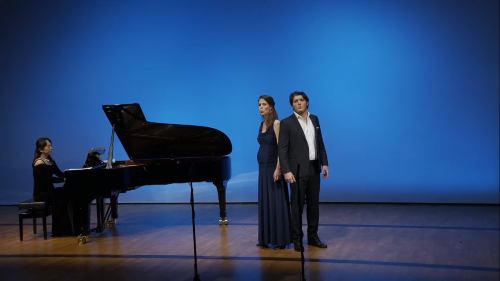 Livestream – Anna Dowsley (mezzo-soprano), Jonathan Abernethy (tenor), In Sun Suh (piano), 13.11.2020.
Offenbach – 'Belle nuit, ô nuit d'amour' (from Les contes d'Hoffmann)
Schubert – 'Willkommen und Abschied' D.767, 'Licht und Liebe' D.352
Tchaikovsky – 'Kak schastliv, kak schastliv ya!' (from Eugene Onegin)
Schumann – 'In der Nacht' (from Spanisches Liederspiel Op.74), 'Unter'm Fenster' Op.34 No.3
Massenet – 'A cette heure suprême je suis heureux' (from Werther)
Flashback – Jack Swanson (tenor), Malcolm Martineau (piano), 6.10.2020.
Beethoven – 'Adelaide' Op.46
Schumann – Liederkreis Op.39
Liszt – Tre Sonetti del Petrarca
Musto – 'Litany' (from Shadow of the Blues)
Poulenc – 'Voyage à Paris' (from Banalités), Deux poèmes de Louis Aragon, 'Bleuet'
Quilter – Three Shakespeare Songs Op.6
Puccini – 'Morire'
I was supposed to fly to Frankfurt on 11 March for a weekend of opera: Barrie Kosky's new production of Strauss's Salome; a double bill of Debussy's La Damoiselle élue and Honegger's Jeanne d'Arc au bûcher; and Delius's A Village Romeo and Juliet. (It was only a few weeks ago that I returned the scores to the New York Public Library.) My flight was cancelled, and the 13 March performance of Salome, which I was slated to attend, was the last at Oper Frankfurt before lockdown.
I cheered, the joy mixed with envy, as the opera house reopened for the 2020/21 season, albeit with a drastically changed schedule, reduced audience size and strict hygiene protocols in place. In September, there was further cause to celebrate when Oper Frankfurt was voted Opera House of the Year (an honor shared with Grand Théâtre de Genève) for the fifth time, the fourth since Bernd Loebe became Intendant in 2002. On 2 November, with the coronavirus surging in Germany, Opera Frankfurt went dark but not silent.
On 13 November, mezzo-soprano Anna Dowsley and tenor Jonathan Abernethy gave a soothing, lovely recital in the foyer of the opera house. It was streamed live, but there was no audience to listen and applaud. Abernethy, who was born in New Zealand, became a member of the Frankfurt ensemble in 2019 after a highly successful stint at the Opernhaus Zürich International Opera Studio. Before moving to Frankfurt, Dowsley performed leading roles with Opera Australia and sang with major Australian orchestras and festivals on the concert stage. The excellent pianist was the Korean-born In Sun Suh, who is on the music staff of Oper Frankfurt.
The concert opened with the strains of the Barcarolle from Les contes d'Hoffmann in an arrangement for mezzo-soprano and tenor. Every note the pair sang was tinged with intimacy; mezzo and tenor are husband and wife. The warmth and richness of Dowsley's plummy mezzo-soprano and Abernethy's sure, gleaming tenor were ever present. All was not sweetness and light, however, as dramatic depth was on display in the deeply moving Schumann duet 'In der Nacht', and in the tragic final scene from Massenet's Werther.
Schubert's 'Licht und Liebe' duet was the loveliest of benedictions on this short musical interlude. The sound of Abernethy singing its beautiful melody has stuck with me for days.
Among the other offerings on Oper Frankfurt's website is a recital from 6 October by Jack Swanson, the rising American tenor who made his debut with the company last season as Rodrigo in Rossini's Otello. Even at this early stage of his career, Swanson is already a polished recitalist with an old soul. The program, no doubt conceived in partnership with Malcolm Martineau, who partnered him at the piano (with the exception of one song), could have been performed 50 years ago. It was perfect in every way.
Swanson's free, ringing top and high spirits made Beethoven's 'Adelaide' absolutely jubilant. Next came the wonderful songs of Liederkreis Op.39, one of Schumann's masterful cycles in which he set poems by Joseph von Eichendorff. The soft, spinning lines in 'Mondnacht' were Swanson's to command, as were the text and drama of 'Waldesgespräch'.
The second half of the program spanned Liszt to Puccini. Aided to no small degree by Martineau's impeccable taste and style, Poulenc's 'Voyage à Paris' and 'Fêtes Galantes' were delightfully urbane and witty. Swanson is of the flesh-and-blood school of French singing, but still that most beautiful of songs, 'C', was rendered exquisite and ephemeral, while 'Bleuet' had the requisite air of poignant nostalgia.
The first John Musto song that I ever heard brought me to tears. It was 'Heartbeats', which I heard sung at the 1992 premiere of The Aids Quilt Songbook. In 'Litany', which predates 'Heartbeats', Musto set Langston Hughes's prayer imploring that love be extended to those who expect it least: 'The sick, the depraved, the desperate, the tired, all the scum of our weary city'. Swanson sang Musto's eloquent setting of Hughes's profound words with simplicity and fervor. The inclusion of this one song anchored the recital in the moment. It was a masterful touch.
Oper Frankfurt is facing the same challenges as other opera houses around the world. Recitals are no substitute for opera, but any opportunity, whether streamed live or recorded, to enjoy its roster of exceptional young singers is a welcome respite in these dark, difficult times.
Rick Perdian
To view the livestream of Anna Dowsley, Jonathan Abernethy and In Sun Suh in recital, click here.
To view Flashback: Recital by Jack Swanson and Malcom Martineau, click here.