United Kingdom The Royal Ballet: Live – Within the Golden Hour: Dancers of The Royal Ballet, Orchestra of the Royal Opera House / Jonathan Lo (conductor). Live-streamed from The Royal Opera House, London, 13.11.2020 (JO'D)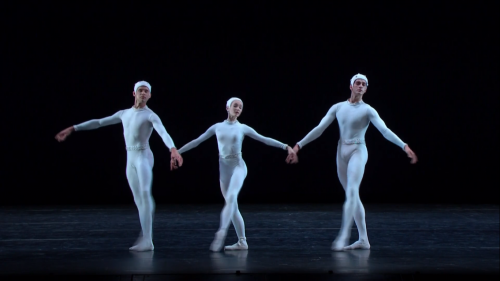 This third The Royal Ballet: Live from the Royal Opera House is the one that most makes you want to be there. Also the one that is most like being there. No presenter, apart from Artistic Director Kevin O'Hare's opening address from the stage. No interviews or spoken introductions. Simply the dance.
Twelve pieces in all, starting with a new work choreographed by First Soloist, Valentino Zucchetti, his first for the main stage, and finishing with Artistic Associate Christopher Wheeldon's Within the Golden Hour. In between, seven pas de deux, two pas seul and one pas de trois; each of them aMarianela Nuñezis superseded by the next.
Less intricate, less tied up in choreographic knots than his similarly-scaled Orbital Motion for New English Ballet Theatre in 2015, Zucchetti's Scherzo (to music by Rachmaninoff) gives its dancers for the most part room to breathe. They have the look of Balanchine dancers in The Four Temperaments. The pas de deux can be overcomplicated, still; but the piece has its overall energy, its propulsion.
First performed by The Royal Ballet in 2016, Within the Golden Hour (2008) owes much of its attractiveness now to costumes redesigned by Jasper Conran in 2019. After its finale was danced in October as part of the first full-company performance since the lockdown, it is presented here in a complete version. While there may be too much going on in Christopher Wheeldon's choreography, too many limbs and joints in play, it is danced with élan to the music of Ezio Bosso, its closing moments an apotheosis of the plié.
As for the pieces in between, it is the question facing Adam and Eve after their expulsion from Eden at the end of Milton's Paradise Lost. Where to choose? Akane Takada's clarity of gesture in an excerpt from Frederick Ashton's Rhapsody, danced with Alexander Campbell? Melissa Hamilton, Nicol Edmonds and Reece Clarke looking as if they really believe in the steps of the same choreographer's Monotones II? Anna Rose O'Sullivan and Marcelino Sambé apparently enjoying themselves so much in Balanchine's Tchaikovsky Pas de Deux? And that is only the beginning.
Cathy Marston's In Our Wishes was performed in October by Fumi Kaneko and Reece Clarke. Romany Pajdak and Calvin Richardson make of it something softer: he the 'Cathy Marston man', affectionate, giving; she the woman who for some reason rejects. Also a repeat from October is the Act I pas de deux from Swan Lake. Less ethereal than Akane Takada in the role of Odette, Francesca Hayward is equally poignant, tracing lines of beauty with her partner, Cesar Corrales.
In the pas de deux from Kenneth MacMillan's Manon it is Laura Morera, taking a quill pen out of Federico Bonelli's hand, who instigates their dance of mutual, fatal attraction. Nicol Edmonds is 'man as barre' for a self-absorbed Yasmine Naghdi at the beginning and end of the pas de deux from that choreographer's Concerto.
William Bracewell brings a lightness to Ashton's Dance of the Blessed Spirits, rising on the ball of his foot in seemingly weightless arabesque. Performed by Vadim Muntagirov in the first Live from Covent Garden of the lockdown, then it was sad. Now it is only beautiful. Natalia Osipova, on the other hand, is not afraid to make something almost ugly of the death throes of Fokine's Dying Swan.
Marianela Nuñez, a stately dancer now, performed with Vadim Muntagirov the pas de deux that is really a pas de trois from Le Corsaire. Muntagirov does not only give his partner full attention as they dance. He follows her with his eyes, before embarking on his variation, as she runs into the wings. And it is looking at her that he ends the dance, as Rudolf Nureyev looks at Margot Fonteyn in the famous photograph. Some male dancers look out at the audience as if for applause.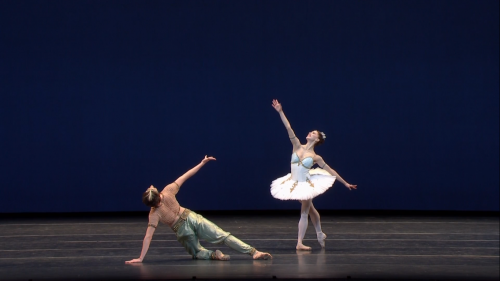 'Of course,' says the disingenuous narrator at the start of E. Nesbit's The Railway Children, 'Mothers never have favourites'. It is difficult to have a favourite among the dances here, but particularly gratifying to see Melissa Hamilton in Monotones II. Never has she seemed so suited to a role.
Available on demand for 30 days from 13 November priced £10 from the Royal Opera House website (click here) and for full details of the ballets performed and the complete casting click here.
John O'Dwyer