United Kingdom Jette Parker Young Artists – Jukebox 2: Live-streamed from Linbury Theatre, Royal Opera House, London, 30.10.2020. (JPr)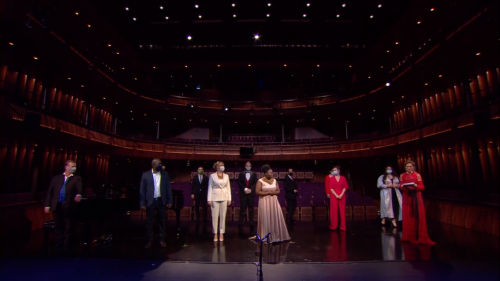 Artists and Programme:
Germán E. Alcántara (baritone) – Ambroise Thomas's Hamlet 'Ò vin dissipe la tristesse'
Alexandra Lowe (soprano) – Maude Valérie White's 'So we'll go no more a-roving'
Blaise Malaba (bass) – Vivaldi's Tito Manlio 'Se il cor guerriero'
Filipe Manu (tenor) – Leilani Fakatou Havili's 'Efiafi peau ongo'i vale'
Kseniia Nikolaieva (mezzo-soprano) – Saint-Saëns's Samson et Dalila 'Mon coeur s'ouvre a ta voix'
Andrés Presno (tenor) – Alberto Favero's 'Te Quiero'
Stephanie Wake-Edwards (mezzo-soprano) – Tchaikovsky's The Queen of Spades 'Pauline's Aria'
Masabane Cecilia Rangwanasha (soprano) – Verdi's Don Carlo 'Toi qui sus le néant'
Pianists – Michael Papadopoulos, Michael Sikich, and David Gowland
Introduced by Katie Derham we were told how during Jukebox 1 live earlier in the week 'Our … eight singers performed three snippets of pieces and then you [those watching] voted which one you wanted to hear in full. And can I just congratulate you, you've chosen some splendid works. It's going to be an excellent programme.' Later she remarked how they were 'Opera rarities that have never been staged here [at Covent Garden] or songs most of us haven't heard very often before either.'
After Alexandra Lowe sang a very sad and deeply affecting rendition of Maude Valérie White's 'So we'll go no more a-roving' (given equally poignantly piano accompaniment by Michael Papadopoulos) Derham observed how it had been 'another timely title'. In fact, a number of the pieces we heard did appear to hint at some (unintended?) irony on the part of those voting for pieces of music that commented on our Covid-blighted times. Germán E. Alcántara had opened the programme with Ambroise Thomas's 'Ò vin dissipe la tristesse' (from Hamlet) which began with 'O wine, scatter the sadness'; Blaise Malaba gave us Vivaldi's 'Se il cor guerriero' (from Tito Manlio) which included the words 'Think of the law and your duty'; Filipe Manu's new Tongan love song spoke of 'As evening draws near I lose my mind, I so long to see you'; and the arresting presence of Stephanie Wake-Edwards delivered a sorrowful 'Pauline's Aria' from Tchaikovsky's The Queen of Spades that was bemoaning lost happiness and past joy and seemingly predicting a bleak future!
(I write this review on the eve of another national lockdown that will probably do little but delay what is inevitable. There is a definite need for some alcohol to help cope with it all as we are shut indoors, made to obey increasingly draconian rules, kept away from loved ones, with the prospects for life as we knew it, imaginably bleak! Honestly, Kenneth Williams's final diaried words 'Oh, what's the bloody point?' are brought to mind!)
On happier matters, this concert was an excellent showcase for the Jette Parker Young Artists who all wonderfully embraced their opportunity to perform to a worldwide audience. Germán E. Alcántara sang the Hamlet aria charismatically, though I wondered if his voice wasn't – what I label as – a 'lazy tenor'. Alcántara spoke for all those involved, I suspect, when he said to survive everything recently 'There is three ingredients: family and friends, music, and the Royal Opera House and the Jette Parker [programme] which is near to say my family also. So it's been really tough for everyone'. Indeed it has!
Blaise Malaba found Vivaldi's florid lines a bit of a challenge but Michael Sikich's throbbing piano throughout was very impressive. Nearly everyone we heard was great, but Felipe Manu was one of the two true 'stars' we saw and heard. Accompanying himself on the ukulele he reminded me very much of when Juan Diego Flórez plays the guitar and sings some more 'popular' songs. Manu's 'Efiafi peau ongo'i vale' proved to be an absolute delight. You knew his emotion was very genuine when he said how it was 'Something quite special for me to share my culture and my heritage here at the Royal Opera House … from Tonga to London.'
Thanks to Ukrainian Kseniia Nikolaieva's dark and richly hued mezzo-soprano 'Mon coeur s'ouvre a ta voix' was as sultry as you could possibly imagine and ended with her viscerally seductive 'Samson! Samson! Je t'aime!'. Equally impressive was pianist David Gowland providing some suitably accentuated and fragrant Saint-Saëns. Reminded that Blaise Malaba is a Ph.D student in Ukraine (at the Ivan Franko National University of Lviv) Nikolaieva chillingly revealed how the singers 'have to distance and wear a mask and we are not available to socialise'!
We couldn't even escape thoughts of the pandemic during Uruguayan Andrés Presno's impassioned 'Te Quiero'. At one point his brawny tenor voice sang the line 'I love you because your lips utter words of rebellion'. I know we all want to protect the vulnerable but, truthfully, am I the only one who believes life is never going to be risk-free and whilst the Government may provide some with financial support they can never replace the time – or opportunities – lost in 2020. Whilst this affects me, of course, I am particularly sorry for the Jette Parker Young Artists whose careers are currently on hold.
The best came last with Masabane Cecilia Rangwanasha's aria from the final act of Don Carlo. She has a remarkable, deeply expressive, soprano voice with a free and easy top. There was an – almost subliminal – effort to console us in our current lockdown plight when Elisabetta prays 'If tears are still shed in heaven, carry them, weeping, to the feet of the Lord'. Once again David Gowland's agitated accompaniment was the ideal support for the young singer. Masabane Cecilia Rangwanasha's potential will be a great loss to the Royal Opera when she eventually joins the ensemble of Bern Staatsoper for two years.
To conclude Katie Derham read a message from a Jukebox 1 viewer: 'In one way it's making me super sad that there's nobody there [in the opera house]. In the other way my heart is singing from the fact the whole world is watching … stay safe everyone and love opera'.
I have nothing more to add …
Jim Pritchard
For more about the Royal Opera House click here.