Germany Vaughan Williams, Purcell, Birtwistle, Mahler: Magdalena Kožená (mezzo-soprano), Andrew Staples (tenor), Deutsches Symphonie-Orchester Berlin / Robin Ticciati and Sir Simon Rattle (conductors). Livestreamed (directed by Jörg Thomas Mohr) from Philharmonie Berlin. 7.11.2020. (JPr)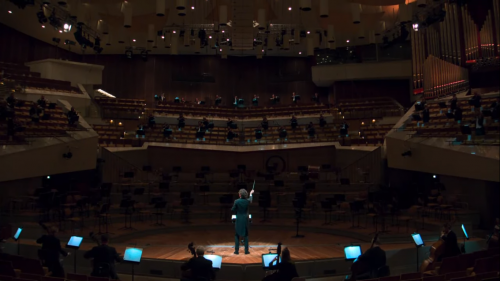 Vaughan Williams – Fantasia on a Theme by Thomas Tallis
Purcell – March from the Music for the Funeral of Queen Mary
Birtwistle – Cortege
Mahler – Das Lied von der Erde (arr. Glen Cortese)
Concert halls, opera houses and theatres are amongst many trying to adapt to the 'new normal'. Like other businesses across the world they were beginning to open up to live audiences only for countries to lockdown again facing a rapid increase in coronavirus cases. This was the first in an ongoing series of initiatives by the Deutsches Symphonie-Orchester Berlin and their chief conductor Robin Ticciati while audiences are kept away. In a wide-ranging pre-recorded film, he ended by hoping to ultimately bring the entire orchestra back to Berlin's Philharmonie for Rachmaninoff, Wagner and Klaus Lang's new work Ionisches Licht (Primordial Light). Ticciati talked about music as a healing force capable of giving the listener solace, hope and excitement. However, this concert – regardless of the exceptional music-making – was distinctly downbeat with the first half something of a musical elegy to those who have died during this pandemic. For me there was just too much solace and not enough hope and excitement.
Ralph Vaughan Williams returned from France where he studied orchestration with Ravel and wrote his 1910 Fantasia on a Theme by Thomas Tallis which seems to have been the first socially-distanced composition as it involves a full string section, a smaller group (of nine players), and a quartet. Tallis's melody is the same as that Vaughan Williams included in The English Hymnal (which he edited) as the melody for Joseph Addison's hymn which includes the words 'When rising from the bed of death, Overwhelmed with guilt and fear'. There was something otherworldly about the distanced sounds of the strings spread throughout all the levels of the Philharmonie with eight double basses (and at least one cellist?) behind Ticciati in his red DSO mask. Most of the players – but not all – were masked and all the swaying to the rising and falling music was almost hypnotic. Throughout the whole concert the excellence of the DSO instrumentalists' chamber music technique was preeminent, and this was exemplified by the DSO's concertmaster Marina Grauman. Ticciati said how the orchestra for the Vaughan Williams had been joined by many of Berlin's freelance musicians explaining that 'they are the lifeblood of this city [and] to be a freelance musician in any country during this corona pandemic is devastating'.
Next the DSO's trumpets and trombones were to the fore during Purcell's stately March from his Music for the Funeral of Queen Mary. This was aided and abetted by the haunting effect of perfectly choreographed seventeenth-century drum beats, solemnly provided by six drummers which included Ticciati and Sir Simon Rattle. This then segued into Harrison Birtwistle's 2007 Cortege. I was left rather ambivalent about this work which Ticciati described as 'jagged but intimate'. I believe there were fourteen musicians (supported by piano, cello and double bass), arrayed in front of Ticciati who was underpinning what we would hear by beating on his big bass drum. Though mostly there to provide the basic accompaniment each soloist came to the front to swap with a colleague and embellish the musical line in almost an improvisatory manner. Ticciati described this as 'Each player … should come and offer a flower onto the coffin' and how 'The piece ends in some sort of chaos which the Mahler [we would hear next] can emanate from'. I will leave others to decide whether they would want Cortege at their funeral.
With his conducting commitments completed in 1908, Mahler went to his summer retreat in the southern Tyrolean village of Toblach for the last three years of his life, where he could start composing again. A friend had given Mahler a volume by Hans Bethge entitled Die chinesische Flöte (The Chinese Flute), a volume containing German translations of a collection of some 80 Chinese poems. The poems appealed to Mahler and using seven of them, he turned them into the six songs of Das Lied von der Erde. It is the sixth song ('Der Abscheid') that includes two poems and Mahler also made his own important alterations to the text. The DSO performed it in Glen Cortese's 2004 reduced orchestration and for this the orchestra welcomed Simon Rattle back 43 years after he last conducted them.
Some of the monumentality of Mahler's original is lost, though by dialling back on some of the bombast, it allows for greater intimacy, transparency, and colour. Cortese's Das Lied also gains from the clarity it gives to several virtuosic solo contributions, most notably here from Thomas Hecker's cor anglais and Gergely Bodoky's flute, particularly in 'Der Trunkene im Frühling' which is perhaps the most despairing song. Rattle and his exemplary musicians produced an eloquently romantic account of the score, striking in detail but lacking some intensity and much visceral emotion, though this could be more the fault of Cortese than the conductor and his orchestra.
I fear I am verging on being too critical and really don't wish to be because so much goodwill was involved in putting on this performance in these difficult times. However, I would have liked to hear more consonants from Andrew Staples's German and a rather grittier performance which displayed a wider range of emotion from a voice with a brighter sound. The three songs are a gruelling test for any tenor and Staples was at his best in the more reflective passages. However, there were not enough effortless passages for me, and Staples often gave the impression he was auditioning for Siegfried.
Magdalena Kožená – for obvious reasons – is frequently Rattle's mezzo-soprano of choice, though, oddly again, her diction was not impeccable. There were some wonderful pure tones and elegant phrasing during Kožená's interestingly 'operatic' performance, however she was under pressure during the faster passages of 'Von der Schönheit' when she resorted to Sprechtstimme and her concluding repetitions of 'Ewig' ('Forever') were not sufficiently transportative.
At one-point Ticciati declared how important an audience was for the orchestra and that 'We need to make music for you' and indeed this DSO concert was a wonderful statement of musical intent. In saying 'We long for you and we wait for you' I hope the days when concertgoing returns to normal will come sooner rather than later for those in Berlin and throughout the world.
Jim Pritchard
For more about the Deutsches Symphonie-Orchester Berlin click here.