Taiwan; Republic Of China (roc) Various: Yo-Yo Ma (cello), Kathryn Stott (piano), in recital at National Kaohsiung Center for the Arts (Weiwuying) Concert Hall, Kaohsiung, Taiwan, on 14 November. Streamed by Cal Performances beginning 27.11.2020. (HS)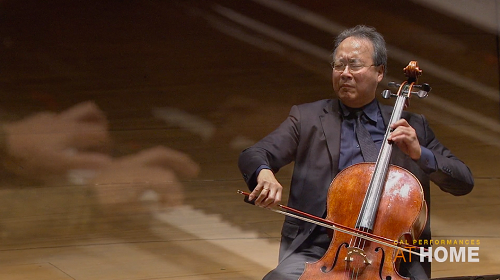 Wu Tong – 'Far Away Mountain' (遠山) (arr. Ding Doudou), 'Rain Falling from the Roof' (檐头雨) (arr. Li Xun/Ding Doudou)
Schumann – Fünf Stücke im Volkston Op.102
Sdraulig -Fantasia on 'Waltzing Matilda'
Traditional American – 'Shenandoah' (arr. Shaw)
Traditional Irish – 'The Last Rose of Summer' (arr. Britten)
Traditional Irish – 'Londonderry Air' ('Danny Boy') (arr. Kreisler)
Rachmaninoff – 'Vocalise'
de Falla – Siete canciones populares españolas
Parra – 'Gracias a la vida' (arr. Jorge Calandrelli)
Piazzolla – Le Grand Tango
About two-thirds of the way through Yo-Yo Ma's streamed recital, a program dropped to the floor, a familiar sound that most of us hadn't heard since March. It was evidence that the 14 November performance in Taiwan, presented to the rest of the world Friday evening as part of a series of concerts streamed weekly by Cal Performances at Home, was live before a rapt audience.
The American cellist, born in Paris to Chinese parents, spoke in fluent Mandarin to the audience between clusters of works based on songs, some familiar, some not. The video's English subtitles translated Ma's admiration for Taiwan for the way it had tamed the pandemic so much better than much of the world, making it possible for him and Kathryn Stott to play at last for a live audience.
The works they chose aptly reflect the concert's title, 'Songs of Comfort and Hope'. The program was steeped in music that allowed us to revel in Ma's ability to make his cello sing with a wonderfully human timbre tone. Sure, they touched familiar emotional buttons, but the performance never approached overblown sentimentality, creating instead an evening-long tour of sheer beauty. Stott's preternatural unity of approach with her longtime friend and musical partner at times made their two instruments sound like one.
They began with a hauntingly delicate work by Wu Tong, who plays the sheng, a Chinese reed instrument, and composes for Silk Road Ensemble, founded by Ma to bring together musical cultures from China to Scotland. 'Far Away Mountain' weaves wispy threads of sweetness into yearning. This quiet opener transitioned without pause to Schumann's Fünf Stücke im Volkston, the 'folk style' of the title emerging in a series of amiable and lively short movements.
This juxtaposition was surprisingly seamless. It made perfect sense when Ma said that he wanted to express the concert's theme with music from places around the globe. That spilled over into the next set, a collection of various composers' framings of familiar melodies.
Sydney-based composer Harry Sdraulig's Fantasia on 'Waltzing Matilda', written for Ma and Stott, set the usually rollicking Australian tune in a fog of soft dissonances that underly a more lyric version of this unexpectedly enchanting melody. Likewise, Caroline Shaw's arrangement of 'Shenandoah' reimagines the early American folk tune as a nature painting. Trust Shaw to make it tug at the heart and keep us on our toes with extra beats. Benjamin Britten's setting of 'The Last Rose of Summer' transfers the tenor line to a cello. It starts traditionally but resolves to dissonance rather than consonance. Violinist Fritz Kreisler's version of 'Londonderry Air', which most of us know as 'Danny Boy', found Ma fashioning the melody into something especially soulful. To wrap up the set, Ma spun Sergei Rachmaninoff's 'Vocalise' into a long and expressive ribbon of sound.
Wu Tong's 'Rain Falling from the Roof,' evokes droplets pinging softly and wind chimes rustling in a meditative moment of scene-sketching before leading to another unexpected transition, this time to Manuel de Falla's settings of six popular Spanish songs. The pentatonic-scale sound of the first song, 'El Paño', echoed the musical foundations of Wu Tong's piece. Arab influences on Spanish song added an exotic flavor too.
Two works by pioneer South American musicians concluded the program. First came a song by Chilean singer and composer Violeta Parra, 'Gracias a la vida' (popularized by Joan Baez), and then a sensationally vivid performance of Astor Piazzolla's Le Grand Tango. The 10-minute tour-de-force, written for Mstislav Rostropovich (who premiered it in 1990), touches on a wide range of tango styles, including a yearning middle section and a rousing finish that Ma and Stott brought to a resounding climax.
With so much music coming via video only, we have seen directors limit themselves to simply documenting a performance straightforwardly. Recently, there has been an increase in experiments with techniques borrowed from popular music videos to liven things up visually, which can distract from the direct connection with the music that a classical music audience might want. The uncredited video director on this transmission used an array of camera angles and subtle dissolves to draw us into the music without overpowering it visually. One lovely moment (pictured above) during the Rachmaninoff held the dissolve between Stott's hands on the keyboard and Ma's expressive face and body language into an arresting image.
Talking to the audience, Ma emphasized how music can support us at this fraught moment. He proved it true with an hour and a half of deceptively simple music that did indeed deliver hope, comfort and plenty of depth.
Harvey Steiman
Available on demand through December 12 at calperformances.org