United Kingdom Live from London Christmas, Christmas at Westminster Abbey – What Sweeter Music: Catherine Bott (reader), Sally Price (harp), Peter Holder organ), The Choir of Westminster Abbey / James O'Donnell (director). Livestreamed via VOCES8 Foundation (click here), 15.12.2020. (CC)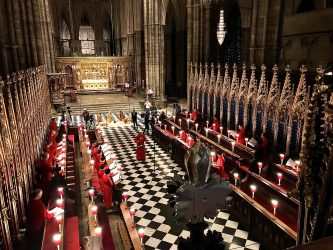 Sheppard – Verbum ergo factum est
Gauntlett (arr. O'Donnell) – Once in Royal David's City
Reading: The Annunciation (Luke I)
Chilcott – Nova! Nova!
Warlock – Bethlehem Down
Vaughan Williams/Armstrong – O Little Town of Bethlehem
Britten – A Ceremony of Carols (excerpts)
Toby Young – Stars in Heaven
McDowall – Before the paling of the stars
Trad (arr. Willcocks) – God rest ye merry, gentlemen
Reading: The Shepherds visit the Infant Jesus (Luke II)
Rutter – What sweeter music
John Gardner – Tomorrow shall be my dancing day
Trad (arr. Wood) – Ding dong! Merrily on high
Mendelssohn (arr. Robinson) – Hark! The herald angels sing
Poulenc – O magnum mysterium
Trad (arr. Ledger) – Sussex Carol
Matthias – Sir Christèmas
Bach – Prelude on 'In dulci jubilo', BWV 729 (organ solo)
Hearing the rather more fleshed out sound of Westminster Abbey Choir after so many smaller groups in the VOCES8 Christmas series is rather a satisfying shock. As Sheppard's Verbum caro factum est (The Word was made Flesh) blossomed out in texture, one became aware of the supportive Westminster acoustic as well as the choral warmth. With male voices socially distanced around a central clutch (what surely could be with justification called a bubble) of boy choristers, Sheppard's miraculous melding of cantus firmus plainsong and attendant polyphonic web emerged with full majesty.
Quite a change to the familiar solo treble for Once in Royal, with its lovely additive structure (perfectly judged dynamic for the organ entry from Peter Holman). Cute to see a depiction of the nativity with little figures and hay in the foreground.
The readings, presumably recorded separately, remain an integral part of the experience, all beautifully delivered by Catherine Bott. After the first, Bob Chilcott's Nova! Nova! exploded into the programme. A piece new to me, it is a compelling amalgam of gospel and medieval styles; all a complete contrast to Warlock's restrained, mysterious, modally-scented Bethlehem Down.
Hearing excerpts from Britten's Ceremony of Carols was perfect programming, the sounds of treble voices against harp a lovely combination: and of course, who better than choir boys to process in, in the opening 'Hodie Christus natus est'? Sally Price was the excellent harpist, urgent in 'This little babe,' underpinning the canons, light and flighty in 'Spring Carol', forceful in launching 'Deo gracias'. The boys' spirited singing reminds us of the dynamism in Britten's score; the final processing out was ideal.
Toby Young's Stars in Heaven; some tremendously imaginative use of the organ, here more an equal partner than any sort of accompanist. Stars in Heaven, written for this choir about seven years ago, and premiered by them. There is a distinct popular music underpinning, but as the lines become more spiritual so the piece transcends its bonds to something altogether more powerful. The ambiguous harmonies of Cecilia McDowall's Before the paling of the stars, a setting of lines by Cristina Rossetti, complemented the Young well, while the 'landing' on the familiar Silent Night and God rest you merry felt like something of a homecoming.
It was lovely to travel to Oxford recently to hear John Rutter's latest, Joseph's Carol, with Bryn Terfel and the Choir of Merton College, Oxford, along with the Oxford Philharmonic Orchestra. Rutter has a very definite musical signature: his compositional voice is instantly identifiable, a combination of consummate skill and perfect alignment with the spirit of carols. So, it is with What sweeter music, particularly perhaps in its transcendent final verse. The bouncing rhythms of Tomorrow shall be my dancing day (with buoyant organ contribution from Peter Holder) offered the choir an opportunity to show its virtuosity.
Perhaps the highlight of the programme was Poulenc's lit-from-within O magnum mysterium, a Christmas responsory, and a work of pure mastery; a close-run accolade, though, given Mathias's Sir Christèmas, full of infectious vitality. How intelligently this Matthias segued perfectly into Bach's Prelude on 'In dulci jubilo', BWV 729 (the one traditionally played at the end of the Nine Lessons and Carols from King's College, Cambridge). The increasingly ornate musical surface was brilliantly delineated by Peter Holder.
Of course, the carol favourites, complete with high-lying descants, are an essential part of any service of this ilk, and were all performed here with the freshness of first acquaintance, The Sussex Carol carrying its message unambiguously. A superb programme executed to the standards one associates with such a venerable venue.
Colin Clarke