Austria Puccini, Tosca: Soloists, Chorus and Orchestra of the Vienna State Opera / Bertrand de Billy (conductor). Broadcast from Vienna State Opera on 13.12.2020. (JPr)
Production:
Director – Margarethe Wallmann
Sets and Costumes – Nicola Benois
Chorus master – Martin Schebesta
Cast:
Floria Tosca – Anna Netrebko
Mario Cavaradossi – Yusif Eyvasov
Baron Scarpia – Wolfgang Koch
Sacristan – Wolfgang Bankl
Cesare Angelotti – Evgeny Solodovnikov
Spoletta – Andrea Giovannini
Sciaronne – Attila Mokus
Jailer – Ilja Kazakov
Shepherd – Maryam Tahon
This Vienna State Opera performance was headlined 'Wir spielen für Österreich' and was part of an ongoing cultural series in association with Austrian TV and Radio. Their legendary Tosca was performed without an audience, broadcast live and was later available on demand for a day. I used my mantra 'If it ain't broke, don't fix it!' as recently as my review of Munich's La bohème with Jonas Kaufmann (click here) and that production was 41 years old. In contrast Margarethe Wallmann's Tosca was first seen on 3 April 1958, making it over 62 years old. Performed as wonderfully as this there is no reason it cannot go further towards its century!
Piotr Beczala made his triumphant role debut in Vienna as Cavaradossi in February 2019 and I was able to (virtually) see and hear a follow-up performance in June that same year (review click here). Therefore, since I have seen this Tosca only recently with Nicola Benois's monumental sets, traditional costumes, and Wallmann's direction (such as it now is), I have little need other than repeat what I wrote before: particularly since this is also my fifth Tosca during various incarnations of 'lockdown'.
What we see in Vienna is very reminiscent of the famous 1976 filmed Tosca (with Catherine Malfitano, Plácido Domingo, and Ruggero Raimondi) which was performed at the appropriate times for a June 1800 day in the actual Roman settings described by the opera's libretto (Basilica of Sant'Andrea della Valle, Palazzo Farnese, Castel Sant'Angelo). Surely it is all as Puccini intended it to be, and why not? In Act I there is a realistic church interior to allow room for a procession of the bishop, priests, altar boys, choristers, and worshippers ushering in a well-populated 'Te Deum', as well as a suggestion of the Attavanti family chapel where Angelotti conceals himself and Scarpia find a fan. Scarpia's well-furnished chambers in Act II includes a table, chaise longue, desk, the requisite crucifix and candlesticks, as well as a concealed torture chamber. For the last act we are on castle ramparts under an appropriately starry sky.
The stage pictures are not enough just on their own to make any Tosca work because it demands three leading singing-actors who can bring the characters and their motivations to real life and draw the watching audience into a very familiar tale through the strength of their vocal and dramatic artistry. That this Tosca will live long in my lockdown memory is revealed by the fact that as Act II went on I was became so gripped by what I was watching that I was desperate to know what would happen next, totally forgetting I knew exactly what would!
How this Tosca was so extraordinary was due to two outstanding singers, Anna Netrebko (Tosca) and Wolfgang Koch (Scarpia). Yusif Eyvazov, Netrebko's husband, rarely disappoints, nor did he on this occasion, it was just that the others were of a different class entirely. Netrebko herself is clearly – and thankfully – totally recovered from her recent COVID-related illness and must be the best Floria Tosca of her generation. As usual, she is the diva par excellence, oddly pious, foot-stampingly jealous, playfully seductive, passionate, despairing, defiant, and possibly rather naive. Netrebko's rounded vocal tone has great dramatic control and exquisite beauty and – as I have written before – she commands the stage every second she is on it through the strength and conviction of her portrayal. She was totally believable in recoiling from Scarpia's advances and Netrebko's incredibly moving 'Vissi d'arte' was a genuine cri du coeur from the depth of her soul. There was no doubt this Tosca could kill someone and, indeed, she made Scarpia suffer. (If you read my Munich review you will see an issue there about fake candles, and here, Netrebko had trouble lighting her real ones!). Near the end as Tosca recoils alarmingly when Cavaradossi is executed I wondered whether all along her character had just been fooling herself with thoughts of a 'happy ever after'. Brilliant is the word to sum-up her performance.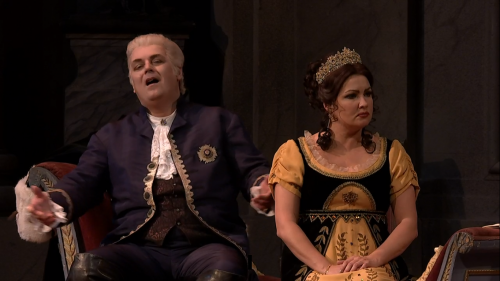 Wolfgang Koch was singing Scarpia in Vienna for the first time and I had first heard him as Wotan at Bayreuth in 2014. He looked exactly as you would expect Scarpia to look, with a white wig, all the lace, and an embroidered frock coat. He had an almost permanent – and chilling – sardonic sneer on his face. This Scarpia was used to getting whatever – and whomever – he wanted. Think of certain #MetToo predators you have read about and this was Koch's chief of police; a brute of a man whose aristocratic airs cannot disguise the sexual – and other gratuitous – violence he is capable of. Koch's voice had an impressive dark malignity to it and his whispered utterance of the threatening single word 'Ebbene?' ('Well?') towards the end of Act II was the stuff of nightmares.
Yusif Eyvasov as Cavaradossi did not really let anyone down, it was just he was slightly overshadowed by his two remarkable principal colleagues; though it is entirely possible he was not 100%. 'Recondita armonia' was sung well but sounded as if the painter was having a reflective internal dialogue and his final act 'E lucevan le stelle' was heartfelt, and beautifully shaded. Eyvazov was not as engaged with his character as Netrebko and Koch were; though he was more convincing near the end when he goes along with what Tosca is telling him, whilst knowing it's really all up for him (them both?).
As in my previous viewing, there were solid performances from everyone in the ensemble including Wolfgang Bankl as a rather humourless Sacristan, with Evgeny Solodovnikov as a stentorian Angelotti, whilst Ilia Kazakov created a significant impression in his few moments as the Jailer because of his resonant bass voice. One character I noticed more than sometimes was Andrea Giovannini's conspiratorial Spoletta who was only too keen to please Scarpia, fearing the consequences if he didn't.
Puccini's sumptuously score sounded as if it was authoritatively conducted by Bertrand de Billy to give it all the tension, refinement, and dramatic impulse the music deserves. From the Vienna State Opera Orchestra there was their typical velvety string tone, the warm timbre of the woodwinds, and perfect intonation from the horns. The opening to Act III was especially atmospheric with its bells and the plaintive song of the shepherd (Mryam Tahon).
This was another very memorable Vienna evening at the opera, made even more heart-achingly poignant due to its circumstances.
Jim Pritchard
For more about Vienna State Opera click here.