United Kingdom English National Ballet's Nutcracker Delights: Dancers of English National Ballet, English National Ballet Philharmonic / Gavin Sutherland (conductor). Filmed at the London Coliseum on 18 & 19.12.2020 and now available on YouTube. (JPr)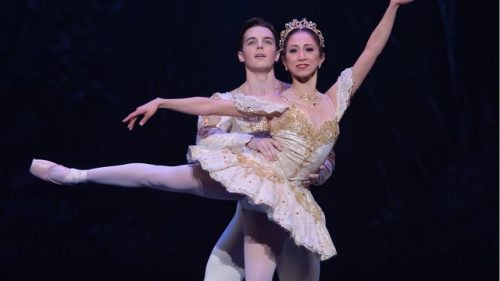 Production:
Choreography – Wayne Eagling (based on a concept by Toer van Schayk and Wayne Eagling)
Music – Pyotr Ilyich Tchaikovsky (reduced orchestration by Gavin Sutherland)
Design – Peter Farmer
Lighting – David Richardson
Cast:
Clara – Natascha Mair
Sugar Plum Fairy – Erina Takahashi
Prince – Joseph Caley
Nutcracker Doll – Aitor Arrieta
Drosselmeyer – James Streeter
Mouse King – Daniel Kraus
Lead Snowflakes – Precious Adams, Alison McWhinney
Snowflakes – Claire Barrett, Paige Bestington, Rebecca Blenkinsop, Georgia Bould, Ivana Bueno, Emilia Cadorin, Julia Conway, Breanna Foad, Carolyne Galvao, Chloe Keneally, Sarah Kundi, Emily Suzuki
Spanish – Ivana Bueno, Jung ah Choi, Daniel McCormick
Chinese – Carolyne Galvao, Miguel Angel Maidana, Rhys Antoni Yeomans
Russian – Breanna Foad, Ken Saruhashi, Alicia Townsend
Lead Flowers – Precious Adams, Alison McWhinney, Matthew Astley, Skyler Martin
Flowers – Claire Barrett, Rebecca Blenkinsop, Emilia Cadorin, Julia Conway, Giorgio Garrett, Kevin Hale, Thomas Holdsworth, Sarah Kundi, Van Le Ngoc, Victor Prigent, Eric Snyder, Emily Suzuki
Just as English National Ballet planned to open a limited season of Nutcracker Delights (based on their 2010 production by Wayne Eagling and Toer van Schayk) the capital moved into Tier 4 COVID-19 restrictions which caused the cancellation of all the scheduled performances at the London Coliseum. Thankfully for their fans, ENB decided to film it and make the recording available free online (until 23 January 2021) as a much-needed uplifting gift at the close of their 70th Anniversary year. Nutcracker has been performed annually since the company was founded and so the company were keen 'to continue this much-loved tradition'.
Nutcracker has its origins in E.T.A. Hoffmann's 1816 tale (The Nutcracker and the Mouse King) and when Marius Petipa choreographed a ballet of this story in 1892, he based it on a version by Alexander Dumas. So, whilst the ballet differs in the detail compared to the source material, it is still basically the same. A young German girl dreams of a Nutcracker Prince and a fierce battle against a Mouse King. Traditionally, it starts with Clara's family hosting a party for family and friends on Christmas Eve in their grand home. There is always an extravagant Christmas tree and in its shadow their children, Clara, and her brother Freddie, are dancing and playing as the guests arrive. An old family friend Dr Drosselmeyer arrives bringing along his nephew, a handsome soldier. Drosselmeyer is something of a magician and entertains the children with his puppet theatre. The children begin to open their presents and Drosselmeyer gives Clara a beautiful nutcracker doll which she adores but – boys being boys – a jealous Freddie breaks it. Drosselmeyer magically repairs the doll and as the evening grows late, the guests depart, and the children go to bed.
Clara has a nightmare and as the clock strikes midnight strange things begin to happen. The living room fills with an army of rats and mice, led by the fierce Mouse King. The Nutcracker becomes a dashing soldier and leads his army of toy soldiers into battle with the mice. The Mouse King corners the Nutcracker and battles him one-on-one. The Nutcracker is injured and seems to be no match for the Mouse King and he, along with his army, are captured by the mice and their King. For Nutcracker Delights the dulcet tones of Simon Callow describes all of this after having begun in familiar fashion – as for all good fairy-tales – 'Once upon a time Clara's family were having a Christmas party'.  Michael Nunn and William Trevitt's film imaginatively uses animation to show us something of Eagling and Van Schayk's original concept and it is only when the room is turned into 'The Land of Snow' that the actual dancing begins.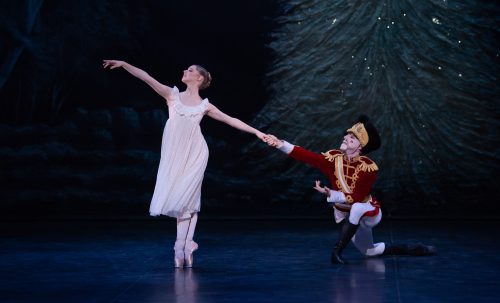 Nutcracker Delights lasts barely 60 minutes, so it is essentially the CliffsNotes version though as we see Clara and the Nutcracker Doll's pas de deux we are introduced to ENB's new principal dancer Natascha Mair (from the Vienna State Ballet). Mair immediately announces herself as someone to look out for in the future; her Clara is open faced and full of wonder and her dancing has a delightful lyrical ease with exquisitely soft arms. Never for any moment did you see her face foretell how she was going to move next and Mair exuded an aura that dancing is the most natural thing to do to express oneself. It is during this first pas de deux that the Nutcracker Doll seems to morph into Drosselmeyer's nephew (both characterised by an elegant Aitor Arrieta).
After we see fourteen sparkling – and perfectly in sync – Snowflakes: Clara, the nephew, and Drosselmeyer (James Streeter) escape in a balloon with the Mouse King (Daniel Krauss) hanging on to the rope. Cue some more clever animation before the balloon lands – for some reason – inside a huge version of the puppet theatre. (Don't think too much about the plot but just sit back and enjoy the spectacle.) The Mouse King is finally vanquished and Drosselmeyer orchestrates the celebratory dances (Spanish Dance, Russian Dance, Chinese Dance, and 'Waltz of the Flowers') and as a finale, Clara (as the Sugar Plum Fairy) and the nephew (as the Prince) dance the traditional pas de deux. It is then that Clara wakes from her dream and is shown back in her bedroom with her nutcracker doll as Simon Callow bids us farewell by saying, 'With that we wish you a Merry Christmas and may all your dreams come true.'
The always reliable English National Ballet Philharmonic may have been reduced to less than 40 but the masked Gavin Sutherland conducted them with the lightest of touches in his new orchestral arrangement of Tchaikovsky's musical confection. Few of the dancers – other than Clara, Nutcracker Doll, Sugar Plum Fairy and Prince – have anything substantial to dance in Nutcracker Delights. I was impressed with the technical accomplishment and commitment of ENB's corps de ballet whether as Snowflakes or as the eight couples during a charming 'Waltz of the Flowers' and as both Lead Snowflakes and Lead Flowers, Precious Adams and Alison McWhinney were as impressive as ever. The first applause we heard from the small (invited?) audience watching in the London Coliseum was after the exciting Spanish Dance. There were some accomplished fouettés from Carolyne Galvao at the climax of the Chinese Dance and an exuberant Russian Dance showcased Ken Saruhashi jumping and spinning with panache.
The climactic pas de deux was – I must admit – a little underwhelming with the impression of an open rehearsal (which this performance might well have been originally planned as). Joseph Caley (Prince) has little to do except partner and present the Sugar Plum Fairy as best as possible and he did this neatly and with practiced ease. Caley's leaps were high and cleanly landed, but I did not feel he commanded the stage. Erina Takahashi's Sugar Plum Fairy was typically graceful, with purity of line and sharp footwork, but I was not as captivated by her dancing as I would have hoped.
Nevertheless, huge congratulations to ENB for letting their devotees worldwide an opportunity to see the company on their 'home' stage when the wretched pandemic has kept them away from it for so long. Because they deserve it, I have listed everyone – who I understand performed in this performance of Nutcracker Delights – above.
Jim Pritchard
For more about English National Ballet click here.