Italy Massenet, Werther: Soloists, Scuola voci bianche del Teatro Communale di Modena, Orchestra Filarmonica dell'Opera Italiana Bruno Bartoletti / Francesco Pasqualetti (conductor). Livestreamed from Teatro Communale Luciano Pavarotti, Modena, via operastreaming.com (click here) by Edunova on 4.12.2020. (CC)
Production:
Director – Stefano Vizioli
Assistant Director – Pierluigi Vanelli
Scenography – Emanuele Sinisi
Costumes – Anna Maria Heinreich
Lighting – Vincenzo Raponi
Visuals – Imaginarium Creative Studio
Cast:
Werther – Francesco Demuro
Charlotte – Veronica Simeoni
Sophie – Maria Rita Combatelli
Albert – Guido Dazzini
The Bailli – Alberto Comes
Johann – Filippo Rotondo
Schmidt – Nicola di Filippo
Brühlmann – Andrea Gervasoni
Käthchen – Luisa Bertoli
This is a new co-production between Opera Lombardia and the theatres of Modena, Reggio Emilia, Ferrara, and Pisa. My last encounter with Massenet's glorious opera Werther was back in 2011 at Covent Garden, in the Benoît Jacquot production (review click here); fascinating to see a very different production, all staged in a neutral 'indoors' with intelligent use of technology in terms of projections from Imaginarium Creative Studio (of course, some of the scenes are intended to be very much outdoors; technology can invoke this at times, but at others there was the distinct impression that a slightly claustrophobic atmosphere that would lead to tragedy was being set up).
Costumes seem to be of the intended period of the story, although the children clad as here would not be out of place in a production of Oliver!. Lighting was incredibly imaginative in and of itself, shadows and silhouettes reflecting internal emotions, or projections of handwritten keywords in Charlotte's Letter Scene. The contrast between the brightly lit first scene and the entrance of Werther was stark indeed: as Werther asks if this is where the magistrate lives, it is clear we are in a different emotional place, as the singer indulges in his archetypically Romantic musings on the beauty of Nature.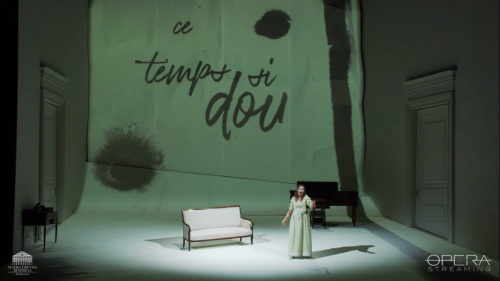 A mimed representation during the opening of Act I of Charlotte, in a wheelchair reading love letters with her lover at a distance, implied that, possibly, the whole opera was a memory that would be replayed for us (as the first scene commences, she goes into silhouette). This scene creates a symmetry, too, in the production: Werther's final act death scene is similarly achieved from a distance, with the stage split, a spotlight on the dying and bleeding Werther, Charlotte clearly in another room on her rocking chair, older. It is a clever slant on the action, even slightly chilling.
All credit to the children, especially in that bright lighting of the first scene proper, here decidedly inside four walls of what might be a boarding school (the stage indication is 'a warm summer evening'). Having an uncluttered stage means, of course, that the focus is fully on the singers and their acting abilities: there is nowhere, or almost nowhere, to hide. This was a strong cast overall, in particular the Charlotte and the Sophie. Mezzo Veronica Simeoni has studied with Raina Kabaivanska and has a fine, focused voice and equally fine acting abilities for the role of Charlotte, plus perfectly judged diction. She certainly impressed here throughout, her ability to make us believe her feelings palpable at every juncture. (I see she was less impressive to my colleague Jim Pritchard as Preziosilla in the Royal Opera's star-studded Royal La forza del destino.)
Maria Rita Combatelli, as Sophie, was absolutely her match, if of a different vocal character (she has a larger voice than her physical frame might imply). This, coupled with superb acting skills, marks her very much as a name to watch.
For the male voices, it was the confidence of delivery from Albert Comes's Bailli that was the stand-out. The main male role though is – fairly obviously given the opera's title – Werther, taken here by Francesco Demuro. His first big number. 'O nature plein de grâce' is a meditation on the beauty of Nature as only Massenet could manage, an outpouring of impeccably French Romanticism, exquisitely perfumed from the murmurings of the orchestra. Demuro has a sweet-toned voice that suits the music's quieter, more intimate moments; this was one of his finest moments, sung in twilight-implying lighting and against a net of shadows. Demuro has the range, too (the part does occasionally go quite low for a tenor); just a touch more strength at the top, in forte, would have rounded the assumption off nicely. But in duet with his Charlotte later in the first act, it is clear who is the finer singer, and in the second act, while it was clear Demuro keeps his power for the big moments, he simply did not convince in his heartache, when he sings that it could have been him that Charlotte loves. Demuro stepped in for an indisposed Piotr Beczala at Berlin's Deutsche Oper last year (Alfredo in La traviata; review click here); he disappointed my colleague Mark Berry as Jason in Cherubini's Medée at the Staatsoper unter den Linden in February this year (review click here).
Vocally and dramatically, Demuro was surpassed by the Albert of Guido Dazzini, whose stage presence matches his vocal confidence; Dazzini's voice itself is a thing of beauty. The smaller roles are well taken, in particular the Johann of Filippo Rotondo and the Schmidt of Nicola di Filippo.
The conductor, Francesco Pasqualetti, is clearly sensitive to the ebb and flow of the drama, shaping the music well throughout. He was rather hampered by the orchestra itself, however, which could on occasion be scrappy, particularly at the higher dynamic levels; the strings sound far better when playing quietly.
A fascinating staging of a magnificent opera; next up will be Madama Butterfly on 29 December, from Ferrara. Sadly, a performance of Otello from Bologna on November 18 was cancelled, a particular pity as the role of Otello was due to be sung by Gregory Kunde (who impressed so much in the title role at Covent Garden around this time last year: see my review click here). But that we get so much is in itself cause for celebration.
Note that there is a variety of streaming quality options available: 1080p is High Definition, but if broadband does not support that it can be taken all the way down to 144p.
Colin Clarke