United States Various, Aqua Net & Funyuns: Experiments in Opera / Dmitry Glivinskiy (piano & music director), New York. Available for free download at Apple Podcasts, stitcher.com or experimentsinopera.com, 7.12.2020. (RP)
Tariq Al-Sabir – Beauty Shot
Jason Cady – Another One Bites
Aaron Siegel – Ships That Pass
Kamala Sankaram – The Understudy
Michi Wiancko – Arkana Aquarium
Production:
Sound – Carl Ehlenfeldt
Recording & mixing – Jeff Cook
Performers:
Sopranos – Joanie Brittingham, Rachel Doehring, Kamala Sankaram
Mezzo-sopranos – Eliza Bonet, Rachel Duval
Tenor – Brandon Snook
Baritone – Eric McKeever
Bass-baritone – Joshua Jeremiah
Violin & viola – Jeanann Dara
Saxophones – Jeff Hudgins
Electric guitar – Drew Fleming
Bass – Pat Swoboda
Whether due to prescience, overactive imaginations or an iconoclastic streak, Experiments in Opera was producing video, radio and podcast operas long before the pandemic. Who knew that these alternative mediums for contemporary opera would become a lifeline in 2020 for composers, musicians and audiences alike. With Aqua Net & Funyuns, this remarkable indie opera company has returned to podcasts. Dollars to doughnuts, no one has been listening to anything like Aqua Net & Funyuns this year.
EiO was founded in Brooklyn in 2010 by composers Aaron Siegel, Matthew Welch and Jason Cady, with the mission to present new works that connect words, story and music. From the start, the company sought to expand opera beyond the formal, traditional approach into a new hybrid genre that embraced the diversity of the participating artists' lives and musical experiences. In the past ten years, EiO has commissioned 75 works from 47 composers and collaborated with over four hundred performers, designers and directors from the New York City artists community.
Aqua Net & Funyuns features five newly commissioned operas, each created by a different librettist/composer team. Drawing from the style of audio fiction podcasts, the twenty-five- minute serial episodes are designed specifically to tell compelling, thought-provoking and at times highly entertaining stories through voices, instruments and immersive sound design without any visual elements. Each episode highlights the cliff-hanger nature of serial narratives and exploits the possibilities of the podcast medium.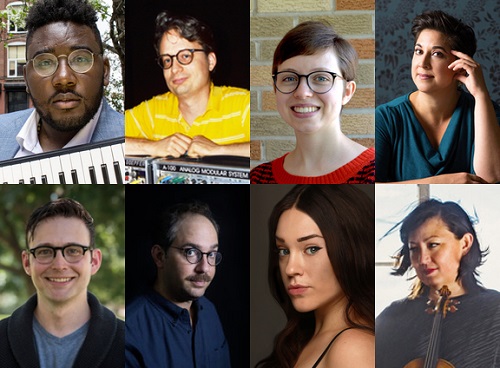 The librettos of Aqua Net & Funyuns emerged from a one-month iteration of EiO's Writers' Room project, which brought together a group of writers from the world of podcast fiction to quickly create individual episodes, using the model of a television writer's room. In Aqua Net & Funyuns, the five stories are linked through characters, plot twists and hidden messages or features (known as easter eggs in the realm of video games, films and comic books) that are not necessarily related to the plots but add to the fun.
There is no need for spoiler alerts for, as in real life, there is more ambiguity than closure at the end of the five operas. In Beauty Shot, with music by Daniel Shepard and a libretto by Tariq Al-Sabir, a wife with a philandering husband pulls out a gun to coax the truth from four friends in a quiet beauty shop in Kansas. She gets a confession and dumps her husband without firing a shot.
A pot-smoking high school student is transported via port-a-potty back to the Michigan town from which she was uprooted in Another One Bites, with a libretto and music by Jason Cady. The Queen song yields to pulsating rhythms, while telegraph-style recitatives alternate with the often searing, soaring outbursts of a teenager trying to sort things out in the Reagan era.
In Ships That Pass by Aaron Siegel and Cara Ehlenfeldt, a son who never came out to his mother discovers after her death that she wrote Queer fiction. The support and understanding that she could never give voice to in real life were channeled into stories with a lead character bearing a striking resemblance to her teenage son.
The world of small-scale – but still grand and passionate – opera is spoofed in The Understudy, composed by Kamala Sankaram to a libretto by Jason Cady and Cara Ehlenfeldt. A galloping introduction eases into Latin rhythms before the undercover cop-cum-understudy steals the show, singing a coloratura flight of fantasy in which the soprano takes the leap of an octave plus a perfect fourth to land on a high E-flat. She also solves who has been skimming the profits from the company's coffers.
A professor turned janitor learns that he didn't drive his wife to suicide in Arkana Aquarium with a libretto by Annie-Sage Whitehurst and music by Michi Wiancko. It's not that great a leap from Finding Nemo to Arkana Aquarium; the down-on-his-luck husband discovers his late wife quite contentedly reincarnated as a poisonous tropical fish with a short life expectancy and singing in a fish chorus in the aquarium.
The five operas are strung together by the narration of Annie-Sage Whitehurst and the Aqua Net & Funyuns theme song composed by Hannis Brown. Whitehurst plays it straight, introducing each episode in an earnest, straight-forward manner undercut by Brown's attention-grabbing, energized music which instantly sets the mood for the suspense and drama, as well as a few laughs, that follow.
It's easy to get lost in the mesmerizing array of sounds, pulsing rhythms and otherworldly phenomena such as portkeys in Arkana Aquarium, but one or two of the stories are going to punch you in the gut. Granted, it's an oddball bunch of characters, but that's the norm for opera. With this quick dive into teenage angst, intergenerational conflict, a trigger-happy jilted wife and giant egos, as well as a little larceny, Experiments in Opera has condensed universal themes into bite-sized operatic bits that call for a sequel.
Rick Perdian
Aqua Net & Funyuns is available for free download at Apple Podcasts, stitcher.com, experimentsinopera.com or wherever else you get your podcasts.