United Kingdom Met Stars Live in Concert – Sir Bryn Terfel in Wales: Sir Bryn Terfel (bass-baritone), Natalya Romaniw (soprano), Trystan Llyr Griffiths (tenor), Hannah Stone (harp), Jeff Howard (piano), Calan (folk group), Elen Hydref and Dylan Wyn Rowlands (additional harps). Livestreamed (directed by Gary Halvorson) from Brecon Cathedral, Wales, 12.12.2020. (JPr)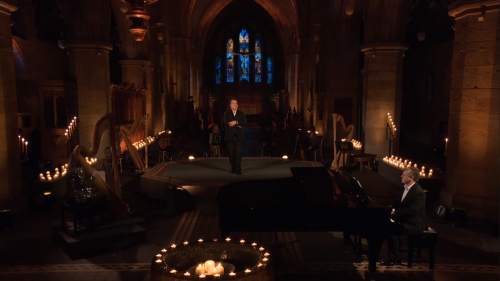 Programme:
Arwyn – 'Guardian Angel'
Gruber – 'Silent Night'
Ramírez – 'El Nacimiento'
Schubert – 'Ave Maria'
Holst – 'In the Bleak Midwinter'
Trad. – 'New Year's Eve in Caernarfon'
Salzedo – Concert Variations on 'O Tannenbaum'
Hairston – 'Mary's Little Boy Child'
Lerner and Loewe – 'Little Prince' (from The Little Prince)
Trad. – 'Still, still, still'
Arwyn – 'Benedictus'
Adam – 'O Holy Night'
Novello – 'I Can Give You the Starlight' (from The Dancing Years)
Trad. – 'Ar Hyd y Nos'
Wagner – 'O du, mein holder Abendstern' (From Tannhäuser)
Wade- 'O Come, All Ye Faithful'
"'Tawel nos', 'Silent Night', 'Stille Nacht'. Croeso and welcome to Wales and to an evening of songs that will I hope bring us stillness and a joyful calm to you all from Aberconwy, Brecon, and the Cathedral.' After his first two songs Sir Bryn Terfel welcomed us to the cathedral for a much-anticipated holiday programme that he had curated. We had already heard Jeff Howard accompany Terfel at the piano for Robar Arwyn's 'Guardian Angel' and, of course, there was 'Silent Night' sung to his wife Hannah Stone's harp and the polyglot nature of what we would be hearing had become evident; when appropriate there would be Welsh, English, and German, as well as some Latin and Spanish. The programme was fully subtitled, so these different languages were no hindrance to those watching engaging with what was being sung.
None of Terfel's guests – all Welsh – had appeared at the Met and nor either has he – for various unfortunate reasons – since 2012. Nevertheless, this was the best yet of these Met Stars Live in Concert events, not that there have been too many of them mainly due to artists being ill. Hindsight being a marvellous thing, it would have been worth the Met having some new – pre-recorded? – content to replace these missed concerts. This possibly could have involved those presently on the Met's Lindemann Young Artist Development Programme or there may also have been an opportunity for those who had actually performed in this series to have recorded other duets, arias, or songs for such an eventuality. This would have made these livestreams appointment viewing regardless of who was involved and hopefully that could have generated much needed income for the Met.
Brecon Cathedral is supposed to be situated on the site of an ancient Celtic church. A new church was built in the late eleventh century but rebuilt in Gothic style in the thirteenth and then restored in the nineteenth centuries. Arrays of flickering candles lit the interior and there was a wonderful atmosphere created for this concert by the shadowy (clearly cold) interior of the cathedral, as well as from the illuminated stained-glass windows we could see. Terfel performed in the midst of all this on an octagonal plinth surrounded by the musicians. Why this was the best of these Met concerts was because there were no breaks for some unnecessary trips down the Met's memory lane and when Terfel was not singing, someone else was, or the folk group Calan played.
Robat Arwyn's 'Guardian Angel' contains the words:
Sometimes I feel, the world is unforgiving
One day they battled, just to go on living
When all hope is fading
An angel then descending
When the dawn is breaking full of hope once more
How we could do with that angel now because all hope for a normal 2021 – free from COVID-19 precautions – seems to be fading rapidly as this dispiriting year limps to a close. Terfel sang his perfectly-enunciated texts – in whatever language – with a simple eloquence, dark glowing tone, sensitive phrasing, and was not scared to show the refined soft side of his vast voice. For me it was the baritone qualities of his voice that impressed me the most.
The tenor Trystan Llyr Griffiths joined Terfel and Howard for 'El Nacimiento' by Argentine composer Ariel Ramírez. Though nicely sung it was not an equal partnership as Griffiths sounded – understandably – a little nervous. Griffiths then sang Schubert's very familiar 'Ave Maria' suitably prayerfully though Howard provided a rather plodding accompaniment. A variety of instruments – including flute, pipes, guitar, accordion, and harp – were played as we heard Holst's 'In the Bleak Midwinter' from the folk group Calan who then performed the traditional 'New Year's Eve in Caernarfon' in spirited fashion. I imagined myself at a Twmpath (the Welsh version of a cèilidh) where much fun was being had by all.
Next Hannah Stone showed her virtuosity in Carlos Salzedo's Concert Variations on 'O Tannenbaum' which sounded as if snow was falling on the Christmas tree. Terfel oddly made rather hard work of Jester Hairston's 'Mary's Boy Child', first made famous in the late 1950s by Harry Belafonte, whilst Lerner and Loewe's 'The Little Prince' was delightful and illustrative of Terfel's ability to intelligently interpret everything he sings. For both of those songs Howard provided idiomatic piano accompaniment before it was Stone's turn once more to underpin Terfel's rendition of the elegiac lullaby 'Still, still, still' with some sparkling harp playing.
'Benedictus' is Arwyn's setting – for two voices – of part of the Catholic Mass and was interpreted by Terfel and Natalya Romaniw with Stone's harp being an equal part in the musical spirituality. Romaniw followed this up with Adolphe Adam's 'O Holy Night' that is frequently voted the nation's favourite Christmas carol on Classic FM. The Welsh soprano sang it with a worthy reverence but also, for me, too much reticence on this occasion.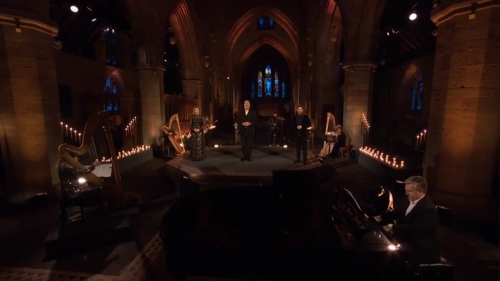 The rendition from Terfel and Howard of Ivor Novello's 'I Can Give You the Starlight' was as highly melodic and comfortably nostalgic as possible. Next was the traditional Welsh song 'Ar Hyd y Nos' ('All Through the Night') and Terfel's singing was soothing, endearing, and delightfully anthemic and it was perfectly enhanced by Calan's vibrant folk rhythms. Terfel followed it with Wagner's 'O du, mein holder Abendstern', the 'Song to the Evening Star' from Tannhäuser which was accompanied by piano and harp. It showcased Terfel's eloquently expressive baritone register as he meditated plaintively on the journey to heaven of his beloved's soul.
Greet her, when she passes,
When she soars above this mortal vale
To become a holy angel there!
If you are in need of a shot of holiday spirit that is not out of a bottle then this concert is for you and the rousing finale of the ever-popular 'O Come, All Ye Faithful' by all the singers and musicians we had heard was the icing on the festive music's Christmas cake.
Jim Pritchard
For more about Met Stars Live in Concert click here.