United Kingdom Britten, Owen Wingrave: Soloists, Chris Hopkins (Piano), Craig Apps (Percussion) / James Henshaw (conductor). Streamed on Grange Park Opera's 2020 Interim Season (click here) from 9.12.2020. (JPr)
Production:
Director – Stephen Medcalf
Video Production – Fintan O'Connor
Sound – Tom Marshall
Cast:
Owen Wingrave – Ross Ramgobin
Miss Wingrave – Susan Bullock
Sir Philip Wingrave – Richard Berkeley-Steele
Mr Coyle – William Dazeley
Mrs Coyle – Janis Kelly
Lechmere – James Way
Mrs Julian – Madeleine Pierard
Kate Julian – Kitty Whately
Narrator – Richard Berkeley-Steele
Boy Bugler – Chloe Morgan
Owen Wingrave, Op.85, is Benjamin Britten's two-act opera to a libretto by Myfanwy Piper, based on a short story by Henry James. It was originally written for TV and was first shown on BBC Two in May 1971. Owen is the last of the line of the Wingrave family that has provided generations of military leaders often sending others into the firing line. Although Owen is undergoing military training and studying Napoleon's campaigns with his friend Lechmere under Mr Coyle, he decides soldiering will not be the life for him. There are ructions when he returns to the country seat of the Wingraves, Paramore, where he finds everyone despises him now. He is disinherited by his obdurate grandfather Sir Philip Wingrave and there will now be no prospect of him marrying his intended bride-to-be, the socially climbing Kate Julian.
However – as we hear in the Act II Prologue – the history of the Windgraves is blighted by an horrific incident when one of Owen's ancestors, Colonel Wingrave, beat his son to death when he refused to stand up for himself against a playmate who had insulted him. Later, the colonel was found mysteriously dead in the very same room and 'without a wound'. Apparently – though this is never shown – the ghosts of both father and son have haunted Paramore ever since. Kate challenges Owen to prove that he is not a coward by spending a night in the room, where no one has dared sleep since the boy's murder and he agrees that Kate should lock him in. When Kate returns to the room during the night because of second thoughts about her challenge, it is too late, and Owen is dead.
It clearly was a very personal work for Britten because it is explicitly pacifist and he was against major conflicts of his lifetime, such as the Second World War and the Vietnam war. In Owen Wingrave wanting to fight for king or queen and country is the normal whilst being a conscientious objector is perceived as deviant. This takes us down another path entirely regarding the composer, and war is probably a metaphor for his homosexuality and society's disdain during his lifetime. Something for another time perhaps, even though this is clearly a – not all that well hidden – theme of the opera. Though what else is meant by Owen's aunt, Miss Wingrave, forcefully singing about how, 'He shall be straightened out at Paramore'?
Owen Wingrave was filmed over five days last September (14-19) and as director Stephen Medcalf has explained: 'A minimal crew maintained distancing in intimate domestic interiors and COVID restrictions required the cast to costume themselves. I've given full rein to the satirical, often blackly comic aspects of the opera. Alongside that there are three serious themes: the pressure from society to conform; the courage it takes to stand up for who we really are; the destructive love of family.
This was the first time I have seen and heard the work and Grange Park Opera did dramatic justice to it by filming it on location in an elegant country house. Though perhaps not full musical justice, with just the accompanying soundtrack – under conductor James Henshaw – of Chris Hopkins's piano, Craig Apps's percussion, aided by Ognune Lively's trumpet for the elegiac Ballad with its repeated refrain – here from a lone young singer, Chloe Morgan – of the chilling 'Trumpet blow, trumpet blow, Paramore shall welcome woe'. Performed like this Britten's music sounded impressionistic with many allusions to his earlier Peter Grimes. Just listen to the passage from Kate when she sings 'My love, my hate, my scorn! Will nothing move him now?' and hear her subsequent duet with Owen and surely you will immediately think of the Ellen Orford/Grimes confrontation at the beginning of Act II.
This was the second thing in two days that I had watched in black-and-white. For me, the new Netflix film Mank was is a triumph of style over substance and so too is Medcalf's Owen Wingrave, though the fault probably lies more with Britten. Reading the synopsis in advance of watching the opera I was expecting some Grand Guignol especially since I was brought up on the Roger Corman/Edgar Allan Poe films with Vincent Price which James's story has some similarity to. The oppression of the Wingraves' ancestral home, where Owen finds himself pilloried by all-concerned here seems closer to Downtown Abbey than the House of Usher.
Medcalf uses what is available to him well enough. Highlights include the opening montage comprising photos of eclectic Wingrave medal-bestrewn 'ancestors'. Later there will be another one showing several war memorials, including something for all the animals that were involved, which poignantly included the words 'They had no choice'! As Owen is seen in Hyde Park there is footage of the Horse Guards as he has been musing 'One little word, no! And I am released forever from all the bonds of family and war'. Soon we are in Miss Wingrave's apartment with her at the laptop playing a violent war-themed video game perhaps the only really 'satirical … blackly comic' moment as far as I could see!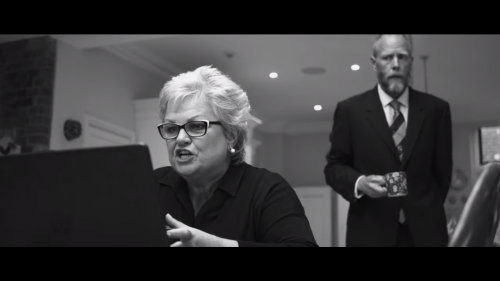 Before everything descends into a modern domestic drama and moves towards its fatal denouement there is the family dinner from hell as all, except the Coyles who side with Owen, berate him for his 'scruples'. (On the dining table, red wine in the glasses provides the only splash of colour in the whole 100-minute film.) The first act concludes with Owen exclaiming, 'I'd make it a crime to draw your sword for your country, and a crime for governments to command it.' The ensuing tragedy does just seem tacked on at the end by Britten and here Medcalf provides another link to Peter Grimes as Owen is not dead on the floor of his room but has (committed suicide?) fallen from its window,
This Owen Wingrave is strongly cast and includes some singers who have sung roles in the opera before. The redoubtable Susan Bullock is Miss Wingrave and there is Madeleine Pierard as Mrs Julian, Kitty Whitley as Kate, James Way as Lechmere, with Richard Berkeley-Steele as the unbending Sir Philip, as well as the Narrator during The Ballad. All sing wonderfully well but it must be admitted that Britten does not give them much to work with and they are rather one-dimensional in their basic unpleasantness. Our sympathy is with the Coyles who – along with Owen – are the only truly fleshed out characters. For William Dazeley as Owen's military tutor there is the pain of his values being rejected, yet when he sings how he 'cannot conscientiously dismiss' Owen's thinking he reveals his empathy with his decision about his life. There is an equally nuanced and sympathetic portrayal from Janis Kelly as Mrs Coyle who is uncomfortable at Paramore. She introduced her love for her husband's 'many boys' in Act I by singing 'After the long days with their books they come to me and charm me with their new-found grown-up ways'. We see her luxuriating in a standalone bath early in the final scene, perhaps the only other fleeting moment of Regietheater.
Ross Ramgobin brings to Owen the determination and resilience of willing to endure the consequence of his actions because he believes he has right on his side. If you accept some revisionism of what Britten may want us to understand from his Owen Wingrave, then when our 'hero' is eventually broken by his unbending – and incredibly hostile – family it emphasises the powerful message of the sad ending.
Jim Pritchard