Ireland 20 Shots of Opera: Cast of Irish National Opera, RTÉ Concert Orchestra / Fergus Sheil and Elaine Kelly (conductors), filmed in Gaiety Theatre, Dublin and broadcast on Irish National Opera Website 17.12.2020. (RB)
Mrs Streicher – Gerard Barry (music)/Ludwig van Beethoven (words)
Rupture – Éna Brennan (music and words)
Ghost Apples – Irene Buckley (music)/Jessica Traynor (words)
Glaoch – Linda Buckley (music)/Doireann Ni Ghriofa (words)
The Colour Green – Robert Coleman (music)/Mark Boyle (words)
Verballing – David Coonan (music)/Dylan Coburn Gray (words)
Her Name – Alex Dowling (music)/Mark O'Halloran (words)
Through and Through – Peter Fahey (music and words)
At a Loss – Michael Gallen (music and words)
Erth Upon Erth – Andrew Hamilton (music)/Anon words)
Dichotomies of Lockdown – Jenn Kirby (music and words)
The Patient Woman – Conor Linehan (music)/Louis Lovett (words)
A Message for Marty (or The Ring) – Conor Mitchell (music and words)
La Corbière – Gráinne Mulvey (music)/Anne le Marquand Hartigan (words)
The Wait – Emma O'Halloran (music)/Mark O'Halloran (words)
Close – Hannah Peel (music)/Stella Feehily (words)
Touch – Karen Power (music)/Ione (words)
The Gift – Evangelia Rigaki (music)/Marina Carr (words)
Dust – Benedict Schlepper-Connolly (music and words)
Libris Solar – Jennifer Walshe (music and words)
Irish National Opera had to reschedule a number of large-scale productions earlier in the year, including a planned staging of Rossini's William Tell.  Like many companies they have had to respond flexibly and creatively to the restrictions imposed upon arts venues by the current public health crisis.  One of the areas which INO has been looking at is compact street operas lasting between 6 and 10 minutes long and featuring the work of contemporary composers.  20 Shots of Opera features twenty compact operas by some of Ireland's leading composers and writers.  These short operas look at subjects ranging from Beethoven's laundry dilemmas, short personal dramas examining relationship breakdowns and loss, to more global existential issues such as the loss of biodiversity due to climate change and the COVID-19 pandemic.  There is an enormous amount of musical variety in these short works and a wide range of styles ranging from Broadway-type musical numbers to more avant-garde genres.
Gerard Barry's Mrs Streicher sets to music Beethoven's letter to Nanette Streicher in which the great composer complains about his laundry and his servants.  Gavan Ring gave an impressive display of a cappella singing with occasional interjections from Stephen Irvine on the tuba.  Éna Brennan's Rupture opened with bell-like chimes designed to create a blissful ethereal sound world.  The short work transformed into a dialogue between an unnamed woman played by soprano Rachel Goode and her conscience played by mezzo-soprano Sarah Richmond.  The faces of the two women were superimposed on each other representing a fragmented psyche.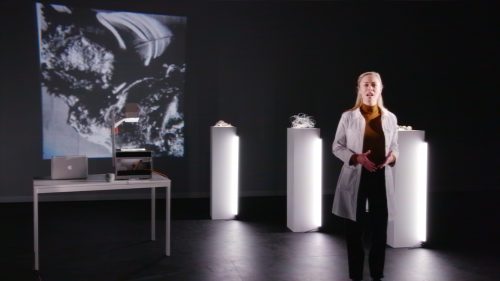 Irene Buckley's Ghost Apples was one of my favourite operas in the collection.  This short work looked at the impact of plastics and other environmental damage on wildlife and the natural world.  Elaine Kelly coaxed compelling neo-Baroque textures from the RTÉ Concert Orchestra and Kelli-Ann Masterson sang with a luminous tone.  Linda Buckley's Glaoch opened with piercing sounds on the strings and this work had a more contemporary, modernist feel.  Soprano Sarah Shine and mezzo Gemma Ní Bhriain tried to communicate using various IT media, although at various points the connection faltered.
Robert Coleman's The Colour Green and David Coonan's Verballing both featured inventive animation provided by Holly Keating and Patrick Moynihan.  Alex Dowling's Her Name was a plaintive meditation on loss and featured a young boy secretly mourning the loss of his mother at a boarding school in Dublin.  Boy soprano, Seán Hayden sang the principal role with enormous confidence and authority against a rich accompaniment on the strings.  Peter Fahey's Through and Through was a miniature version of Berg's Lulu with its magical talking bird taunting a murderess who is subsequently accused of witchcraft and burned.  Michael Gallen's At a Loss was another mournful meditation on loss (in this case a woman waiting on bad news about her mother's passing) while Andrew Hamilton's Erth upon Erth combined a medieval poem with avant-garde musical material to depict a walk through a Covid hot zone.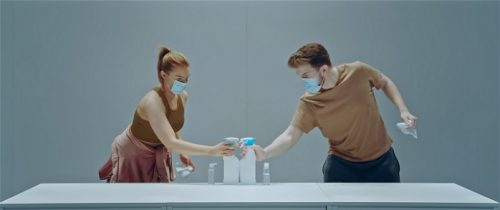 Jenn Kirby's Dichotomies of Lockdown showed two people adapting to new rituals put in place as a result of Covid such as hand washing and wearing masks.  I was particularly impressed with the changes in texture and colour over the course of this short piece and the inventive vocal lines which were beautifully sung by mezzo Aebh Kelly and tenor Andrew Gavin.  In the final lines of the piece we heard the two singers singing 'everything is great' before finishing off with 'everything is fucked' – a sentiment felt, I think, by many at the moment!  Conor Linehan's The Patient Woman was a miniature 3-act musical in which a woman embraces her doctor's failure.  The seemed to reflect back to the golden era of the Broadway musical using a modernist tragi-comic lens.
Conor Mitchell's A Message for Marty (or 'The Ring') depicted two Belfast girls losing their temper.  Mitchell used some interesting instrumental combinations in the orchestral accompaniment and the decision to depict coarse working-class characters seemed to break new ground in an intriguing way.  Gráinne Mulvey's La Corbière depicted the shipwreck of a boat carrying Nazi German soldiers and captive French sex workers.  The expressionist score successfully depicted the confusion and anxiety surrounding this event.  Emma O'Halloran's The Wait was another meditation on the consequences of climate change.  The image of a horse drowning in the rising waters was particularly affecting and I was impressed with the intensity which mezzo Naomi Louise O'Connell brought to the vocal line.
Hannah Peel's Close was a witty depiction of the challenges of dating during lockdown.  Soprano Rachel Croash and mezzo Raphaela Mangan blended together perfectly.  Karen Power's Touch was a study of isolation and it used fragmented vocal and orchestral sounds throughout.  Evangelia Rigaki's The Gift was a meditation on the love of a father for his estranged daughter.  There was some beautiful playing from Erin Hennessy on the violin and Peadar Ó'Loinsigh on the cello in this piece.  Benedict Schlepper-Connolly's Dust was a ballad of extinction mourning the loss of biodiversity and the collapse of the environment.  There were some gorgeous orchestral textures in the strings and harp at the beginning of the piece was we saw various plants covered in plastic. Mezzo Michelle O'Rourke sang the Irish folk melody which runs through the piece with great beauty of tone.  Jennifer Walshe's Libris Solar was a meditative work depicting the musings of a marine biologist.  Claudia Boyle sustained the vocal line brilliantly against a background of whispering voices.
INO are to be congratulated for commissioning such a marvellous body of work (available if you click here) dealing with so many important contemporary themes.  I have often reflected on why the arts do not shine more of a spotlight on the existential threat posed by the current climate crisis. I am delighted to see Ireland's composers, writers and artists do it in such highly inventive ways.
Robert Beattie