Norway Kirsten Flagstad Jubilee Concert: Soloists, Randi Stene (compère), Chorus and Orchestra of Norwegian National Opera / Kirill Karabits (conductor). Oslo Opera House, 30.10.2020 and reviewed when streamed on OperaVision (click here). (JPr)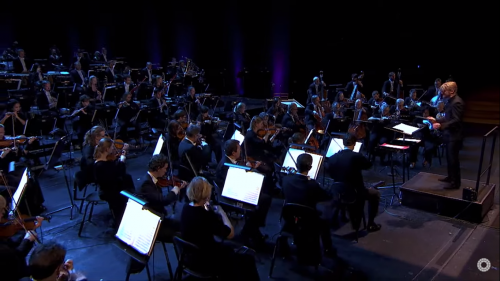 Wagner – Lohengrin, Prelude Act III
Beethoven – Chorus: 'O welche Lust'; 'Komm, Hoffnung' (Fidelio) – Elisabeth Teige
D'Albert – Nuri's aria: 'Der heilige Michael der ging' (Tiefland) – Renate Ekerhovd
Purcell – Dido's Lament and Final Chorus (Dido and Aeneas) – Astrid Nordstad
Verdi – 'Ciel! Mio padre – Riverdrai le forester' (Aida) – Birgitte Christensen and Yngve Søberg
Verdi – 'Salce! Salce!' and 'Ave Maria' (Otello) – Marita Sølberg
Kálmán – 'Höre ich Zigeunergeigen' (Countess Maritza) – Eli Kristin Hanssveen
Wagner – Tannhäuser Overture and Venusberg Music; Entry of the Guests
Wagner – Senta's Ballad (Elisabeth Teige), 'Steuermann, lass die Wacht' (Der fliegende Holländer)
Beethoven – Ninth Symphony Finale – Astrid Nordstad, Birgitte Christensen, Henrik Engelsviken, and Yngve Søberg
Thanks to OperaVision there is lots of information to support this concert because Norwegian Opera and Ballet's opera director Randi Stene's presentation is in Norwegian and there is little relevant subtitling, or much English heard. Flagstad was born into a musical family on 12 July 1895 in the small Norwegian town of Hamar and she started singing and playing the piano as a child. On her tenth birthday, Flagstad's parents gave her the score of Wagner's Lohengrin and on her sixteenth birthday, she performed 'Elsa's Dream'. In the audience was a singing teacher, Ellen Schytte Jacobsen, who allegedly covered her ears shouting 'You mustn't let Kirsten sing like this. It'll ruin what little voice she has for good'. As a result, Flagstad started taking singing lessons with her and this was the start of her career. She made her operatic debut in 1913 when she played her first role as Nuri in d'Albert's opera Tiefland. 'This role gave me the courage to go to the opera,' Flagstad is claimed to have said.
Flagstad is – quite naturally – an icon in her home country and we saw her statue in pride of place at the front of the Oslo Opera House. 2020 marks the 125th anniversary of her birth and on 30 October the Norwegian National Opera celebrated her life with a repertoire spanning different styles and times, as varied as her own life and career; it included Nuri's aria from her operatic debut.
Acknowledging the significance of Lohengrin to Flagstad, the Prelude to Act III was given a bravura account by the Norwegian Opera Orchestra under Kirill Karabits, and it heightened the anticipation for what was to follow. Beethoven is everywhere these days and he can double up on Flagstad's anniversary because it is his 250th of course. One of Flagstad's many signature roles was Leonore in Fidelio and from the composer's only opera we heard 'O welche Lust' as the prisoners long for freedom but are only too aware that might be unobtainable. Both chorus and orchestra were spread out – socially distanced – in front of the conductor and, oddly, together their number seemed to be more than the audience scattered around the stalls of the opera house. In the first of two appearances, soprano Elisabeth Teige, sang 'Komm, Hoffnung' and there were some interesting dark colours that allowed her to fully express Leonore's love for her husband and her firm resolution to free him. There was just a thought that Teige found the higher passages a little more challenging. I know nothing about d'Albert's Teifland but Nuri must be an ingénue and thanks to Renate Ekerhovd's coloratura-soubrette soprano the Humperdinck-like 'Der heilige Michael der ging' was bright, engaging, joyful, and conversational.
Mezzo Astrid Nordstad's 'When I am laid in Earth' – in impeccable diction – was thoughtfully intense. As she repeated 'Remember me', each time they seemed more and more anguished and they were mirrored by the heartache heard from the chorus.
Apparently for Flagstad there were roles like Aida and Desdemona long before any of the major Wagner ones she is most remembered for. Birgitte Christensen and Yngve Søberg sang the Aida Act III duet which is the dramatic confrontation when Aida is torn between her love for Radamès and her loyalty to her homeland and her father, Ethiopia's king. Søberg's bass-baritone as Amonasro was resolutely stentorian and Christensen's soprano was lyrical but rather lighter than is best for Aida. More compelling was Marita Sølberg's Desdemona. After a plaintive cor anglais introduction her 'Willow Song' was deeply-affecting cri de coeur – literally so at one point – and a presentiment of her impending death. Whilst Sølberg's 'Ave Maria' – exquisitely played by the orchestra with its shimmering strings – was extremely sad.
I knew nothing at all about Emmerich Kálmán's operetta Countess Maritza until some recent concerts I have recently seen and heard when it seems to pop up as frequently as Beethoven! Soprano Eli Kristin Hanssveen and the chorus had a go at 'Höre ich Zigeunergeigen' with its upbeat csárdás rhythms that had Hanssveen jiggling around at the end. It was all a bit heavy-going and sounded like Kurt Weill in this performance.
Karabits conducted expertly throughout this Jubilee Concert but often was seen studying his score; however, he did not seem to need it so much for the Tannhäuser excerpts we heard. The Overture features the sombre tread of the hymn theme that the pilgrims sing on their journey to Rome and Karabits drew opulence and breadth from his orchestra. For the more restless and sensuous music associated with the Venusberg the orchestral playing – including some virtuosic solos – had a nimble lightness and delicate textures. Together with the chorus there was then festive grandiosity for the Entry of the Guests and rumbustiousness as we hear the Norwegian sailors' song, 'Steuermann, lass die Wacht'. This celebratory event had an incandescent ending with Beethoven's resplendent – yet increasingly over-familiar – 'Ode to Joy' Finale to his Ninth Symphony. The chorus impressed again, especially the deeper voices, though the soloists were a variable quartet. It would be churlish on such an occasion to be too critical but Yngve Søberg lacked the vocal flexibility for 'Freude, schöner Götterfunken', and Henrik Engelsviken's tenor was under some strain.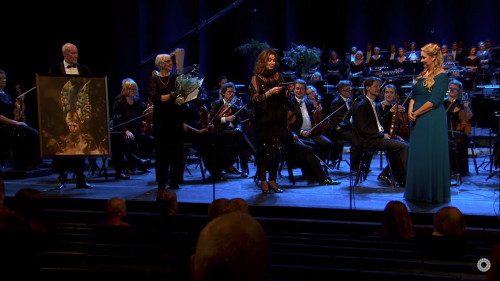 I have left the best till last and near the end Elisabeth Teige sang an engrossing and dramatically credible Senta's Ballad. I was drawn into her totally captivating performance and, in my opinion, Teige thoroughly deserves the recognition of receiving The Kirsten Flagstad International Anniversary Award 2020, in the form a portrait of Flagstad painted by Håkon Gullvåg. The jury included Randi Stene and she was onstage for the presentation and explaining their reasoning included: '[Teige] is a singer who conveys delicate moods, burlesque, sensual humour and dramatic interpretations of Wagner, Verdi, Puccini and Beethoven.' Before concluding 'Dear Elisabeth Teige, you are completely after Kirsten Flagstad's heart!', Stene went on to praise her seamless technique, natural tone, talent, and vocal splendour. All those qualities and more were heard in Teige's Senta's Ballad. She should have sung Gutrune (Götterdämmerung) this summer in Bayreuth and I would have been there, and I hope it is not to long before I do get to hear her live.
Jim Pritchard