United States Gabriela Lena Frank, The Five Moons of Lorca (Las cinco lunas de Lorca): Irene Rodríguez (dancer) and members of the LA Opera Chorus, Nicholas Roehler (piano) / Grant Gershon (choral conductor). Dorothy Chandler Pavilion, Los Angeles, streaming now until 25.12.2020. (JRo)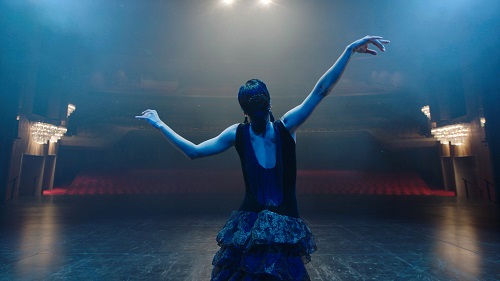 Production:
Libretto – Nilo Cruz
Director – Matthew Diamond
Lighting – Azra King-Abadi
Director of Photography – Billy Yates
Video Editor – Asher Bingham
Cast:
Dancer & Choreographer – Irene Rodríguez
Countertenor – Jacob Ingbar
The Los Angeles Opera has commissioned a strikingly performed and beautifully filmed new staging of Gabriela Lena Frank's Las cinco lunas de Lorca. The original version premiered in 2016 in Oakland, California, and was sung by the Oakland-East Bay Gay Men's Chorus. Now streaming on LAO's website as part of their new Digital Shorts series, this production is a winner, both theatrically and by the standards of online programming.
In a haunting performance by noted Spanish choreographer Irene Rodríguez, and sung with heart-wrenching clarity by countertenor Jacob Ingbar along with eight other members of the LA Opera Chorus, this short work commemorates the assassination of the poet Federico García Lorca by Nationalist forces in the early days of the Spanish Civil War.
Composer Frank and her longtime collaborator, playwright Nilo Cruz, have created a piece of stirring beauty. In this incarnation, the choral work is given resonance by Rodríguez's passionate performance. It's a seamless blend of music, poetry and dance, due in no small part to the direction of Matthew Diamond, a veteran of the series 'Great Performances: Dance in America'.
The Five Moons of Lorca was shot on a bare stage at the Dorothy Chandler Pavilion and dramatically lit by Azra King-Abad. Rodríguez appears in a wash of green light, costumed in layer upon layer of ruffled, black tulle; the gown ends in a snaking train that takes on a life of its own as she defiantly kicks the massive trail of fabric. To voices offstage, she dances flamenco-inspired, contemporary ballet that speaks of bloodshed and death. Cruz's words rivet as the text begins: 'Oh, night of grievance! Oh, night of torn handkerchief!'
Nicholas Roehler on piano and the eight-member chorus directed by Grant Gershon give voice to Frank's lyrical score, infused with Spanish folksong and hints of cantorial music. It was perfectly conceived and executed and barely 12 minutes in length. I found myself wishing for more – high praise in this year of overwhelming distractions.
Jane Rosenberg
To view The Five Moons of Lorca click here.