Germany Wagner, Lohengrin: Soloists, Staatsopernchor, Staatskapelle Berlin / Matthias Pintscher (conductor). 13.12.2020 performance at Staatsoper Unter den Linden, Berlin, streamed (directed for TV by Andreas Morell) and available on ARTE Concert until 15.1.2020 (click here). (JPr)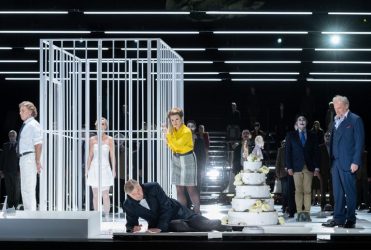 Production
Staging – Calixto Bieito
Collaboration in direction – Barbora Horáková Joly
Stage design – Rebecca Ringst
Costumes – Ingo Krügler
Lighting – Michael Bauer
Video – Sarah Derendinger
Chorus master – Martin Wright
Dramaturgy – Bettina Auer, Jana Beckmann
Cast:
Lohengrin – Roberto Alagna
Elsa – Vida Miknevičiūtė
Friedrich von Telramund – Martin Gantner
Ortrud – Ekaterina Gubanova
Heinrich der Vogler – René Pape
The King's Herald – Adam Kutny
Gottfried – Karl Horres
The pandemic continues to frighten countries into submission, but some companies carry on albeit for one night only as in Berlin where the Staatsoper Unter den Linden brought us Calixto Bieito's new staging of Lohengrin. There was a significantly reduced chorus and apparently there were only 40 musicians of the Staatskapelle Berlin spread out in the pit, about half of the usual complement; with the trumpet fanfares in Act III piped in from elsewhere. This meant that the singers did not have the usual Wagnerian wall of sound to cut through and they could intelligently interpret the text, or as much as Bieito – described as an opera enfant terrible – would allow. This is my third Lohengrin in recent months but my first lockdown one where there was an element of social distancing on stage with no one allowed to touch it seems, either intentionally or for health and safety.
For Bieito love is in the air and indeed at one point 'Liebe' is scrawled across the back of the swan knight's jacket but in Wagner's operas – and especially this one – love seldom runs smooth, sometimes it is cursed or there is a price of some sort to be paid. In Lohengrin, Elsa stands falsely accused of murdering her brother Gottfried the heir to the throne of Brabant, and her champion arrives to defend Elsa's honour as long as she does not ask his name or where he comes from. What will happen if Elsa asks the forbidden questions and can she stop herself? I know the answer and suspect my readers will too, but you will never have seen a Lohengrin like Bieito's. The closest to it recently will have been Hans Neuenfels famous rat-infested version at Bayreuth.
Bieito is infamous for productions with much blood, as well as sex and violence. His new Berlin Lohengrin is undoubtedly blood-spattered, but his other tropes are not as evident. There is much eclectic video imagery at start of each act and occasionally during them. As we hear the Act I Prelude there is the silhouette of a heavily pregnant woman with a picture of a swan on her swollen belly and also we see Gottfried downing. Elsa is already lying at the front of the stage which always makes me think we might be seeing her dream, though if we are it is a very strange (erotic?) one or a nightmare. We are shown an ad hoc courtroom with raked seating to the rear of the type you might see in a school hall, with lots of stylish furniture and chairs that could come from Ikea. There is also a 'dock' to the side which is a white cage into which various characters will imprison themselves during the opera.
Everyone is in Ingo Krügler's modern clothes though they actually look as if they might have dressed themselves. Elsa has a brown (faux?) leather jacket and patterned dress, but the feature is that there is little colour on show: Ortrud has a yellow blouse (with a tweed skirt) and an inordinate fixation for models of red sports cars whilst the posturing Herald matched a turquoise suit with an orange bow tie. We get the idea that Elsa has been put on trial by society and Lohengrin simply appears as her character witness, accompanied by some flashing lights with holding a small origami swan. In his beige linen suit this Lohengrin looks as if he has just stepped out for a coffee in Paris or Milan. King Henry is the judge and he never removes his overcoat and appears to be suffering from Parkinson's. For the king's 'Mein Herr und Gott' it becomes clear why the Herald is dressed as he is, and he makes himself up as the Joker from Batman lore as bare-chested men smear themselves in blood (why you may ask?). Lohengrin defeats Ortrud's husband, Telramund, simply with the power of his mind and as everyone celebrates, they hold up signs some with words and slogans scrawled on them in a mixture of languages. I spotted Mut, Glück, Hoffnung, Liebe, Freude, Engel.
For Act II, the scheming Ortrud and Telramund are shown on more tiered seating with a number of dolls. Elsa makes her entrance submerged under a huge wedding veil that Ortrud – who has confronted her – will soon cocoon herself in. Later the Joker/Herald parades a five-tiered wedding cake that we'll eventually see spinning and he tops it off with Barbie and Ken dressed as the bride and bridegroom. (It was obvious there would be no happy ever after for Barbie and Ken, and there wouldn't be!) The Herald removes his make up whilst the chorus will now be the clowns. Elsa enters as a vision in white in her wedding dress and (temporarily) steps out of it the more her doubts grow. Lohengrin arrives with his jacket insouciantly on his shoulder, Ortrud has a nosebleed, whilst Telramund enters dragging a muppet version of Elsa(?). He challenges the couple before Lohengrin placates Elsa – who has tasted the cake – and it is Telramund now in the cage as the act ends.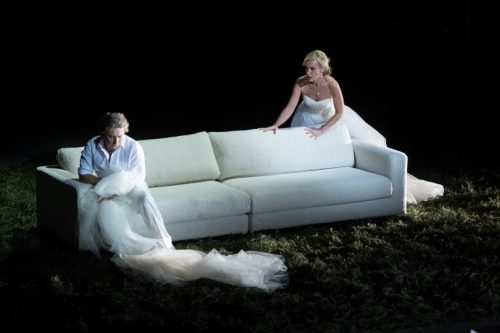 During the famous Prelude to Act III and 'Bridal Chorus' (aka Wedding March) the arresting image is of a woman in labour and giving birth to a swan. The unhappy couple are found on a white sofa bed in what looks like a field. Lohengrin cuddles Elsa's veil but how many times do we need to see one – in opera after opera – ripped apart? The forbidden questions are asked though Telramund isn't dispatched and having wandered in with a small shrubby plant, puts it down and just walks away (don't ask again!). For the closing scene we are back to what we saw in Act I and now it will be King Henry in the cage. After Lohengrin reveals who he is and where he is from, he removes his shirt and as he holds it there is a fleeting impression of swan. Elsa is now in black and beats her chest as Lohengrin retrieved a bundle from the prompt box which includes a plastic toy sword which Gottfried – who has reappeared as a soaked young boy in a blue shirt – will wield as the opera ends. Lohengrin handed him his paper swan though he quickly discarded it.
What have we learnt? Lohengrin is about the conflict between good and evil, seeking the truth, as well as about belief, faith, and trust. Bieito highlights loneliness and the absence of human connection that is affecting many of us as 2020 staggers to a close. Elsa has been put on trial though I am ambivalent whether she is innocent or not.
A number of the singers were indeed fortunate that there was that smaller chamber-like ensemble, however it sounded – through my loudspeakers – little different to any 'normal' orchestral performance. Notably Adam Kutny was struggling vocally as early as Act I though his acting as the campy, quirky, and sinister Herald/Joker was very intriguing. The world-renowned bass René Pape was not his usual commanding self as King Henry, and this does not seem entirely due to the character Bieito made him portray. Martin Gantner was the most 'traditional' character we were shown and in his three-piece blue suit his Telramund was typically weak and easily cowed. Although he was too much like the ranting Alberich in Act II, Gantner sang strongly and had considerable presence. Ekaterina Gubanova's imperious and psychotic Ortrud was strong on emoting and less convincing with her singing. 'Entweihte Götter!' (Act II) did not have the visceral impact it should and unfortunately by Gubanova's 'Fahr heim' near the end her stressed mezzo-soprano voice was not up to the challenge.
Lithuanian-born soprano Vida Miknevičiūtė took over Elsa at short notice when Sonya Yoncheva suffered a non-COVID related illness. It is not a great surprise that Miknevičiūtė's first Elsa sounded more like Senta, a Wagner role she has sung. By the bridal chamber scene her nerves (the cause of a prominent vibrato which spoilt 'Einsam in trüben Tagen'?) were quelled and her Elsa became increasingly emotional, as all do, and from this point on her character's psychological fear of loss and abandonment was written across Miknevičiūtė's expressive face.
I should have been in Bayreuth in 2018 for Roberto Alagna's long-planned appearances there as Lohengrin and it is of course well known that he withdrew in controversial circumstances. This Berlin Lohengrin was therefore his first – and only so far (as for Miknevičiūtė's Elsa) – performance of the role. Obviously if he gets to sing more Wagner, he will learn how to pace himself better enabling him to finish as well as he started. But what promise there was in his ideal combination of the lyrical and heroic in his authoritative tenor voice. I am not a fluent German speaker but hope I have a good ear and have heard dozens of Lohengrin performances and did not recognise anything that was unidiomatic in Alagna's performance. I have personally known other Lohengrins who did not speak German and they usually interpret the words they are singing better than those who do. Alagna's crowning moment was the unearthly beauty he brought to his solemn and sensitively shaded 'In fernem Land'. Just glory in the exquisite softness he brings to 'eine Taube' and I clearly believed I could see and hear a dove descending.
Mostly, Matthias Pintscher kept this Lohengrin moving forward and there were no longueurs and rarely have 3½ hours passed so quicky at the laptop. He led his musicians in a powerful and inspiring account of Wagner's score that highlighted its romantic essence although Bieito's production was starkly unromantic. Under the prevailing circumstances the music-making from the immaculate orchestra, valiant chorus, and soloists doing the best they can, was not short of miraculous.
Jim Pritchard