Rick Perdian talks to soprano Juliet Petrus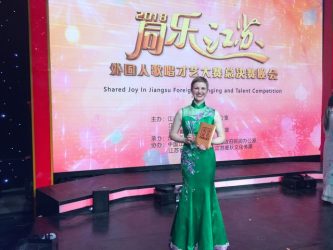 In February, Juliet Petrus garnered critical acclaim for her Queen of the Night in Mozart's Die Zauberflöte at the Hamburger Kammeroper. Midway through the run, the first wave of the novel coronavirus shuttered theaters in Germany and Petrus returned to London, where she has spent the rest of 2020 with her husband and son as lockdowns come and go in the UK.
The 2019-20 season had marked Petrus's return to the operatic stage after nearly seven years of concert and recital work. She appeared as Aricie in Rameau's Hippolyte et Aricie with the Ensemble OrQuesta at the Grimeborn Festival 2019 in East London, followed by appearances as Blondchen in Die Entführung aus dem Serail at the Bühne Baden in Baden bei Wien, Austria.
Petrus's career was also flourishing outside of Europe. She appeared with the Alabama Symphony in Orff's Carmina Burana and in Shanghai as Gilda in Verdi's Rigoletto in a concert performance at the M Glam Performance Space. In 2018, Petrus performed before an audience of one billion on CCTV's annual Lunar New Year's Eve gala concert.
China has been an integral part of Petrus's international career since her initial visit there in 2011 to participate in the first I SING BEIJING, now called iSING! International Young Artists Festival. Petrus has returned many times to perform in concerts and operas, and she is one of the few Western singers to have mastered the lyrical, western-style Chinese classical art song. In 2018, she toured Dongbei as a solo recitalist, singing ten recitals in two months.
The cultural landscape of China is being transformed with new theaters built throughout the country. World-class opera is to be found at Beijing's National Centre for the Performing Arts and theaters in other cities. Likewise, Chinese composers are turning their attention to song. For non-Chinese singers, there are opportunities, but both the language and unfamiliarity with the repertoire are high barriers to entry.
With Singing in Mandarin: A Guide to Chinese Lyric Diction and Vocal Repertoire, Petrus and Katherine Chu seek to unlock the mysteries of Mandarin and introduce singers to this repertoire. Chu is an American pianist who has been a pioneer in vocal coaching and musical preparation in China. Currently on the faculty of The Tianjin Juilliard School and director of programming at the iSING International Young Artists Festival, Chu has been an assistant conductor with the Metropolitan Opera, the Salzburg Festival and other internationally renowned music venues, and served as the director of music administration at the NCPA.
(This interview was condensed and edited for clarity.)
Rick Perdian: The obvious question is how did two Americans, who were educated in US universities and conservatories, come to write a book on Chinese diction?
Juliet Petrus: Katherine was actually born in Taiwan and spent her childhood there before coming to the United States, so Mandarin is her native tongue. This book could not have been written without the guidance of a native speaker. As for me, I do realize that it's highly unusual that a girl from Michigan ended up being a specialist in Chinese vocal music.
Katherine and I met in 2011 at iSING! where she was one of my teachers and mentors. As I went to Mandarin class every day for five weeks and sat through coachings, I kept thinking to myself that there should be a diction book. If someone could have just told me what the equivalent International Phonetic Alphabet symbols were to the Mandarin sounds, I would have been able to replicate them much more easily. Singers in the majority of North American conservatories and music schools learn IPA and apply it to all of the other languages, but that didn't exist for Chinese.
At the end of the five weeks, I went to Katherine and rather naively said that I wanted to write a diction book. She very patiently patted me on the shoulder and told me that was a 'nice idea', adding that perhaps I did not yet possess the knowledge to create such a book, which of course I didn't at the time.
What Katharine actually said was 'why don't you spend more time really learning to speak Chinese, learn the culture, sing more Chinese music, spend some time in China and then we can have this conversation'. So, that's essentially what the past ten years have been about.
RP: Diction is extremely important for all singers, but you seem to have taken a particular interest in it. What prompted that?
JP: First off, I love languages. I generally choose to sing in languages that I speak, mainly because, if I make a mistake, I have a fighting chance of covering it up. But many singers have the ability to sing in languages that they don't speak after studying the rules of pronunciation or diction.
Musicians exploit the correlation between symbols and sounds, which is how we make our living. I love the IPA. When I discovered yet another group of symbols that enabled me to decode the sounds of languages, I was hooked.
RP: I SING BEIJING played a key role in your development as an artist. How did you find out about it?
JP: I found it on one of the websites that singers access for audition information, such as YAP Tracker in the US or Audition Oracle in the UK, on the day that the application was due. I have never worked so quickly in my life as I did that day, getting letters of recommendation and submitting them along with the other recordings and materials needed to apply to the program.
I had long had a fascination with Chinese culture but not the opportunity to delve deeper. I absolutely fell in love with the idea of iSING!, which in addition to musical coaching was going to provide daily Chinese classes and exposure to Chinese culture. I wanted to be a part of it.
RP: What was your first exposure to the lyric Chinese repertoire?
 JP: iSING! was my first exposure to Chinese lyric vocal repertoire. And the first song I ever learned was 我爱你中国 (wǒ ài nǐ zhōng guó), or 'I love you, China.'
RP: How long have you been studying Mandarin, and do you consider yourself fluent?
JP: I began in 2011 with iSING! Our first summer there afforded us the equivalent of a beginning semester of college Mandarin with the focus on speaking. That was the right way: the participants in the program came from twenty-some countries, and we needed to be able to communicate with native speakers.
Between my first and second summers, I tried to not lose any of my Mandarin skills, but I didn't make much progress either. The second summer, I continued on the spoken track. By the end of that summer, I had received an invitation from the Confucius Institute to come to China and study Chinese. It wasn't until 2014 that I had the opportunity to take them up on their generous offer.
Between the summer of 2012 and my studies in China in 2014, I found a teacher in Chicago and slowly built up my knowledge. However, I'd say the foundation for my Chinese reading and writing skills was really built at Tongji University in Shanghai in 2014, and at Shanghai University in 2015. Today, I study online with a teacher twice a week. I am proud to say that I am fluent, and when I'm in China, I get around fairly comfortably. It's not perfect, but 越来越好 (yuè lái yuè hǎo), or 'getting better and better'.
My goal is always to be better than I was the last time I was in China. Chinese, like many foreign languages, has graded language aptitude tests for foreign learners. In Chinese, it's the HSK, and there are six levels. So far, I've passed level four, and I'm actively working toward level five in the next six months. Oh, to be a student whose only job is to study again! I'm much slower than I'd like to be at getting to that next level, but then I remind myself that, hey, I'm an opera singer and a teacher in addition to being a mom and a wife.
RP: The book contains a history of western-style music in China with a focus on vocal works. Is there a specific era that you have found most interesting?
JP: Western-style music essentially stopped during the Cultural Revolution. Many composers who had careers prior to 1966 pressed pause on composing for ten years. Those who were fortunate enough to survive picked it up again in 1976 as China began to reopen. I love Chinese music from the 1920s and 1930s, but I have great admiration for the fortitude and tenacity of the composers who lived through the Cultural Revolution and later thrived. Their story is particularly pertinent for us in these times.
RP: Have you sung works by any of the current generation of Chinese composers?
JP: I performed a fantastic chamber piece by Chen Yi, 'As in a Dream', for voice, cello and violin. There is also an arrangement of it for voice and two traditional Chinese instruments, pipa and zheng, which I hope to return to someday. Chen Yi is a highly lauded, female Chinese composer, now based in Missouri, who studied in Beijing. 'As in a Dream' was particularly challenging because the text setting resembles the usage of the voice in Peking Opera, which is not a style that I have formally studied.
I'm always happy to perform the pieces of up and coming composers writing in Mandarin. Luo Maishuo is one such young composer who is based in China. Some of his works can be found on a CD that I made in 2015 with pianist Lydia Qiu entitled 'A Great Distance'.
RP: In the time that you have been studying and performing in China, what changes have you seen in opportunities for Western singers?
JP: Opportunities change with the political times, but one thing is certain: China loves singing.
As more and more cities build opera houses and concert venues for classical music, there is a need for more performers. But the Western classical music audience in China is still in development, so there is a need for performers who feel comfortable in both opera and Chinese music. It's not only about being a great performer, but also about being comfortable in educating audiences. Ultimately, it comes down to outreach, which requires the ability to communicate with the audience in a special way.
RP: Do you have any advice to singers who are interested in exploring this repertoire?
JP: Just do it! I think it's always intimidating to sing in a language completely unknown to you, but you may be surprised at how it opens up communication with a whole new audience. My goal and Katharine's is for the book to be the key to encouraging singers to program these songs in recital and performance. One of my greatest joys is working with singers on this repertoire. Find your team of coaches and teachers and jump in!
RP: How have you spent lockdown?
 JP: Questioning every aspect of existence. No, it's not nearly as dire as that, at least not every day. I think the best way to describe it is a 'hard pivot'. I've been focused on finishing the book, of course, as well as building my own private studio of students. I've been exercising, doing a lot of cooking, starting some new self-propelled projects and trying, sometimes with great effort, to remind myself that there will be an 'after'. We will all be on stage again.
 RP: Finally, when do you expect to next perform in China, or anywhere for that matter?
JP: I've not been in China since the beginning of January 2020, which is incredibly strange: I generally make seven or eight trips a year to perform, teach and give masterclasses there. Honestly, I'm incredibly homesick for my other home, Shanghai. Regulations on entry into China are constantly changing, often with very little notice, so I just have to continue to wait and see.
As for the rest of the world, I'm scheduled to sing the role of Hannchen in a production of Eduard Künneke's operetta Der Vetter aus Dingsda in Baden bei Wien in the spring. With the recent announcement of successful vaccines, I'm also hoping that more opportunities may open up in the summer, which could include concerts of Carmina Burana across Italy. I'm keeping my fingers crossed that I'll be able to return to the US in 2022 for shows with Florentine Opera that were rescheduled from 2021, singing roles in Ravel's L'enfant et les sortilèges and Viardot's masterful setting of Cendrillon.
Finally, I hope to get back into the recording studio in the next year to bring another group of Chinese songs to a new audience. Hope may be the only thing I've got right now, but there's still plenty of it to go around.
Rick Perdian
For more information on Singing in Mandarin: A Guide to Chinese Lyric Diction and Vocal Repertoire, click here.