United Kingdom The Royal Opera Christmas Concert: Soloists, Roderick Williams (presenter / baritone), Royal Opera Chorus, Orchestra of the Royal Opera House / Mark Wigglesworth (conductor). Livestreamed (for information click here) from the Royal Opera House, Covent Garden, 18.12.2020. (JPr)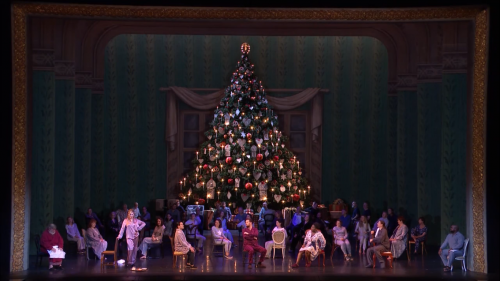 Rossini – La Cenerentola, Overture
Humperdinck – Hänsel und Gretel (Hansel and Gretel) Act II
Hänsel – Hanna Hipp
Gretel – Sophie Bevan
Sandman – Masabane Cecilia Rangwanasha
Puccini – La bohème Act II extract
Mimì – Masabane Cecilia Rangwanasha
Rodolfo – David Butt Philip
Musetta – Alexandra Lowe
Marcello – Germán E. Alcántara
Schaunard – Gyula Nagy
Colline – Blaise Malaba
Alcindoro – Jeremy White
Mozart – Die Zauberflöte (The Magic Flute), extracts
Tamino – Filipe Manu
Pamina – Sophie Bevan
Papageno – Ross Ramgobin
Papagena – Alexandra Lowe
and
Vaughan Williams – Fantasia on Christmas Carols
There is a saying 'if you have nothing nice to say, don't say anything at all' and perhaps I should abide by that? However, I have recently been – 'virtually' – in Munich where I saw Jonas Kaufmann (La bohème), and then there has been Anna Netrebko as Tosca (Vienna), most recently Roberto Alagna as Lohengrin (Berlin), all in as full a staging as is possible during the individual countries' COVID-19 precautions. These were available to a worldwide audience who now got to see a concert from the prestigious Royal Opera House and saw Roderick Williams, barefoot, in pyjamas and wearing a dressing gown!
There was nothing in the advanced publicity which suggested that the event was aimed mainly at children and was a version of a Blue Peter or CBeebies BBC Prom. I am not averse to classical music being fun, but this was distinctly odd. Set against the huge Act I Christmas tree from The Royal Ballet's The Nutcracker, we saw and heard extracts from Hansel and Gretel, La bohème and The Magic Flute, with everyone – and I mean everyone – in an eclectic mix of nightwear! Unbelievably, the rather reverential performance of Vaughan Williams's Fantasia on Christmas Carols was sung like this by Roderick Williams and the Royal Opera Chorus. Oddly, it seems conductor Mark Wigglesworth did not get the dress code and was in a sombre suit, conducting his orchestra who were also traditionally dressed, with the string players in protective masks.
Honestly, who could consider this a suitable showcase for the Royal Opera's young stars? Staff director Dan Dooner – or whomever signed off on this concept – must have begun enjoying some Christmas spirit much too early. In what could also be considered a Jette Parker Young Artists Winter Concert I am surprised all concerned did not look more embarrassed than they did. Roderick Williams introduced proceedings by saying, 'It's my delight to welcome you to our home here […] I hope wherever it is you are listening from, you have got yourself nice and comfortable. Maybe you have got a mince pie in one hand, a glass of mulled wine, or hot chocolate, or eggnog, whatever takes your fancy.' That set the tone for how the rest of this short concert was presented, although I can believe everyone was really 'super excited' to be back on stage. After a typically sparkling account of the overture to Rossini's La Cenerentola we were told 'Yes that's how to get the party started'.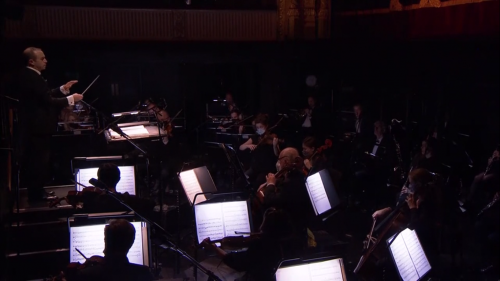 For me, the real stars of this Christmas Concert were the orchestra under Mark Wigglesworth. In fact, there were several minutes of orchestral music before we actually heard anyone sing and that was Gretel during Act II of Humperdinck's opera. Gretel is supposed to be weaving a garland of flowers whilst Hansel is collecting strawberries: we saw Gretel wrapping Christmas presents and Hansel came on with his supper tray. Neither Hanna Hipp (Hansel) nor Sophie Bevan (Gretel) sounded right for their role, though Masabane Cecilia Rangwanasha was luxury casting as the Sandman and sprinkled some vocal magic. Wigglesworth brought out all the Wagnerian colours for the composer's protégé Humperdinck's threatening forest.
The La bohème Act II shenanigans at Café Momus was enacted with a row of chairs across the front of the stage with the socially distanced chorus behind them. Again, not all the singers were suited for even the little they got to sing though David Butt Philip is an experienced Rodolfo. Alexandra Lowe brought a little sass to Musetta though I was sorry for her having to jiggle on one of the chairs in her satin PJs.
Vaughan Williams's Fantasia on Christmas Carols was composed in 1912, two years after the Fantasia on a Theme by Thomas Tallis. After somewhat plaintive allusions to familiar carols, it all ends quietly as we are wished a happy new year and poignantly – for the world as it is in 2020 – there is the line 'God bless our generation, who live both far and near'. Roderick Williams – who had only so far been the maître d' for La bohème – now allowed us to luxuriate in his refulgent baritone voice, exquisite breath control, and the subtle way he colours each and every line he sings. Accompanied by the splendid orchestra, Williams and the chorus were wonderfully professional despite the ridiculousness of their appearance.
Finally, there were some highlights from Mozart's The Magic Flute introduced by Williams as 'some of the most sublime music this composer ever wrote for the opera stage'. Ross Ramgobin has an authoritative voice, but it sounded too dark for Papageno. (As regards style I wonder how many of these young singers actually watch opera and see how certain roles should be interpreted?) Possibly the star of this Christmas Concert was Filipe Manu who sang impressively as Tamino and the famous aria 'Dies Bildnis ist bezaubernd schön' ('This image is enchantingly beautiful') was sung with great purity of tone and was exquisitely phrased. Sophie Bevan sang pleasantly during the 'Bei Männern welche Liebe fühlen' duet with Ramgobin's Papageno without sounding an ideal Pamina on this occasion. Kudos later to Katherine Baker's beautiful flute playing for Manu's equally wonderful 'Wie stark ist nicht dein Zauberton' ('What power is in your magic music'). The chorus excelled themselves again in the opera's celebratory finale 'Heil sei euch Geweihten' ('Hail to thee, Initiates').
There was time for two encores from Roderick Williams, the chorus, and all the soloists in the grand tier boxes before they were allowed to retire to bed. First, an oddly downbeat 'The Holly and the Ivy' and then a more rousing 'Ding Dong Merrily on High' with the exultant repetitions of 'Gloria Hosanna in excelsis!'.
Jim Pritchard