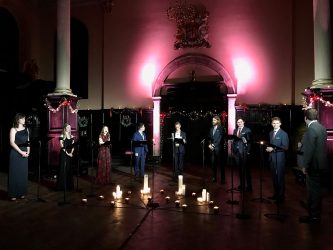 United Kingdom Live from London Christmas – Solstice: VOCES8 (with Roderick Williams, baritone) and The Aeolians of Oakwood University directed by Jason Max Ferdinand. VOCES8 Centre, London, and Oakwood University Church (Seventh Day Adventist), Huntsville, Alabama, USA, livestreamed on 5.12.2020. (CC)
VOCES8:
Jocelyn Hagen – Mother's Song
Taylor Scott Davis – Solstice
Paul Smith – Let's Walk Together
Roderick Williams – Now Winter Nights
Melissa Dunphy – Halcyon Days
Ken Burton – Descend to Earth
Interval (featuring The German Gents)
THE AEOLIANS:
Trad (arr. Dan Forrest) – Silent Night
Cedric Dent – Mary Had a Little Lamb
Carlos Simon – He Is
Hugh Martin and Ralph Blane – Have Yourself a Merry Little Christmas
Jacqueline Hairston – Nowhere to Lay His Head
Trad (arr. Darmon Meader) – In the Bleak Midwinter
Trad/Chopin/Bucknor – We Three Kings (solo piano: Wayne Bucknor)
Trad (arr. Roland Carter) – Mary Had a Baby
Trad (arr. Camp Kirkland) – Joy to the World
This concert was divided into two complementary, and very different, halves. First, VOCES8 at home in the VOCES8 Centre, in a semi-circle around a nest of candles; then, over to the United States for a positively cinematographic extravaganza from The Aeolians of Oakwood University. Two choirs at the top of their game celebrating the Festive Season in very different ways.
The title of the concert was Solstice: the Winter Solstice, the shortest day of the year, otherwise known as Yule, a holy time for Christians, for sure (think of the proximity of Christmas Day); but for other denominations, too. A time of going inside oneself, of contemplation, the culmination of the entry into the dark that was celebrated at Samhain; and the turning of the wheel of the year, as days begin to bring in more light.
It was the intimacy of VOCES8's part of the concert that was so impressive: a sequence of six VOCES8 commissions themselves of brilliant diversity. Jocelyn Hagen's Mother's Song is a sonically gorgeous, delicate setting of an anonymous Japanese text translated by Willis Barnstone. Nice to see VOCES8 back to their full complement; Mother's Song has an internal glow that is most appealing, its calm ceding to Taylor Scott Davis's Solstice (to a punctuation-free text by Milton Brasher-Cunningham), a miracle of texture, complex yet glowing; and how accurate was the top two sopranos' unison line prior to the final cadence.
Paul Smith's works have regularly been featured by VOCES8. He sets Daniel Simpson in his (metaphorically) held breath Let's Walk Together; Roderick Williams, placed centrally, was part of the group, initiating the 'We'll make home' section. A lovely passage shared between Williams and Katie Jeffries-Harris was particularly effective; later it was Williams and the upper two sopranos, Andrea Haines and Eleonore Cockerham, that wove magic.
It was wonderful, too, to have Roderick Williams introduce his own piece, Now Winter Nights, himself. Written for VOCES8 to inspire them individually and collectively – something that 'would let them fly', it was also written for this year, a counterbalancing of the dark; and it was also written for his wife Miranda, with whom he spent a great deal of lockdown, and it is 'a bit of a love letter for her'.  The warmth of Williams's piece is undeniable; his ease of writing for voices is as delightful as it is unsurprising, the slightly blues-tinged cadences contributing to the fireside cosiness of it all. Williams's achievement is not only to contribute a fine piece, but also one that respects and indeed elevates Campion's beautiful text.
Composer Melissa Dunphy was raised in Australia, immigrating to the US in 2003. An award-winning composer of choral music; she is a lecturer at Rutgers University. Her Halcyon Days (text Jacqueline Goldfinger) is a radiant meditation of the sacred, the familiarity of 'well-worn prayers' and a rising up towards a dawn of joy and peace. The performance could hardly be bettered, each texture carefully considered (not least that beautiful ending). Finally, Ken Burton's Descend to Earth sets Phyllis Wheatley and once more featured Roderick Williams's golden voice, spoken words against a wordless background; it rises to an inspiring climax.
Then followed a musical 'interval' between the two Atlantic-separated parts, and with it a diversion to Germany, and The German Gents, all all-male vocal quartet streaming from Leipzig. Tausend Sterne sind ein Dom was followed by a distinctly jazzy Jingle Bells.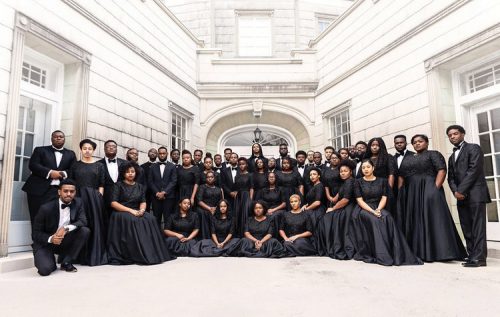 From intimacy to music on a far grander scale: the American choir The Aeolians, prefaced by very evocative shots of nature and a cinematographic title. Their stint was characterised by sheer love of music that shone through every note; underlined by the sheer joy of performance itself. Singing with masks on, Silent Night, fluid and gorgeous, counterpointed by droplets of sound form the piano and an expressive cello counterpoint, grew to a satisfyingly string-saturated climax (players socially distanced around the pews).
Carlos Simon's He Is takes the idea of Handel's chorus 'For Unto Us' from Messiah and expands on it, with soloists Leonard Brown and Malie Ewen. This is a jazz take; the harmonies were super-sensitively delivered. Leonard Brown has the perfect voice for his narrating solos; Malia Brown, the other soloist, had a perfectly complementary voice, high and fetchingly attractive.
A number of fascinating interviews offering a window into life with this choir separated the pieces. There is of course a seasonal glow to be gleaned from Have Yourself a Merry Little Christmas; Roderick George was the burnished-voice soloist in Jacqueline Hairston's Nowhere to Lay His Head, a sort of semi-spiritual in which the sopranos coped well with their cruelly high lines.
Darmon Meader's expansive arrangement of In the Bleak Midwinter featured soloists Kobe Brown and Matrickie Louissant, complete with projected snow in the background. Warm, beautifully performed with two well-matched soloists, it led to a piano interlude: Wayne Bucknor in a fascinating mix of Chopin (Third Sonata, last movement) and We Three Kings. It's great fun, also telling the story of the Nativity, including the flight of the Three Kings (instead of reporting back to Herod the location of the child).
Tiffany Richter was the soloist in Mary had a Baby, a great blues voice, supported on all sides by the choir, the piece an exploration of the process of naming. The sense of joy the choir projects is remarkable, and Richter's energy, unbelievably, even more so. Finally, Joy to the World with a dubbed-on orchestra and mightily impressive video introduction. Great fun was clearly had by all; the cleanliness and uniformity of attack is what is truly impressive, though, throughout. This last arrangement is truly cinematic in scope.
There is a distinct and again unsurprisingly Christian slant to the booklet notes of this part of the concert; it is a measure of the power of the choir's performances that they can be so convincing, even to non-Christians such as myself.
Colin Clarke
For more about VOCES8's Live from London Christmas click here.