United Kingdom Rosenblatt Recitals at Home in aid of Target Ovarian Cancer – From Handel to Wagner – A Journey Through the Ages of Opera: Available as audio and video streaming if you click here. (JPr)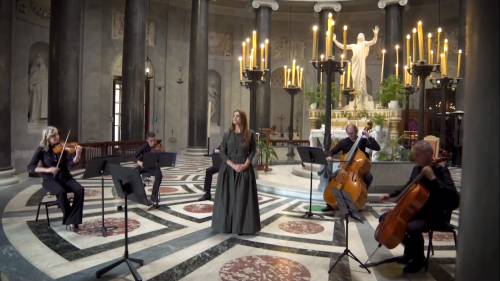 Handel – (Rinaldo) 'Lascia ch'io pianga' – Quartet from the Orchestra Carlo Felice & Serena Gamberoni (soprano)
Mozart – 'Dalla sua pace' (from Don Giovanni) – Ben Johnson (tenor) & Jonathan Bloxham (piano); 'Io ti lascio, o cara, addio!' – Matthew Rose (bass) & Malcolm Martineau (piano)
Bizet – (Les pêcheurs de perles) 'Comme autre fois' – Ekaterina Siurina (soprano) & Rupert Dussmann (piano)
Massenet – (Werther) 'O Nature, pleine de grâce' – Charles Castronovo (tenor) & Rupert Dussmann (piano)
Gounod – (Faust) 'Vous qui faites l'endormie' – Michele Pertusi (bass) & Raffaele Cortesi (piano)
Tchaikovsky – (Iolanta) 'Otchego eto prezhde ne znala' ('Why, until now, have I not shed tears?') – Ekaterina Siurina (soprano) & Rupert Dussmann (piano); (Eugene Onegin) 'Lyubvi fse vozrastï pokornï' 'Gremin's aria' – Matthew Rose (bass) & Malcolm Martineau (piano)
Wagner – (Die Walküre) 'Winterstürme' – Bryan Hymel (tenor) & Jonathan Szymanski (piano); (Tannhäuser) 'Dich teure Halle' – Susan Bullock (soprano & Malcolm Martineau (piano)
In the press release for this twentieth anniversary revival of the Rosenblatt Recitals Annwen Jones OBE, Chief Executive of Target Ovarian Cancer, commented: 'Singers shouldn't be silent and nor must we about this devastating disease. This special edition of Rosenblatt Recitals is a world-class initiative, and we are thrilled that the proceeds will benefit women with ovarian cancer, now and in the future. One in 50 women will receive an ovarian cancer diagnosis – we desperately need funds to ensure that everyone knows the symptoms, receives an early diagnosis and the very best support and treatment, and that we fund research to help save lives. The pandemic has hit hard, and the work of Target Ovarian Cancer has never been more needed.' We also learn from this information how everything we see and hear was recorded between April and June 2020 and it is good to know all the artists were paid for these performances and the costs are not being deducted from all the proceeds from these eight programmes which will be donated to Target Ovarian Cancer.
Petroc Trelawny – who introduced the music with Suzy Klein – suggested From Handel to Wagner – A Journey Through the Ages of Opera would bring 'a little light to lockdown […] celebrating the joy that music can bring even in the midst of a global pandemic.' At the time of writing, there seems no end in sight to the panicdemic and any joy this provides is a much-needed antidote to all the doom and gloom we are bombarded with.
Once again this is an excellent cause and a hidden musical gem that I suspect not enough people can be aware of. I wrote before in a review of the Verismo programme (click here) how – given the circumstances under which it was created – it is extremely well compiled by Simon Weir of Classical Media. For From Handel to Wagner – A Journey Through the Ages of Opera we are in the Italy, London, Germany, and the USA, and some more white-walled or book-lined rooms – with and sometimes without pianos – often featuring family photographs and opera memorabilia on display. Like many recent Zoom events there is a voyeuristic element to examining people's walls and bookshelves. (On this occasion I was intrigued by where tenor Ben Johnson was singing in London and how a collection of [lockdown?] board games, including Rummikub and Scrabble, was juxaposed by photos and autographs of not only Beniamino Gigli but also – I am reliably informed – the Two Fat Ladies!)
It is all generally beyond criticism but I will give some thoughts from watching the singing. I cannot praise highly enough the Quartet we heard and the accompanists – seen or unseen – Jonathan Bloxham, Rupert Dussmann, Raffaele Cortesi, Malcolm Martineau, and Jonathan Szymanski who played a variety of pianos, which this time included an electronic keyboard.
There was a splendid start as Serena Gamberoni sang 'Lascia ch'io pianga' ('Let me weep') from Handel's Rinaldo with the gorgeous melody performed by the Quartet of the first part of the Orchestra Carlo Felice and they were in the stunning candlelit Pantheon of the Monumental Cemetery of Staglieno, Genoa, Italy. It was given a suitably heart-rendering performance in a rather resonant acoustic. Two thankless Mozart arias followed and by thankless, I mean it is all about the voice and there is little opportunity to communicate a great range of emotions. Ben Johnson's 'Dalla sua pace' from Don Giovanni is about the constancy of Ottavio's love for Donna Anna and it had a sweet toned, plaintive quality. Mozart's earnest aria – though its composition is disputed – 'Io ti lascio, o cara, addio!' ('The Farewell') was sung sensitively and with a profound sense of sadness by deep bass Matthew Rose. Bizet's 'Comme autrefois dans la nuit sombre' (from Act II Les pêcheurs de perles) involves Leila quietly musing on her past clandestine romantic encounters with Nadir, and in Berlin, Ekaterina Siurina brought as much ecstasy to this as is possible in anyone's living room and there was a beautifully controlled thrill for its conclusion. Her husband, Charles Castronovo has a lyrical and bright tenor voice, and this was heard at its best in Werther's contemplative and poetic 'O Nature, pleine de grâce' ('O Nature, full of grace') that was by turns ardent or reflective.
One of my earliest operagoing memories was seeing American bass-baritone Norman Treigle in 1974 as Méphistophélès in Gounod's Faust at Covent Garden only three months before his tragic early death. Méphistophélès serenades Marguerite for Faust with 'Vous qui faites l'endormie' ('You who are asleep') which features a lot of maniacal 'Ha-Ha-Ha'-ing. I remember Treigle – even through the mists of time – being rather devilishly gnomic compared to Michele Pertusi (in Parma) being suavely demonic with his cavernous bass voice. For the first of two Tchaikovsky extracts we were back in Berlin for Ekaterina Siurina singing the blind Iolanta's arioso 'Otchego eto prezhde ne znala' and in its short span she convincingly expressed her character's fragility and sorrow. Matthew Rose gave 'Gremin's aria' (from Eugene Onegin) dignity and truthfulness, though for me, I felt none of the love for his wife Tatyana he is supposed to be expressing. Perhaps Rose would do this better on stage and in a costume?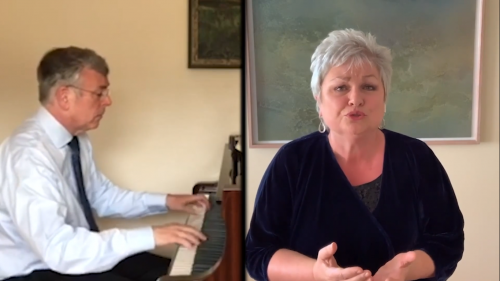 To end with there was some Wagner: firstly, Bryan Hymel in New Orleans made some old-school heldentenor sounds during a robust, baritonal, Siegmund's 'Spring Song' which only had a fleeting hint of strain; and finally, on split screen Susan Bullock appeared intriguingly socially distanced from Malcolm Martineau's skittering fingers on his piano. Bullock's radiant 'Dich teure Halle' (from Tannhäuser) brought another entertaining 45 minutes from Rosenblatt Recitals to a joyous conclusion.
Jim Pritchard