United States Lee Hoiby, Bon Appétit!: Jamie Barton (mezzo-soprano), Jonathan Easter (piano), Opera Philadelphia. Available on Opera Philadelphia Channel until 15.1.2021. (RP)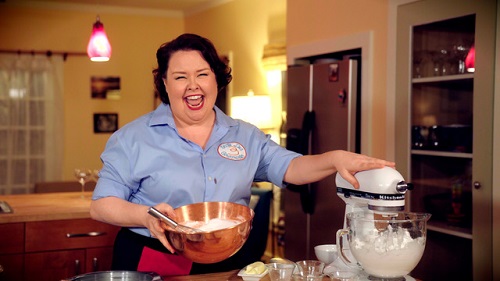 Production:
Directors – Ryan McKinny and Tonya McKinny
Video & Audio – Keep the Music Going Productions
Video Production & Editing – Tolsma Productions Event
Sometimes 'all that stood between me and insanity was hearty Julia Child' remarked one mid-century American housewife. Before there were television channels devoted to cooking, celebrity chefs with their business empires and the Great British Bake Off, in America there was Julia Child (1912-2004). She was not the first person to cook before an American television camera when The French Chef aired in 1963, but she quickly became the most watched and, without a doubt, the most beloved.
Child introduced and demystified the art of French cooking for Americans. Her seminal cookbook, the 726-page Mastering the Art of French Cooking, was a best-seller when it was published in 1961, and it's still in print. She became an icon, not for making it look easy or cutting corners but for her singular appearance, distinctive voice, cheerfulness and roll-with-the-punches approach. She aspired to perfection, but her occasional mishaps made viewers love and trust her all the more.
Julia Child is also celebrated in an opera. Sandwiched between fundraising pitches, fascinating insights into Opera Philadelphia's community outreach programs (provided by the company's Director of Community Initiatives, Veronica Chapman-Smith) and an enlightening and eye-opening discussion on where opera is now with Jamie Barton and General Director & President David B. Devan is Lee Hoiby's twenty-minute, one-person opera, Bon Appétit!, with mezzo-soprano Barton and pianist Jonathan Easter.
Hoiby (1926-2011) was an American composer noted for his romantic, traditional compositional style. His idols were Samuel Barber, Richard Strauss, Gustav Mahler and, especially, Franz Schubert. He composed in many genres, but opera and song were his forte. Leontyne Price and Frederica von Stade were among those who championed his songs.
The libretto for Bon Appétit! was adapted by Hoiby's partner and frequent collaborator, Mark Shulgasser, from transcripts of two episodes of Child's television show in which she bakes a chocolate cake. The title came from Child's signature sign-off at the end of each program.  Shulgasser has described Hoiby's music for the opera as the nexus of Broadway chansons, early television and Ravelian apotheosis.
Hoiby plays its straight musically, leaving the high drama and comedy to flamboyant mezzos who have embraced the opera, and Jamie Barton fits the bill. She doesn't look a bit like Child and doesn't even try to impersonate her. Instead, she creates her own warm, wonderful character, who deftly whisks egg whites by hand while simultaneously whipping them in an electric mixer.
When a drop of chocolate lands on her nose, Barton licks it off: it's the spirit of Julia Child with just a touch of the great television comedienne Lucille Ball. Barton manages it all with a glow in her eyes as warm as her smile and as rich as her luscious voice. She is also every bit as savvy a business woman as either Child or Ball, as she is one of the producers of this digital production.
Opera Philadelphia is presenting Bon Appétit! as a fundraising event. It can be viewed for free, but for twenty minutes of fun, Barton's infectious enthusiasm and plummy voice, as well as a lesson on how to make a rich chocolate cake, even this critic paid.
Viewers from 23 countries on six continents have tuned into the Opera Philadelphia Channel over the past six months. It's crunch time for opera companies everywhere, and they need support from all of us as never before.
Rick Perdian
For more on Opera Philadelphia's BON APPÉTIT! A Sweet Soirée, click here.