United States Various composers, Modulation: Prototype Festival co-presented by LA Opera / a co-production of Beth Morrison Projects and Here, streaming from 8.1 to 16.1.2021 (click here). (JRo)
Composers – Jojo Abot, Sahba Aminikia, Juhi Bansal, Raven Chacon, Carmina Escobar, Yvette Janine Jackson, Molly Joyce, Jimmy López Bellido, Angélica Negrón, Paul Pinto, Daniel Bernard Roumain, Joel Thompson, Bora Yoon
In these quarantined times, LA Opera has managed to keep its audience engaged with inventive and original online programming. Now that digital programming is becoming the norm, it is incumbent on any reviewer to examine the notion of what constitutes a successful original production for an online audience.
For me, a satisfying opera presentation needs many of the attributes of live performance (minus the big audience), along with a level of professionalism that comes with an experienced director of photography – not always easy to pull off under compromised circumstances. It also requires a filmic sensibility and some risk-taking to create a production that draws the audience in and bears repeated viewing. With this in mind, I sat down to watch Los Angeles Opera's latest digital offering in their LA Opera On Now series
Modulation, presented in collaboration with the innovative Prototype Festival, is challenging for an audience to view in one sitting, and I would suggest watching it with breaks. Thirteen composers have been enlisted to serve up short (roughly five-minute) segments, addressing the themes of Isolation, Fear and Identity. Watching them in sequence can feel like an assault on the senses, yet they create a compulsion to keep watching, much like an exotic trip down the rabbit hole of our ever-present mobile devices. I could also imagine the pieces in a gallery, each on its own screen, the audience ambling around the space – much the way video installation art is experienced.
The viewer enters Modulation through a portal of glowing doors and orbs, like a video game beckoning the player through a range of choices. Whisperings permeate the portal pages, their tenor corresponding to the three themes. For me, the most appealing of the thirteen were the most harmonious videos – song and image complementing each other rather than one overpowering the other. Here are some of my favorites.
Compelling in its simplicity and musically captivating, Raven Chacon's short piece on isolation creates an entire world in five minutes. With a Neo-Realist film sensibility, he invokes the struggles of the detribalized individual forced into servitude by the dominant culture, indicting a society that turns a blind eye on its indigenous people. Content, commentary, music and filmmaking co-exist in an artistically realized production. The poetic lyrics and vocals are by Nacha Mendez.
Sahba Aminikia's 'Mirror' also treats isolation. Moody, bewitching and sung to a soundscape of musical saw and jaw harp, it seems to float in a sonic world that surprisingly invokes both the Muslim call to prayer and Weimar cabaret song.
The work by Jimmy Lopez Bellido, Composer-in-Residence at the Houston Symphony, is perhaps the most operatic of the pieces and directly addresses the theme of isolation. There is a burnished beauty to the music, hauntingly sung by Sasha Cooke, which feels like a prayer of hope.
The most effective pieces at invoking 'Fear' are those of Molly Joyce and Yvette Janine Jackson. Graphic type design and minimalist images of doors, windows and walls, along with voices that sound like the wail of sirens, create a claustrophobic universe of dread in Joyce's work. Chunky black animated lines that reconfigure into boots and bodies visually express Jackson's stirring 'Fear is Their Alibi', superbly sung by soprano Malesha Jessie Taylor.
Dark humor infuses two of the 'Identity' videos. 'Otra cosa' was inspired by the shared experience of composer Angélica Negrón, singer Lido Pimienta and illustrator Mariela Pabón as Latinas living in the diaspora. The simple act of ordering coffee becomes a send-up on the mispronunciation of Spanish names. With charming delicacy, the animation and music, inspired by Latin pop hits from the eighties and nineties, create an enveloping warmth.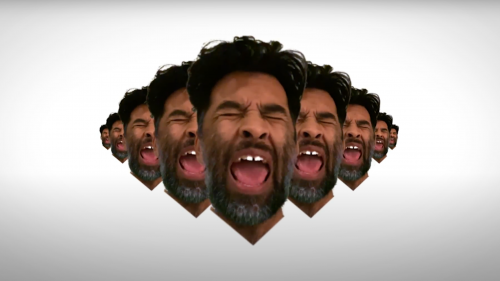 The most original, experimental and exuberant of all the pieces is 'Blanc' by the composer, writer and multi-disciplinary performer Paul Pinto. In collaboration with Kameron Neal, Jon Burklund and Philip White, Pinto has taken the medium of digital performance and created a theatrical universe all his own. It feels like Beat poet meets barbershop quartet with the surreal underpinnings of 'Yellow Submarine'. Humming, spoken word, snapping fingers and floating heads transport the audience into Pinto's mind, and it's a trip worth taking. It's not opera, but it is a musical, visual and theatrical delight.
Whether you're an opera fan, a music lover or a film buff, I urge you to take the trip LA Opera has charted for you. It's a great ride.
Jane Rosenberg