Italy Arena di Verona Opera Festival 2013 – Verdi, Aida: Soloists, Ballet, Chorus and Orchestra of Arena di Verona / Omer Meir Wellber (conductor). Performance of 14.6.2013 and currently available on Marquee TV as a livestream (directed by Andy Sommer). (JPr)
Production:
Director – Carlus Padrissa, Àlex Ollé (La Fura dels Baus)
Assistant director and Choreographer – Valentina Carrasco
Stage designer – Roland Olbeter
Costume designer – Chu Uroz
Lightning designer: Paolo Mazzon
Chorus master – Armando Tasso
Cast:
King of Egypt – Roberto Tagliavini
Aida – Hui He
Amneris – Giovanna Casolla
Radamès – Fabio Sartori
Amonasro – Ambroglio Maestri
Ramfis – Adrian Sampetrean
Priestess – Elena Rossi
A messenger – Carlo Bosi
The first operas were performed in the Arena di Verona – a first-century Roman amphitheatre – in 1913 in celebration of the centenary of the birth of Giuseppe Verdi; 100 years on there was a new production of Aida that has been a staple of the summer seasons since those opening performances. So, 2013 was a double celebration, the centenary of the festival in Verona and Verdi's bicentennial. It seems this quirky new staging has only had limited revivals before Verona reverted to something more cosily familiar. I have been to watch opera in Verona only once before and in 1980 I sat on the stone steps high up in the amphitheatre when I, naturally, saw Aida, conducted by the late Italian opera maestro, Nello Santi.
When I go to the ballet, I often watch dancers – possibly in the same costumes and on the same sets – recreating exactly those steps of their legendary predecessors in a direct line from when the ballets were first choreographed, often several decades ago. We watch this admiringly and uncomplainingly, though for many opera companies it seems an entirely different matter since they are abiding by Wagner's maxim 'Kinder, macht Neues!' ('Children, do something new!') when he wanted his works to be continually reinvigorated for the audience of the day. A modern retelling – certainly in 2013 – of Aida might have an American soldier falling in love with a Muslim girl in war-torn Libya. Actually, this Verona Aida from Catalan theatre troupe La Fura dels Baus brings us some images suggesting that this was not far from their minds: we see a heavily bearded Amonasro as someone who was as much a Taliban leader as Ethiopian king.
You may not want to see something like this, and I wasn't certain whether I would enjoy La Fura dels Baus's Aida when it began, but its 2½ hour span flew by and I was engrossed by it all. Part of this was because of the strong musical performance from singers and the orchestra under Omer Meir Wellber conducting without a score and in some flashy footwear. His extravagant gesticulations galvanised his accomplished musicians into a robust account of Verdi's colourful score. Wellber's tempi were often brisk and it sounded – via amplification and through any loudspeakers – as if he gave solid support to the soloists and chorus by maintaining orchestra-stage coordination valiantly and not allowing them to be drowned – even in the cavernous Verona Arena performance space – by the orchestra.
Verdi's 1871 opera is essentially a love triangle complicated by war centring on Aida – daughter of Amonasro the king of Ethiopia – who is a slave in the Egyptian court. Aida and Radamès are in love but Amneris, an Egyptian princess, also loves him and is jealous and vindictive. Amonasro is captured and Amneris discovers that Aida is his daughter, and she denounces Radamès because he was planning to flee with her. Radamès is buried alive beneath the Temple of Vulcan at Memphis and Aida shares his fate as Amneris prays for their immortal souls. This is the grandest of 'Grand Operas' and has virtually disappeared from the principal opera houses in London and elsewhere, just as some other similar potboilers requiring singers with big voices. That was the type of evening that got me first interested in opera, pure spectacle with exciting voices, music, and some drama.
My first Aida was in Vienna – more years ago than I care to remember – and it was the opera that gave me the first frisson that I hope now for every time I return to an opera house. In Vienna, the Act II 'Grand March' came from upstage and seemed to go on forever. Fast-forward to Covent Garden with an Aida with Plácido Domingo in 1977 when the extras just ran behind the set and returned on the other side carrying a different banner. Oddly, it was a little like that in Verona despite a cast of thousands – well, a few hundred – as the King of Egypt was elevated on a winged throne with Amneris wheeled on at the top of some aircraft maintenance steps. Chained slaves were beaten as they went round and round dragging along huge shiny-faced blocks whilst soldiers drive around in what looked like bumper cars. There is also a forklift truck and some barrels of apparently toxic waste are brought on. A particular feature of this 'Grand March' are the slow-moving steampunk camels and a huge elephant that carries Radamès.
During the overture workmen in orange (who reappear from time to time) dismantle an ancient Egyptian edifice and crate it up for the British Museum.  Central to Roland Olbeter's set are two crane towers between which workmen during that 'Grand March' put 22 blocks together creating a reflective structure that looks part-pyramid and part-radio telescope. (At the end of the opera – whatever it is supposed to be – lowers to 'entombed' the doomed lovers, Aida and Radamès.) Earlier in the second act the 'Dance of Young Moorish Slaves' simply involves children sitting in front of a scrim watching a shadow play involving a battle between Egyptian gods featuring a tall bull-headed one (Apis?) and another with a jackal's head (Anubis?). Add to this eclectic mix of imagery the Cirque du Soleil antics of acrobat on high with a luminous orb matching those carried by the hooded priests often seen doing a Mexican (Egyptian?) wave at the highest point behind the stage and above some inflatable sand dunes. Their first entry through the audience in the amphitheatre makes a stunning impression and one that can probably only be best appreciated by seeing this filmed version.
However, juxtaposed with all this reinterpretation and modern-world technologies, are some costumes – mainly for the Egyptians – that would not have looked out of place in the Elizabeth Taylor's famous 1963 Cleopatra despite their eccentric embellishments. All this spectacle still allowed for scenes of much greater intimacy; firstly, for the great Act I Aida/Amneris confrontation and later for that between Aida, Amonasro, and Radamès in Act III. For the latter, as Amneris and Ramfis arrive by boat and Aida and Amonasro wade through the water on stage, we are clearly on the banks of the Nile which has imaginatively been recreated complete with reeds and crocodiles!
La Fura dels Baus's Aida is, therefore, a mix of the traditional, modern, and quixotic and its plusses outweigh any minuses. There is a strong ensemble of singers with considerable Verdian experience and – should you not have seen it – whatever doubts you may have about watching this recording will be allayed by two particularly stunning performances. Backed by an incredible chorus this Aida includes possibly the best Aida and Amonasro I have ever seen and heard.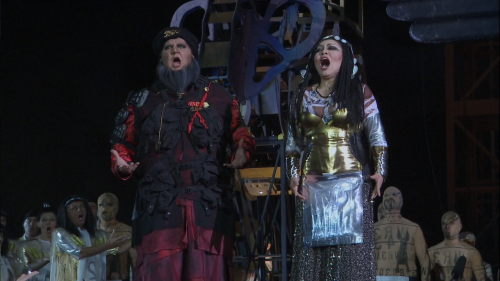 Hooray for Hui He! I knew what a fine singer she was having seen her more recently as Madama Butterfly in a transmission from the Met (review click here), but I was not prepared for her to be so convincing, both musically and dramatically, as Aida. The Chinese soprano was totally persuasive in the grandeur of her performance whether in her solos or ensembles, with her perfect legato, agile coloratura, and superbly controlled lyricism. The gleaming – and unforced – top to Hui He's voice was as attractive as her mezzo-ish chest register. Just one example was 'O Patria mia' ('Oh my homeland') which was deeply reflective and still ended with a refined high pianissimo C despite her singing, of course, on an open-air stage and in a huge space. Also, it is Hui He's innate sincerity that make us listen attentively to her.
The best all-encompassing word to describe Fabio Sartori's Radamès is burly and his acting was a little rudimentary compared to some of his colleagues. Vocally, 'Celeste Aida' lacked a certain grace, however by the time he is buried together with Aida at the end of the opera, Satori showed impressive reserves of stamina for a heartachingly sad 'La fatal pietra sovra me si chiuse' and the final 'O terra addio' duet.
I hope Giovanna Casolla will forgive me when I say she is a veteran singer, and it took a little while for her still powerful mezzo voice to gain true focus. Amneris is the Pharaoh's daughter and it is her rank that gives her innate command. Casolla was imperious, stern, and unforgiving, yet with an underlying vulnerability. When she tricks Aida to believe Radamès has been killed in action there is a fleeting moment when she looks as if she is about to comfort her favourite slave, but it passes quickly because of their romantic rivalry.
Ambroglio Maestri brought his imposing physicality to Amonasro and strode like the baritone colossus he is through the 'Nile Scene' and he made Aida's father a real character rather than the cypher he can too often be. To complete the principal singers, the sonorous bass Adrian Sampetrean's was typically stern and authoritative and Roberto Tagliavini's strongly sung King of Egypt had magisterial presence.
It was magical to see as the sun set in Verona – and the auditorium darken – the tradition of holding up a small lit candle continues. Flawed memory made me think they used to be cigarette lighters in 1980 and at least in 2013 they weren't the dreaded mobile phones!
Jim Pritchard
This 2013 Aida is currently available through the Web TV of Arena di Verona and the Philharmonic Theatre click here.