Germany Met Stars Live in Concert – Piotr Beczala and Sondra Radvanovsky: Vincenzo Scalera (piano). Livestreamed (directed by Gary Halvorson) from Stadthalle Wuppertal, Germany, 23.1.2021. (JPr)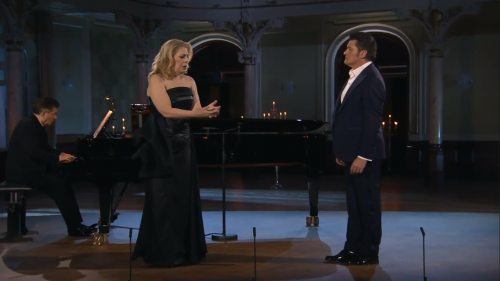 Verdi – 'Pace, pace, mio Dio' (La forza del destino); 'Oh! fede negar potessi … Quando le sere al placido' (Luisa Miller); 'Teco io sto … Non sai tu che se l'anima mia … Oh, qual soave brivido' (Un ballo in maschera)
Giordano – 'Come un bel dì di Maggio'; 'La mamma morta'; 'Vicino a te s'acqueta … La nostra morte' (Andrea Chénier)
Puccini – 'Sola, perduta, abbandonata' (Manon Lescaut)
Mascagni – 'Mamma, quel vino è generoso' (Cavalleria rusticana)
Cilea – 'Io son l'umile ancella' (Adriana Lecouvreur)
Moniuszko – 'Szumią jodły na gór szczycie' (Halka)
Dvořák – 'Song to the Moon'; 'Prince's Aria'; Final Duet (Rusalka)
There was an intriguing introduction to this latest Met Stars Live in Concert presentation as Peter Gelb, the Met's general manager, explained how 'These concerts are produced and directed under extraordinary circumstances. We are in a control room here in the All Mobile Video studios in midtown Manhattan, of course the performances are taking place 4000 miles away in the heart of Germany. So the behind the scenes team – in addition to you Christine [Goerke, the presenter – also of course includes our brilliant director Gary Halvorson […] his backup team includes his associate director Christine Bradley who is actually in Washington State right now and our other members of the team who are in other undisclosed locations around New York City […] it's really quite extraordinary because the way in which Gary has to direct these performances is via satellite so he is actually speaking into the cameramen's headsets but with a 1½ second delay, so […] he has now figured out how to direct by remote control 4000 miles away with a 1½ time delay.' Goerke responded appropriately 'which makes him the prompter, technically'. Gelb concluded, 'It's very complicated and he's managed to master it and we are very grateful for that. This is really a hybrid kind of production arrangement and I don't think that's ever taken place before.'
There was another impressive European venue for this concert with two of the leading singers of this generation; the Historische Stadthalle Wuppertal where the singers and pianist were on a central dais surrounded by (probably?) all the floor-standing candelabras that could be found in north-western Germany. This series is going from strength to strength despite each one seemingly markedly different from the last. The best ones, so far, have had other musicians apart from a pianist but New Jersey-born Vincenzo Scalera was so accomplished that I never needed anything else to accompany the singers. Scalera was not just content to simply play the notes – as too many do – but he interpreted them and embellished each piece with myriad detail and expressivity. Just listen to Scalera's contribution to the climactic duet from Andrea Chénier, as well as the impressionism of 'Song of the Moon' and the engrossing Final Duet from Rusalka.
Halfway through Sondra Radvanovsky spoke – openly, honestly, and emotionally – about how 'There is no substitute to hearing the human voice live, but through this broadcast today both Piotr [Beczala] and I wish to offer Hope. Hope that all artists may soon return to their livelihood; Hope that the world will soon heal itself; and Hope that we can all gather again soon. Because even through this darkness music is the light, and we hope that both Piotr and I shone out light down on you today with our singing.' Yes, but it would have been better had the choice of arias and duets – however gloriously sung – not been so downbeat and miserable with themes centring on doomed love triangles frequently ending in despair, disaster, and more often than not, death. After Dvořák's Rusalka and her Prince had faced the tragic end to their doomed relationship, and Radvanovsky and Beczala brought a true sense of apotheosis to the heart-wrenching duet with their lingering 'kiss of death', an encore providing some light relief was needed but unfortunately was not forthcoming.
Though I have my doubts about the sum of what was sung, I cannot praise highly enough how it was all sung and I am not sure whether there is a better soprano and tenor today for this repertoire. Radvanovsky has an astonishingly rich voice with impeccable phrasing and an incredible technique that allows her to go from full-on fortissimo to exquisite pianissimo within a single phrase and occasionally a single note. Radvanovsky also blends great singing with equally great acting and just watch her throughout this concert communicate layers of meaning in all the words she sang. Not only that, but she also acted-out everything Beczala sang to her in their duets. As he relaxed more, Beczala himself responded in kind with dramatic and convincing performances of his own, his matinée idol appearance notwithstanding. He too was in glorious voice and his lyric tenor is free, easy, and forwardly placed. Beczala has a lustrous voice with a rich palette of colours that enables him to explore any psychological depths in the great verismo roles, as well as his recent foray into Wagner.
It wasn't the composer's fault that was opening Verdi excerpts were rather interminable and Radvanovsky and Beczala were blameless – as in all they sang – as they perfectly conveyed the emotion and mood of their music. (Radvanovsky's cries of 'Maledizione!' towards the end of 'Pace, pace, mio Dio' were particularly bloodcurdling.) What we (saw and) heard came to life with extracts from Giordano's Andrea Chénier with Beczala's moving, introspective, 'Come un bel dì di Maggio'; Radvanovsky's impassioned 'La mamma morta'; and the rousing ('Vicino a te') duet as the two leading characters stoically prepare to face the guillotine.
Radvanovsky perfectly captured the current zeitgeist by singing a plaintive 'Sola, perduta, abbandonata' from Puccini's Manon Lescaut. (I am sure I am not the only one to feel 'Alone, lost, abandoned' because of all the restrictions on our freedom during various lockdowns.) Beczala responded with the deep anguish of Turiddu's farewell 'Mamma, quel vino è generoso' as believes he will die in a duel. Radvanovsky's 'Io son l'umile ancella' (Adriana Lecouvreur's entrance aria from Cilea's opera) was sincere and passionate and she made me believe that the wonderful soprano was truly the servant to the words she gets to sing.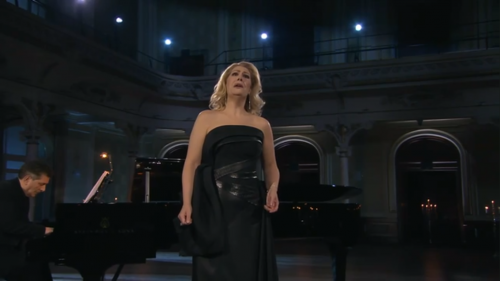 Beczala included some music from his Polish homeland with his ardent and nostalgic account of 'Szumią jodły na gór szczycie' ('Fir trees sigh on mountain tops') from Moniuszko's opera Halka which received an atmospheric introduction from Scalera's expert pianism. Later, the 'Prince's aria' from Rusalka was resolute and passionate. In between what we heard from Beczala – and before Rusalka's sorrowful Final Duet – Radvanovsky announced that she would sing 'her very favourite aria for my father, the ''Song to the Moon"'. He died when she was a teenager, though it was obvious she still misses him by how overcome she became by these words she spoke. Radvanovsky composed herself sterlingly to bring mystery and radiance to the very familiar aria from the first act of Rusalka and it was a very fitting tribute to her Czech-born father.
The 'Song to the Moon' was a real highlight of this latest Met Stars Live in Concert event that was full of so much memorable singing.
Jim Pritchard
For more about Met Stars Live in Concert click here.