United States PROTOTYPE: OPERA ǀ THEATRE ǀ NOW [1]: co-production of Beth Morrison Projects and HERE, New York, streaming through 16.1.2021 (click here). (RP)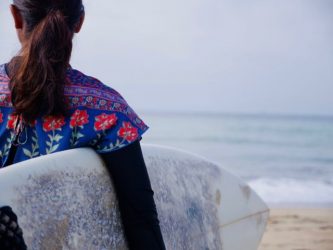 Modulation
Composers – Jojo Abot, Sahba Aminikia, Juhi Bansal, Raven Chacon, Carmina Escobar, Yvette Janine Jackson, Molly Joyce, Jimmy López Bellido, Angélica Negrón, Paul Pinto, Daniel Bernard Roumain, Joel Thompson, Bora Yoon
Concept & Design – Imaginary Places
Ocean Body
Composers & performers – Helga Davis and Shara Nov
Direction & film – Mark DeChiazza
Embodied sculpture – Annica Cuppetelli
Times3 (Times x Times x Times)
Creators – Geoff Sobelle & Pamela Z
Like almost everything else these past months, PROTOTYPE: OPERA ǀ THEATRE ǀ NOW had to push the reset button for the 2021 edition of its annual festival of contemporary, multi-disciplinary opera-theatre and music-theatre works. A co-production of Beth Morrison Projects and HERE, it has been acclaimed for presenting some of the most daring operas of today with works that blur and expand the connections between music, operatic tradition and theatre. This year, digital experiences substitute for live performances, but PROTOTYPE has lost none of its edge and excelled in compassion.
The festival has always given voice to a diverse group of composers, librettists, performers and musicians across genres, backgrounds and cultures. Save for one installation experience, it is untethered from a physical location, and the entire globe was mined for artists and stories. Technology was employed to create works that astound as well as confound with their freshness, vision and ingenuity.
The nine-day event opened on 8 January with the digital world premiere of Modulation, a co-presentation with Carolina Performing Arts, LA Opera and Opera Omaha. (For Jane Rosenberg's review, click here.) Thirteen artists contributed to this digital journey of song on the themes of identity, fear and isolation, which kept bringing to mind Schubert's great explorations of the human psyche, Winterreise and Schwanengesang. The chambers in which the works are grouped are connected by the sound of breathing. It is a metaphorical link to 2020: people ill with COVID-19 gasping for air and the last words of Eric Garner – 'I can't breathe!' – which resonated in protests around the globe.
The most colorful and liberating of the experiences in Modulation was 'The Divine I Am', a ritualistic dance conceived and performed by Jojo Abot, a Ghanaian artist and musician based in Brooklyn. Micro pop songs, dia-mono-dialogue and a chorus of dancing faces make composer, writer and multi-disciplinary performer Paul Pinto and video designer and director Kameron Neal's 'Whiteness: Blanc' lighthearted, almost innocent with its bright colors and whimsical animation, but their exploration of race is serious.
The Indian composer Juhi Bansal seized the freedom of the moment to reimagine an opera commission as a digital experience on womanhood, identity and clash of cultures in 'Waves of Change'. Inspired by the Bangladesh Girls Surf Club, Bansal combined surf rock, contemporary music and Hindustani influences in music and film to tell the stories of girls smashing boundaries. Images of young girls paddling out to catch the waves coupled with Bansal's mesmerizing music became the story of young women from the lowest strata of Bangladeshi society riding the waves to chart their futures.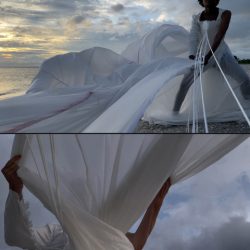 Ocean Body is the nearest that PROTOTYPE gets to a conventional theatre experience. Originally envisioned as a two-hour work to be performed before a live audience, it has been refined into 20 minutes of music and film. Four people, all required to adhere to current COVID protocols, are permitted to view it at a time. For a few minutes, Ocean Body offers the thrill and deep satisfaction of being in a theatre and sharing the all-too-brief experience with others.
Conceived by actor Helga Davis and singer, songwriter and composer Shara Nova, Ocean Body is an exploration of their friendship. In a brief conversation in the HERE lobby where the screening took place, Davis recalled that the first time she heard My Brightest Diamond, the band in which Nova is the lead singer and songwriter, there was an immediate connection with her. It is a bond enriched by both women having being raised in Evangelical churches and their shared interest in music.
Their relationship has a tug and pull to it, expressed not only in words, music and movement, but also in the wearable sculpture by fiber/installation artist and fashion designer Annica Cuppetelli that connects them. The women are dressed in nearly identical white dresses linked by the strings of their corset-like bodices. At times the long strings are stretched to the breaking point, while at others they are loose and flowing in the breeze. The women are eventually freed of the garments, but their bond is unsevered.
Director Mark DeChiazza choreographed their movements and gestures in the style of ancient Greek drama. Ocean Body is as much a ballet as it is opera, with the ocean and blue sky as its stage.
Geoff Sobelle and Pamela Z were charged with creating a site-specific experience at a location that has been fundamentally changed by the pandemic. They were also provided the location – Times Square – to which neither had a personal connection of any sort.
Sobelle is a theatre artist dedicated to the 'sublime ridiculous', while Pamela Z is composer, performer and media artist who is best known for her solo works for voice with electronic processing. Neither had any interest in creating the musical equivalent of an educational walking tour or in depicting Times Square as it is now, relatively devoid of crowds, noise and traffic. They wanted instead to mine Times Square's precolonial past and contemplate a future when the Manhattan as we know it is no more and nature has once again reclaimed it. Times3 (Times x Times x Times) was the result.
The starting point for both historical and musical content was a series of interviews, none of which were conducted in person, with authors, cartographers, historians, choreographers, stage managers, Broadway producer, architects, academics and others to learn the secrets of Times Square. Pamela Z used the voices as the building blocks to shape musical lines that capture the inherent musicality in the interviewees' voices. The result was multi-layered chasms of sound flecked with remarkable detail, as well as a recurring two-note interval from West Side Story that is instantly recognizable.
Its creators recommend that Times3 (Times x Times x Times) be experienced in Times Square with your eyes wide open or in the safety of your own home with high quality head sets and your eyes closed. I did the latter, but it took no effort to imagine myself there, as even in lockdown I have walked through it on four occasions. All four times, I soaked in the dazzling array of lights and animation. The next time I will listen.
Rick Perdian