Julian Gargiulo and María Dueñas talk to Rick Perdian
Julian Gargiulo is a pianist, composer and recording artist who has performed widely in North America, Europe and Asia. He was named a Steinway Artist in 2014, a title conferred upon the best pianists of the day. Like other Steinway Artists, Gargiulo has chosen to perform exclusively on Steinways, possesses his own Steinway piano and receives no remuneration for doing so. The latter is unique among product endorsements, as is Getting to Carnegie, the annual international music competition founded by Gargiulo in 2015.
The concept for the competition came from Gargiulo's personal performance style which seeks to tear down barriers between the stage and the audience in the hall. He wants to make classical music fun, appealing and relevant to people of all ages. The annual competition alternates among violin, cello and voice. There are no barriers to entry: young artists who meet the age requirements can submit a video of themselves performing. Four finalists are chosen and, in past years, they performed a movement of a newly composed work by Gargiulo at Carnegie Hall. In 2021, things are a little different.
Due to the COVID-19 pandemic, there was no live performance in Carnegie Hall this year. Instead, the finalists received a recording of the piano part of Gargiulo's Violin Sonata No.4 'From the Window' and were required to record their assigned movement. The final round of the competition was streamed on Getting to Carnegie and The Violin Channel's Facebook page. In prior years the live audience chose the winner. This year, however, the top prize was determined by the equal weighting of the results of the online votes and a jury comprised of professional musicians which included winners of past competitions.

On 12 January, Getting to Carnegie was viewed by an audience of more than 25,000, and 5000 votes were cast. Eighteen-year-old Spanish violinist María Dueñas was chosen the winner over Sory Park from South Korea, Angela Chan from Hong Kong and Sophia Stoyanovich from the US. In addition to receiving US$5000, Dueñas will be the featured violinist at the 2022 Getting to Carnegie competition at Carnegie Hall, where she will perform the World Premiere of Gargiulo's new violin sonata; and at the 17th Water Island Music Festival in St. Thomas, US Virgin Islands. The three other finalists each received a cash prize of US$1000.
Born in Granada, Dueñas, who now lives in Vienna, is a student of distinguished violinist and teacher Boris Kuschnir. Named Musical America's New Artist of the Month in September 2020, Dueñas was the first prize winner at the Zhuhai Mozart International Competition in China and the Vladimir Spivakov International Competition in Russia. The rising star has already performed with the San Francisco Symphony Orchestra, Vienna's Musikverein, the National Philharmonic Orchestra of Russia and the Elbphilharmonie in Hamburg.
Dueñas plays the Niccolò Gagliano violin 17?4, on loan from the Deutsche Stiftung Musikleben, and the Guarneri del Gesù 'Muntz' 1736, on generous loan from the Nippon Music Foundation.
(These interviews were condensed and edited for clarity.)
Rick Perdian: Congratulations on winning the Getting to Carnegie competition. You have won other prestigious competitions, but what is special about this one?
María Dueñas: Winning the competition has been a great recognition of all of the work behind the preparation that led to my success, which includes not only my efforts but those of my teacher, family and all the people who have supported and believed in me. Especially in difficult times like these, when many projects have been cancelled all over the world, the competition has been a gust of fresh air and a reminder that music is essential to our society.
Another incredible thing is being able to give voice to Julian Gargiulo's new violin sonata. What a piece it is! The sonata has magical moments, and learning it was a journey of discovery for me. I loved playing the sonata over and over again to try and find new details and nuances in it, as well as having the chance to speak with the composer, which you know is rarely the case.
I am very grateful to Julian for going through with the competition in these challenging times, and to The Violin Channel for spreading our music and offering it to an audience that probably hasn't been able to enjoy live music for a long time.
RP: What else have you been doing lockdown?
MD: Although this pandemic has caused serious damage to the arts world, I believe that one should find some positive aspects in every difficult situation. That's why during lockdown I've concentrated mostly on expanding my violin repertoire. I had more time to practice than I usually do.
Film is an interest that I have been exploring further in recent months. One project has been to translate one of my own compositions, 'Farewell', into cinematic language. I have also been researching the life and works of Johann Sebastian Bach, which I would love to turn into a documentary sometime in the future. I'm interested in the intertwining of different art forms, so I will continue exploring new possibilities that go in this direction.
I recently watched an inspiring documentary about the life of conductor Carlos Kleiber and am arranging one of my favorite orchestral pieces of his for violin and piano.
With so much more time on my hands, I've also had time to indulge in some of my favorite hobbies like sports and reading. I think I've been very productive these past months.
RP: Have you ever performed at Carnegie Hall?
MD: No, I have never performed there, and I am so looking forward to visiting New York soon.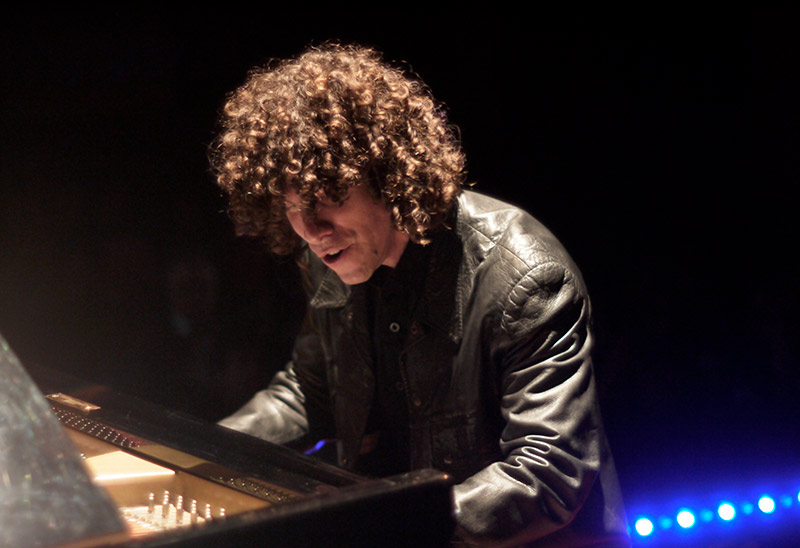 RP: Julian, what was your inspiration in creating Getting to Carnegie?
Julian Gargiulo: Carnegie Hall is a metaphor for reaching the top. The idea of a competition which combines that symbol of excellence with the reality of getting to the actual concert hall is something that always fascinated me.
RP: Why did you decide to alternate between violinists, cellists and singers?
JG: That was primarily an effort to be more inclusive to a broader range of young musicians trying to make a solo career. I took inspiration from two of my favorite competitions that include violin, cello and voice, the Tchaikovsky International Competition in Moscow and the Queen Elisabeth Competition in Brussels.
RP: What drew you to composing?
I was always improvising at the piano but only began seriously composing after finishing my doctorate in piano studies. I feel like my music is at the crossroads between jazz and classical, driven mainly by singing melodies and pulsating rhythms. I'm not an organized person by nature, but I try to be in my music. I think a good piece should be better than its composer. My actual compositional process is a bit like the musical equivalent of Darwin's Theory of Evolution: only the fittest survive.
RP: Can you tell us something about the themes of your Sonata No.4 which the four finalists performed in the competition finals?
JG: The sonata was strongly influenced by my mother's recent passing. A good part of it was written while staying with my parents this summer before she passed in October. While every piece is special for its composer, in the same way that every child is special to its parents, this is the last composition of mine that she fully enjoyed, and it has even more meaning to me.
RP: Beyond performing, composing and running a musical competition, you also are involved in a number of charities. Can you tell us something about these?
JG: I have always believed that you get more out of giving than receiving. I've played for countless not-for-profit groups that range from medical research to immigrants' relief, and have raised funds to respond to natural catastrophes. 16000children was a charity that I started many years ago with the sole purpose of organizing concerts with all proceeds going to help fight childhood hunger. The name comes from the 16,000 children in the world who die of hunger each day.
Opportunities present themselves everywhere if you are open to them. I met one of the founding members of the Getting to Carnegie board of directors, Susan Fisher, because someone I met at jury duty asked if I would be willing to play for a breast cancer fundraiser being held at her Fifth Avenue apartment.
RP: Apart from the competition, what else has kept you busy over the past year?
JG: During the first lockdown in Paris, where I live, I did a series of videos for my followers to help them feel connected despite the forced isolation that has been so difficult for so many. More recently, my wife, Elektra Samoili, and I created a new music series on my YouTube channel called 'One Classical Minute' (click here). Each episode is approximately one minute long and gives the highlights of a composer in a series that promises to deliver high culture in low doses.
RP: Finally, any last thoughts on Getting to Carnegie this year?
JG: With the incredibly generous help of The Violin Channel and the Alphadyne Foundation, we streamed the final round of Getting to Carnegie live. Rather than performing before an audience at Carnegie Hall, we were able to reach anyone in the world with an internet connection. The internet is currently the biggest concert hall in the world. While the pandemic has taken away so much from so many, anyone with a phone line and a router now has access to an extraordinary range of musical performances from around the globe.
Rick Perdian