United States In Focus / Episode Five: Musical Patterns: Marc-André Hamelin (piano), Jung-Min Amy Lee (violin), Strings of the Cleveland Orchestra / Vinay Parameswaran (conductor). Severance Hall, Cleveland, Ohio, Performance from January 2021 reviewed as a livestream. (MSJ)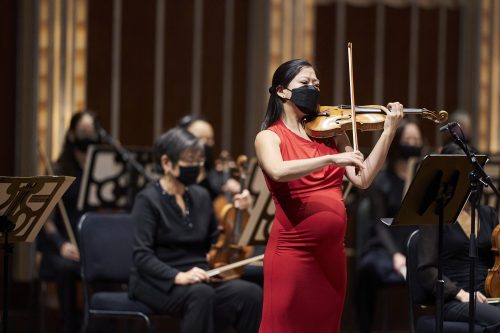 Glass, reworked by Badzura – Opening from Glassworks
Pärt – Fratres
Bach – Keyboard Concerto No.5 in F minor, BWV1056
Adams – Shaker Loops
Composer John Adams was originally scheduled to conduct this socially-distanced concert of the Cleveland Orchestra to be broadcast on their Adella streaming app. Though in the end he could not do so, he was able to leave the concert in the sure hands of associate conductor Vinay Parameswaran, and to join via video chat to offer some comments.
Adams admits that he did not propose the concert name 'Musical Patterns', but said that had he brainstormed a title, this is what he would have come up with too. One could complain that in some sense all music is patterns, but it really is very apt here: the concert explores four composers who specifically build their music out of cells of repetition with gradual change. The surprise is that one of the four is the long-venerated Johann Sebastian Bach. While Bach's level of adventure wouldn't sit comfortably beside the early, austere minimalism of the 1960s and 1970s, it fits quite naturally with the world that process music grew into in the 1980s and 1990s.
Shaker Loops started as a chamber work and was expanded to a string-orchestra version in the late 1970s, when the young John Adams was already stretching the horizons of minimalism in expressive new directions. The shaking of the title refers to the use of musical shakes: tremolos, repeated notes and tightly-curled musical phrases, which are the generation points of this music. Loops refers to the tape music technique of creating loops of tape to repeat phrases, then drawing them gradually out of phase to complicate the textures. Adams states, a bit disingenuously, that the piece actually has nothing to do with the Shaker religious cult which was a prominent New England movement in the late 1800s, but even if the group's ecstatic physical trance inducement wasn't the generator of this piece, he clearly tapped into the idea in his title, and the idea resonates.
Parameswaran led the piece with vigor and clarity, building up to the partly thrilling, partly terrifying accelerations in the third movement. Perhaps the surest evidence that Shaker Loops is an early work of Adams is that he deflects from true catharsis and winds down the piece without a breakthrough of transfiguration, something he has become more certain about since. It was a welcome presentation of an important work by a living composer, and the bonus videos of Adams's comments are well worth watching.
It was a delight that more of the pieces on this short concert were by contemporary writers. The single most riveting moments came in Arvo Pärt's Fratres, heard here in its version for solo violin and string orchestra with percussion. Jung-Min Amy Lee is the second associate concertmaster of the orchestra, but she has demonstrated her art before as soloist. She threw herself intensely into Pärt's spellbinding rumination which offers a rhapsodic violin solo atop a plangent progression of chords, so arranged that the spell is unbroken, and catharsis is achieved only through sheer intensity of attack.
The work has become a popular one for solo violinists (and also in its solo cello version, which was used in the soundtrack for the film There Will Be Blood). There are some formidable accounts out there, but Lee's work yields to no one. She conveyed an astonishing expressive range, from shredding ferocity to ethereal fragility, and Parameswaran and the orchestra, including occasional ominous taps from the bass drum and claves, completed the ritual atmosphere.
One irresistible extramusical consideration – though it certainly matters in the performance's visual impact – was that Lee was clearly expecting as she performed. What a glorious image to see a woman who is soon to become a mother in full artistic flight in front of one of the world's greatest orchestras. One wonders if this music will somehow forever be etched into that child's soul.
The return of pianist Marc-André Hamelin in Bach's fifth keyboard concerto was a deep joy. Hamelin is a renowned super-virtuoso who seems able to play anything that any composer ever cooked up. When last in Cleveland, he came with Liszt's flashy first piano concerto. But this time, he delved into the probing patterns of Bach. It was a patient, unhurried performance, gloriously setting aside any considerations of virtuoso display to probe the growth of Bach's ideas. No exaggeration was needed in a performance where the soloist so clearly understood the music's inner life. The outer movements moved with unshakeable logic, while the brief but touching slow movement sang with perfect simplicity.
The only misfire was the peculiar arrangement of the first movement of Philip Glass's Glassworks that opened the concert. The piece was originally a set of six movements featuring the composer's ensemble, and it was targeted toward listeners who could go walking with Walkman cassette players and headphones, a foreshadowing of the common use of smartphones as music devices today. I was one of those listener/walkers in the 1980s, and I loved Glassworks. I expected to enjoy a selection from it here.
Imagine my disappointment to discover that this 'reworking' of the opening (by Christian Badzura) largely dispenses with the Glass piece, relegating it to almost unrelated episodic status in the middle of the movement. The remainder of the piece layered extrapolated patterns from Glass's movement, but didn't greatly relate it to the original work. Was this based on anything else Glass has written? It didn't sound like it, lacking Glass's usual invention, and the abrupt appearance of the actual Glassworks selection came without transition. A couple of repetitions later, it was gone, leaving us with something that sounded little better than a derivative film score.
While Glass's original movement is for solo piano, he reprises it as the closing of Glassworks with instrumental support. That could easily have been arranged for strings, retaining the piano solo, and would have provided a far better listening experience. The concert program notes offered nothing by way of explanation for this curious exercise, though my own research tells me that Badzura is a producer and A/R executive for Deutsche Grammophon, where he has worked with the originally scheduled pianist for this concert, Vikingur Olafsson. Olafsson recorded this arrangement, and was apparently intending to promote it in this appearance. Without Olafsson, it shouldn't have been performed, as it is not up to the quality of the original Glass work. To their credit, Hamelin gamely played the piano part here, as did the strings. Perhaps, in the future, a full orchestral arrangement of Glassworks would be a better way to honor everyone involved.
It was the only misstep in an otherwise outstanding concert.
Subscriptions to the Cleveland Orchestra's Adella streaming app are available at Adella.Live or on their website (click here).
Mark Sebastian Jordan