United States Mozart: Hélène Grimaud (piano), Dallas Symphony Orchestra / Nicholas McGegan (conductor).  Morton H. Meyerson Symphony Center, Dallas, USA. Performance from 14.1.2021 livestreamed on DSO's Next Stage Digital Concert Series (click here) and on DG Stage (click here) 29.1.2021. (CC) (RP)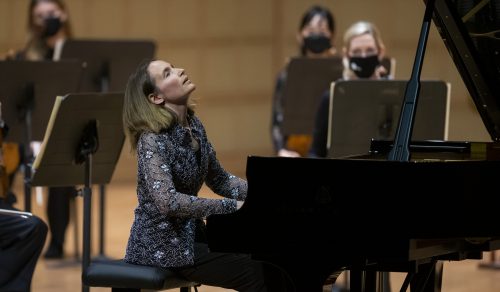 Mozart – Piano Concerto No.20 in D minor, K466 (1785, cadenzas: Beethoven); Symphony No.40 in G minor, K550 (1788)
Colin Clarke writes: Watching this concert courtesy of DG Stage, it was lovely to see live music making observing the relevant COVID-19 restrictions: here, soloist and conductor walk onstage with masks, losing them in their respective positions. when they settle; players masks remain on where possible. Nice to hear such an alive orchestral exposition, too, Dallas winds nicely together. Hélène Grimaud is a fine Mozart player, as her performance of this concerto with the Salzburg Camerata and Giovanni Guzzo on DG showed; and it is in the first movement cadenza (Beethoven) that she absolutely shines. She triumphs in the central slow movement, too, the solace of the outer sections containing those moments of disquiet, Grimaud revelling Mozart's cross-handed writing.  The finale is gritty and powerful (although ideally a stronger violin section would have made a more powerful riposte to the soloist's opening).
A rather nice complement to this, although not quite featuring pianism on the same level, is Alice Sara Ott's performance of Mozart's unjustifiably rarely heard Concerto No.13 in C, K415, recorded in August 2020 at the Wolkenturm, an outdoor performance from the Grafenegg Festival in Austria; the Tonkünstler-Orchester is conducted by Krzysztof Urbański (Ott's finale is really worth hearing, though; it's there she plumbs the greatest depths). That Mozart is paired with Beethoven's Fifth Symphony. But Grimaud's Mozart remains a transfixing experience.
Mozart's Symphony No.40 receives an affectionate, beautifully rehearsed account. Nicholas McGegan gives the music space to breathe where necessary, while maintaining an undercurrent of G-Minor disquiet. The second movement is taken at quite a lick, imbuing it with a gallant aspect that is utterly captivating, again with an underlying sense of affection. McGegan's own joy in music making is evident from his gestures and facial expressions, a joy that is transferred, clearly to his Dallas Symphony Orchestra players.
A short concert , but a satisfying one, particularly for Mozart's K466. (Colin Clarke)
Rick Perdian writes: My musical wanderlust brings me to Dallas. That's 'Big D, little a, double l-a-s' as the song goes, and if you aren't familiar with Frank Loesser's musical, The Most Happy Fella, it's well worth a listen, especially if you are in the mood for something tuneful, upbeat and heartwarming. Of course, a distance of over 1500 miles separates me from Texas's third largest city, but there is live music there, and it's available for all to enjoy on the Dallas Symphony Orchestra's Next Stage Concert Series.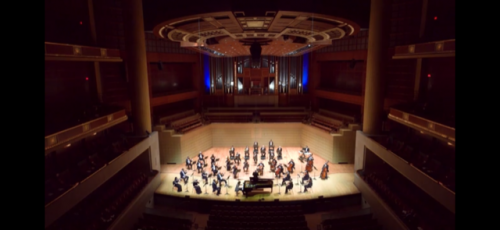 The DSO was the first orchestra in the US to return to some semblance of normal after the pandemic brought everything to a screeching halt last spring. With its digital concert series, the DSO has reached viewers around the world. A January highlight was the DSO's all-Mozart concert with conductor Nicholas McGegan and pianist Hélène Grimaud, which was performed before live audiences (hearing the applause was wonderful) and is available for streaming through 31 May.
Mozart was pointing towards the future with these two works, which are replete with dramatic impulses and dark, turbulent passages. The concerto, written in 1785, was the first that Mozart composed in a minor key, and the 1788 symphony is one of two that he wrote in G minor (they are the only symphonies that he wrote in a minor key). Beethoven championed the concerto and even wrote cadenzas for it, which Grimaud performs in this concert, and both works found favor with the Romantic composers that followed.
Best known as a Baroque and Classical specialist, Nicholas McGegan conducts concerts and opera around the world. This program finds him exceptionally surefooted on very congenial musical turf. He infuses the music with rhythmic vitality while maintaining the proper balance and scale. The drama is heightened by the muscular assertiveness he brings to the darker, turbulent passages which, in the blink of an eye, ease into music of lightness, grace and brilliance.
Hélène Grimaud lives in upstate New York, which explains how she can travel to Texas at the present time. This exceptional artist does not disappoint in her deeply personal, emotionally probing interpretation of the Mozart concerto. I have not heard Grimaud perform live for a number of years, but she is still the spellbinding artist that I recall.
The DSO players were in fine form. Seated a good distance apart, the musicians all wore masks unless their mouths were needed to play an instrument. McGegan, too, wore one. Their playing was supple and transparent, with the horns being particular impressive due to the rich, exciting sounds that they produced.
I will be returning to Dallas in the weeks to come, as Music Director Fabio Luisi, whom I heard often in Zurich when he was with the opera there, is returning for a series of four concerts, all of which will be streamed on Next Stage. Isn't virtual travel just grand? (Rick Perdian)