Austria Various – Maki Namekawa (piano): Prerecorded live at Ars Electronica, Linz, Austria, and video streamed by the Center for the Art of Performance at the University of California, Los Angeles, 12.1.2021-14.1.2021. (HS)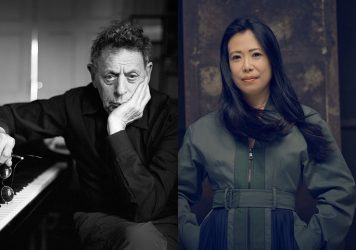 Mozart Camargo Guarnieri – Sonatina No.3 in G-clef
Alban Berg – Piano Sonata Op.1
György Ligeti – Musica ricercata 1, 3, 5, 6, 8
Philip Glass – Piano Sonata (2019)
There's something touching about a man in his ninth decade of life writing his first piano sonata, especially when it reveals a level of intimacy and gentleness unexpected from a composer known for expansive musical gestures. This video performance, made in Vienna and first presented by UCLA's Center for the Art of Performance (click here), constituted the West Coast premiere.
Pianist Maki Namekawa, who debuted the work last year at the Piano Festival Ruhr in Germany, preceded the Philip Glass sonata with music by other composers stepping outside their usual boundaries without losing whatever it is that makes them who they are. Namekawa, who has become a champion of Glass's highly personal and easily identifiable style, offered a series of small-scale works, no more than 10 minutes each, to deftly set up Glass's 30-minute piece.
With her usual precision and sensitivity to dynamics and tempo, Namekawa started with the Sonatina No.3 in G-clef by Mozart Camargo Guarnieri, the mid-twentieth-century Brazilian composer known mainly for operas and symphonies. The charming set of Rio-tinged bouncy dances and a vibrant little fugue limits itself to the top half of the piano keyboard. Following that came Alban Berg's Op.1, the Viennese composer's moody, inward-looking First Piano Sonata, in a performance that felt more dutiful than soulful.
Five short movements from the 11 in György Ligeti's Musica ricercata made a perfect bridge between Berg's Piano Sonata and Glass's. Ligeti's style, which could vary from simple to complex and always with wit, seemed to anticipate our contemporary composer's minimalism.
All of those elements can be found in the Glass sonata. But from the first few measures there is no mistaking the composer's signature gestures. It begins in a smooth, moderate tempo with winding scale-like figures against an almost hymn-like series of chords that outline a gentle melody. Shifting quickly into a syncopated rhythm, it suddenly bursts forth with disparate blocks of music gestures, not tied together with transitions but turning one corner after another. At the movement's end the same chords from the opening measures in the left hand are topped with some of Glass's familiar rapid arpeggios in the right.
After the first movement gradually comes to rest, the second opens with soft triplets under an expansive melody played in octaves instead of chords. The middle section, in 4, feels as sweet and pretty as a pop song, but Glass's counterpoint gives it more depth. The return introduces a richer texture to the triplet rhythms and harmonies.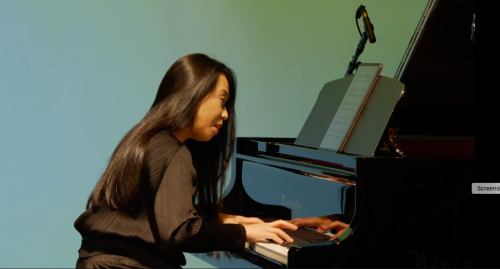 The finale, constructed around arpeggios against a chugging rhythm (another Glass trope), evolves into a thoroughly jazzy style of syncopation. This drives to a galvanizing, stride-piano-infused climax. The intensity builds here, and there is generally more going on than the repetition he so often uses. If it is not quite as grand, it is certainly more thoughtful.
Like all the pieces on the program, there is no mistaking who wrote the music, even if stride piano is not exactly like anything else Glass wrote. Namekawa executes this music with all of the energy we came to expect from Glass when he was playing his big piano works, such as the études and 'Mad Rush'. She is a bit sleeker, and her subtler style seems to highlight more complexity than the broad-textured, straightforward, grandly minimalist music Glass is associated with.
Harvey Steiman