United States Various: Polina Sedukh (violin), members of San Francisco Symphony / Esa-Pekka Salonen (curator and music director), recorded at Davies Hall, San Francisco, and first streamed 4.2.2021. (HS)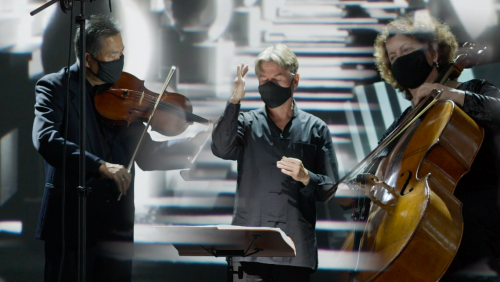 Freya Waley-Cohen – 'Conjure'
Missy Mazzoli – 'Vespers for Violin'
Caroline Shaw – 'Entr'acte'
Esa-Pekka Salonen's initial concert of his first official season as San Francisco Symphony's music director begins by getting right to the music. Not a single spoken word sullies the soundtrack of the 31-minute video, which consists entirely of tasty music composed in the past decade.
The model for the program is Soundbox, sporadic late-night concerts that featured the orchestra's musicians over the past six years in a more casual setting, with sofas and high tables for enjoying drinks and snacks while the musicians play. Guest artists have programmed these events, which sold out early and had notable artistic successes.
Without preamble, and mercifully absent pleas for money, associate principal violinist Yun Chu, principal violist Jonathan Vinocour and cellist Jill Rachuy Brindel get down to business on British composer Freya Waley-Cohen's 'Conjure', which was premiered in 2019 by the Albion Quartet at London's Wigmore Hall.
The opening section's hazy, high-floating harmonies do just what the title suggests, leading seamlessly to episodes that seem to well up from the music just played. The rhythmic pace gradually picks up, and harmonies get more complex before the piece settles into sonorous chords with wisps of melody flitting through. It ends on a short threnody, threads of musical lines vanishing into the ether. It's a beautiful 12 minutes of abstract scene-painting, a little unsettling, and executed by these musicians with care and soul.
Missy Mazzoli's 'Vespers for Violin', first performed in The Netherlands in 2014, was heard in the last Soundbox concert in February 2020. Then, and again in this video, Polina Sedukh, who sits in the orchestra's second violin section, played the five minutes of riffs on a longer work by the American composer, Vespers for a New Dark Age. Set against an amalgam of sounds sampled on different instruments playing the original work, Sedukh's improvisatory and increasingly intricate melodic veins create a sort of internal dialogue with the prerecorded sound.
This may be a good point to comment on the video projections, created by Los Angeles-based Yee Eun Nam. A mostly black-and-white forest background added atmosphere to 'Conjure', but as they superimposed themselves over the musicians, the visuals become increasingly intrusive. In 'Vespers for Violin', images of the violinist dissolve in and out along with the backgrounds, creating confusion and more distraction.
It got more bothersome in the final work: quick cuts and oddly framed split screens emulating pop-music videos framed Caroline Shaw's superbly wrought 'Entr'acte' (A Minuet & a Trio). Inspired by Haydn's String Quartet No.77, she wrote the piece in 2011 for the Brentano String Quartet, and expanded it in 2014 for a full string orchestra, A Far Cry. Salonen trimmed the large ensemble orchestration to one player per part.
This proved to be a wise choice, and it gave the lively, witty, heart-on-sleeve work a welcome transparency (delightful to hear with eyes closed to escape the video director's image-heavy presentation). The communication between Salonen and the musicians, none of them among the orchestra's first chairs, produces a special kind of magic, especially in a puckishly wrought pizzicato sequence that sways and dances temptingly, veering briefly into an eerie meditation against a tapping rhythm.
Shaw's music swings freely between familiar consonances and mildly pungent dissonance, and makes sideswipes with unexpected nods to popular music before getting back on the rails. There's even a brief nod to Philip Glass-like arpeggios. The piece ends with an arresting guitar-like cello pizzicato solo, performed with panache by Barbara Bogatin.
Clearly, the orchestra's enthusiasm for contemporary music, which flourished under Salonen's predecessor, Michael Tilson Thomas, will continue unabated under Salonen.
The new video series, which runs through August, is available to stream permanently at this SF Symphony site (click here). The season features six more Soundbox concerts, with curators and performers such as singer Julia Bullock and composer Nico Muhly, and more from Salonen. There are also five additions to the ongoing Currents series, exploring the intersections of classical music with other forms, such as Indian music with tabla master Zakir Hussain; and others focused on Persian music and Klezmer. Free-of-charge chamber music concerts by members of the orchestra are to be sprinkled among the pay-on-demand concerts.
Harvey Steiman