United States Various: Philippe Tondre (oboe), Philadelphia Orchestra / Yannick Nézet-Séguin (conductor), recorded in November 2020 at the Kimmel Center for Performing Arts, Philadelphia, and reviewed as a 21.1.2021 livestream from the Philadelphia Orchestra's Digital Stage. (BJ)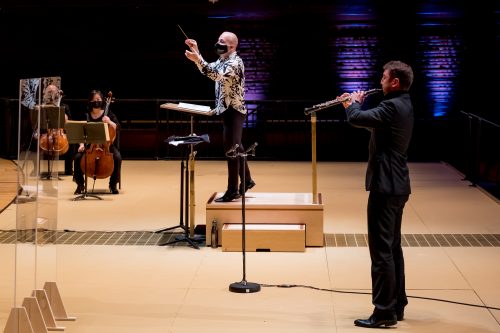 Joseph Bologne, Chevalier de Saint-Georges – Symphony No.2 in D major Op.11 No.2
Mozart – Oboe Concerto in C major K.314
Haydn – Symphony No.44 in E minor Hob.I:44 'Trauersinfonie'
There seem, in these pandemic-stricken days, to be almost as many different ways of communicating a concert to an at-home public as there are organizations doing it. The Philadelphia Orchestra's Digital Stage (click here) is as persuasive a format as I have encountered for replacing, as far as circumstances permit, the true concert experience.
The orchestral forces appropriate to an 18th-century program can, of course, be marshaled on stage with proper social distancing more easily than those required by full-scale symphonic repertoire of later periods. But the technical staff responsible for staging and shooting this particular program did not make a big deal of exploiting the spatial relations of individual players and tutti, preferring instead to create a surprising sense of intimacy by means of restrained lighting, skillful camera work and a few touches of stage decor.
The program itself book-ended a symphony by a thoroughly unfamiliar composer with one of Haydn's middle-period masterpieces in the genre. Joseph Bologne, Chevalier de Saint-Georges (1745-1799), born in what was then the French colony of Guadeloupe, was a composer, a virtuoso violinist and an equally renowned champion fencer. He was also the conductor of the leading orchestra of the day in Paris, where he lived for most of his life after being taken to France at the age of seven. His compositions included several operas, a good deal of chamber music and fourteen violin concertos, but the Symphony in D major is the only work in the genre that is positively ascribed to him. Written around 1780, it is a skillful and attractive three-movement piece in galant style, and the Philadelphia players gave it a vivid and sympathetic performance under their music director's leadership.
Though less well known to present-day audiences than the symphonies Haydn later wrote for Saint-Georges's Paris orchestra and for London, his Symphony No.44, nicknamed the 'Mourning Symphony', is a work that ranks among the very finest pieces he contributed to the symphonic repertoire. In the words of the eminent Haydn scholar and editor H.C. Robbins Landon, 'There are even some who maintain that he never surpassed the strength and beauty of the Trauersinfonie, the "Farewell", the G major No. 47'. It's a judgement with which I heartily concur, and it was a thrill to hear No.44 played and conducted with this performance's full-blooded verve and conviction.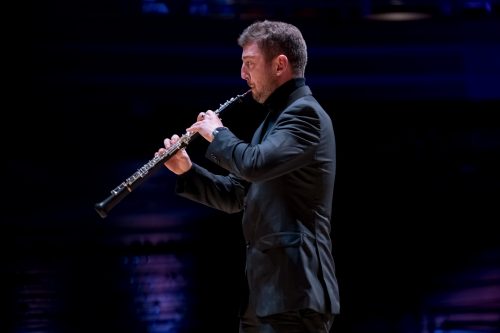 The centerpiece of the program was a debut performance of Mozart's Oboe Concerto by Philippe Tondre, who was born in the eastern French city of Mulhouse in 1989 and joined the orchestra at the start of the current season as its new principal oboist. The post carries with it a formidable tradition, highlighted by the forty-year tenure of Marcel Tabuteau and the equally lengthy tenure of his grand-pupil (via John de Lancie), Richard Woodhams.
Whether or not a successor barely into his thirties might be intimated by memories of these illustrious predecessors, Tondre established his fitness for the post with a performance of consummate technical expertise and much poetry. Comparison with his immediate predecessor was particularly suggestive. Tondre is in no way a clone. What I recall with especial pleasure and respect about Woodhams's playing was his ability to float a line that even in soft dynamics could shine with apparently effortless ease across the orchestral texture into the farthest corners of the hall. One unforgettable solo in Berlioz's Roméo et Juliette comes irresistibly to mind. Tondre's tone is less incisive and perhaps more introverted than his great forerunner's. It will be fascinating for Philadelphia audiences to watch the way his artistry develops and grows in his challenging new environment.
Bernard Jacobson