Austria Met Stars Live in Concert – Anna Netrebko (soprano) with Pavel Nebolsin (piano): Elena Maximova (mezzo-soprano). Livestreamed (directed by Gary Halvorson) from the Spanish Riding School, Vienna, 6.2.2021. (JPr)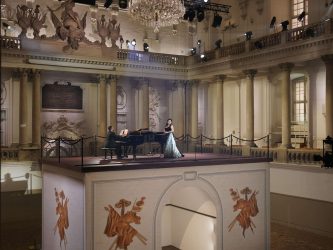 Day
Rachmaninoff – 'Lilacs', Op.21, No.5; 'Before my window', Op.26, No.10; 'How fair this spot', Op.21, No.7
Rimsky-Korsakov – 'The lark's song rings more clearly', Op.43, No.1
R. Strauss – 'Morgen!', Op.27, No.4
Debussy – 'Il pleure dans mon cœur'
Charpentier – 'Depuis le jour' (from Louise)
Tchaikovsky – 'It was in the early spring', Op.38, No.2; 'Tell me, in the shade of the branches', Op.57, No.1
Leoncavallo – 'Mattinata'
Night
Tchaikovsky – 'Uzh vecher … Oblakov pomerknuli kraya' (with Elena Maximova, from The Queen of Spades)
Rimsky-Korsakov – 'The clouds begin to scatter', Op.42, No.3
Tchaikovsky – 'Nights of Delirium', Op.60, No.6
R. Strauss – 'Die Nacht', Op.10, No.3; 'Ständchen', Op.17, No.2
Dvořák – 'Songs my mother taught me' (from Gypsy Songs)
Rachmaninoff – 'A Dream', Op.38, No.5
Offenbach – 'Belle nuit, ô nuit d'amour' (Barcarolle) (with Elena Maximova, from Les Contes d'Hoffmann)
Tchaikovsky – 'Amidst the day', Op.47, No.6
The latest Met Stars Live in Concert event brought those watching to Vienna and its famous Spanish Riding School. We could read how 'Its Winter Riding School, located in Vienna's Hofburg Palace complex […] Each year 350,000 visitors watch training sessions and gala performances in the 10,000 square foot main hall'. I always consider Vienna my 'second home' but must admit I spent a week one lunchtime watching one of those training sessions! Christine Goerke regularly introduces these concerts from New York – without seemingly any prospect of singing in one of her own – called Anna Netrebko 'one of opera's favourite artists' saying, 'Ever since her Met debut as Natascha in Prokofiev's War and Peace in 2002, Anna has led her Met fans on an epic artistic journey, as she moved from lighter coloratura roles to some of the meatiest roles in the dramatic repertory'. Having overcome her bout of coronavirus were we to hear any examples of Netrebko's 'journey' during this rescheduled concert? Sadly, it was not to be and Goerke said what we would was 'another departure, Anna is going to take us on a tour of art songs to some of her favourite composers from Tchaikovsky to Rachmaninoff to Dvořák and Strauss in a programme she has titled "Day and Night"'.
It transpired this was Netrebko's current recital programme that has been well travelled and consequently at odds with the vocal glories of some of the previous instalments in this Met Stars Live in Concert series. It would be the interval trips down the Met's memory lane and highlights of Netrebko's past performances from I puritani in 2002 to Adriana Lecouvreur in 2019 – but especially the extended sleepwalking scene from Verdi's Macbeth we got to hear – that eventually showed what we were would be missing on this disappointing occasion. I found it amusing for Goerke to ask the Met's general manager Peter Gelb about future planning, 'You have to plan four, five seasons in advance. With a voice like Anna that is constantly evolving, what does the future hold for Anna and the Met?'. This suggested Gelb would tell Netrebko what he wanted her to sing, when more realistically it would be other way round. I am sure Gelb – in an ideal musical world – would even have preferred her to sing something other than this 'Day and Night' selection.
In her sparkly and extravagant gown of black and silver, Netrebko and her talented accompanist Pavel Nebolsin were atop an arched platform at balcony level aimed at showing the opulence of the Spanish Riding School at its very best. The first half was rather dimly lit and seemed more like dusk than 'Day', whilst the blue lighting and array of candelabras (as stars) atmospherically represented 'Night' during the second half. Netrebko roamed around on high, breathing life into the songs she was singing – as well as shown having a sly glance at Nebolsin's music at one point – and was only seemingly prevented from plunging down by a lowish rope on three sides.
Netrebko's voice was rich, sensual, opulent, and extraordinarily dark, so much so, that it is only her exquisite top notes that lifted it out from the mezzo register. Indeed, during the two duets with the genuine mezzo-soprano – and lookalike – Elena Maximova which were highlights of what we heard; their voices blended well but were not that different. The Lisa-Paulina duet from Tchaikovsky's The Queen of Spades had charm and the Barcarolle from Offenbach's The Tales of Hoffmann – sung with ostrich-feathered carnival masks – was enchanting.
Although we heard five languages sung including German, French, Italian and Czech, there was lots and lots in Russian. To be truthful as it went on and we heard yet another Tchaikovsky, Rachmaninoff or Rimsky-Korsakov song it was only by reading the translations that 'Day' could be distinguished from 'Night' as there was a sameness to the musical idioms. Despite this, Netrebko used her wonderful voice to colour each and every word she sang. This extended to her German and 'Morgen' was rapt and meditative and received an expressive introduction from Nebolsin. French next and Debussy's 'Il pleure dans mon cœur' was rhapsodic and intimate, whilst 'Depuis le jour' (from Charpentier's Louise) was refined, yet ecstatic, ending in a glorious high B (I believe?). Finally, there was the Italian of Leoncavallo's 'Mattinata' which did not suit Netrebko and this was not the serenade it should be as the 'Day' ended.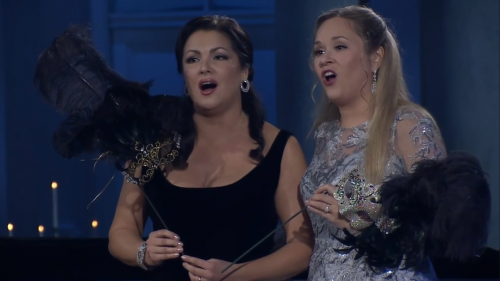 'Night' followed and included more impassioned Rimsky-Korsakov (featuring tempestuous pianism from Nebolsin) and yearning Tchaikovsky before Netrebko excelled in the long-breathed phrases of Richard Strauss's 'Die Nacht' and a passionate 'Ständchen'. Dvořák's famous 'Songs my mother taught me' was tenderly nostalgic. Rachmaninoff's 'A Dream' refers to wings of dreams and with her arms akimbo Netrebko's voice soared. Though the Offenbach duet would have been a suitable conclusion to all we heard there was time for yet more Tchaikovsky and 'Amidst the day' was sung resoundingly and given a thunderous postlude from Nebolsin.
Everyone else in the Met Live in Concert series has so far had a few words for the watching audience but sadly Netrebko had nothing to say to us.
Jim Pritchard
For more about the Met Stars Live in Concert series click here.