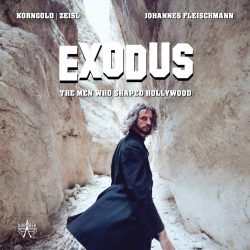 Vienna violinist Johannes Fleischmann spoke to Seen and Heard on the release of his new album EXODUS: The Men Who Shaped Hollywood, celebrating the music of two Jewish Austrian composers who fled World War II to California: Erich Korngold and Eric Zeisl.
Antoine Lévy-Leboyer: For those who do not live in Vienna and who would not know you, can you introduce yourself and your colleagues who took part in the EXODUS project?
Johannes Fleischmann: I was born in Vienna into a musical family. My mother was a Professor for voice at the Vienna Music University and my father a double bass player with the Vienna Symphony Orchestra. I was always very much interested in music composed in and around Vienna.
At the age of four my father introduced me to a friend of his with the words: 'This will be your new cello teacher!' – My answer was: 'But I want to play the violin!' and so I started to play the violin when I was 5 years old.
My interest in chamber music and solo projects grew stronger during my studies. That was also the time I discovered the works of Erich Wolfgang Korngold. I asked Magda Amara, if she would join me to record this programme. She is well-known as one of the finest chamber music pianists with a huge repertoire and a unique sensitivity for making music together.
Finally, I heard Günter Haumer at the Wiener Volksoper interpreting some chamber music and songs of Korngold. I felt his his voice had the perfect colour for this kind of music and asked him to join.
AL-L: Could you describe the EXODUS project?
JF: The idea of the EXODUS project was born in 2014, when I performed an interpretation of Korngold at the Villa Aurora in Los Angeles. Barbara Zeisl-Schoenberg sat in the audience. We spoke after the concert and she invited me to her home. On this occasion, she told me about her father and his music over coffee, Vanillekipferl and Sachertorte. That is when it occurred to me that including Eric Zeisl's work in a larger project would be of great artistic and historical value.
There are so many parallels between the biographies of Eric Zeisl and Erich Wolfgang Korngold, it just made sense to me to include the two of them. As a Viennese myself, I instantly felt a deep connection to their compositions.
So, EXODUS – The Men Who Shaped Hollywood is about two Viennese composers of Jewish descent, who decided to live in the U.S.A. to escape the threats of the second world war.
AL-L: While being echt-Viennese, Korngold and Zeisl have had different aesthetics, one mindful of the past and the other forward looking. Is this indeed the case and how did they interact when they lived in the U.S.?
JF: Eric Zeisl and Erich Wolfgang Korngold did not know each other in Vienna. They met in exile and became friends in Los Angeles.
There might have been differences in their personalities. Korngold arrived quite early in the U.S.; he had the chance to make a name for himself. He was used to communicate on the same level with the greatest artists of his time since his early childhood and it obviously helped him to find his place in Hollywood's music industry.
Eric Zeisl on the other hand grew up in a totally different environment. He also was more introvert and due to his late arrival in California, most positions were already taken. Zeisl had to redefine himself as a composer and recreate his style in order to succeed, while Korngold was invited to come to Hollywood because of his compositions.
Korngold had tried to support Zeisl on different occasions, even recommending him as a major composer for a big movie. Unluckily, Korngold died of heart attack before the project could be fulfilled. The producers decided to give his job to someone else.
But both were quite nostalgic about their past in Vienna as they loved the city, Korngold tried to come back and failed, Zeisl never set foot in Austria again because he could not reconcile himself to what had happened there. Both of them finally accepted that their future would be the U.S..
AL-L: What makes Eric Zeisl and Erich Korngold 'Jewish; composers? Is there such a thing as a Jewish composer?
JF: That's a great question, what even does make their music 'Jewish'?
As mentioned before, Korngold and Zeisl had to flee the horrors of Nazism based on their Jewish descent. I do not think that their musical development would have been the same without all they experienced during their life.
Korngold's music was not so much affected by his Jewish roots but Zeisl was massively influenced musically by the events taking place in his home town. Back in Vienna he was seen as a Lied-composer in the tradition of Schubert, Brahms and Hugo Wolf. He lost this musical 'language' after fleeing the holocaust in 1938. The only song he composed after he left was Prayer in 1945.
Only in the United States in the 1940s he redefined himself as a composer and discovered his Jewish roots. In 1945 he composed the Requiem Ebraico based on the 92nd Psalm. It was written in memory of his father who was murdered in the Treblinka concentration camp. It was the beginning of the series of compositions using the Jewish idiom and the establishment of Zeisl as a Jewish composer.
Al-L: You have expressed particular interest in the Brandeis Sonata. Could you introduce the work to those who do not know it? May I add that, personally, I did not know it and it is a revelation.
JF: Eric Zeisl started to write the sonata in 1949 and completed it in 1950. Zeisl's Brandeis Sonata processes his flight from Austria. Not only are pain and suffering given expression, but also an unbridled lust for life, coupled with jubilant hope for the future. The sonata has three movements with joyful dancing themes in the first and the third movements, the last one culminating in an ecstatic dance motif. The classic rondo form shows a wonderful connection between the old Vienna and his newly found Jewish language in music. The second movement with the title Andante religioso (hebraique) reminded him of his father and is interpreted as a conversation with God or a prayer.
AL-L: My final question, which I have asked all musicians during this time: how are you coping in this time of pandemic which is affecting everyone but particularly musicians?
JF: The pandemic is a devastating human tragedy; the lives of dear friends were taken by the virus. It has also taken a toll on the social lives of many. For many institutions, the whole cultural world, many of my colleagues and myself, the year 2020 has been a financial disaster where we have had to cancel many projects, concerts, etc.
What it has allowed, however, was to have a year, or at least a few months off, to reconsider what is important in life and in music. So artistically it helped me on some levels. I tried to take this as a chance to get prepared for my projects and to rethink what really matters. I am looking positively into the future and hope that we now have the chance to reconnect with our audience in an even more meaningful way.
Antoine Lévy-Leboyer
For more about EXODUS – The men who shaped Hollywood (click here)
For Johannes Fleischmann's website (click here)