Switzerland Brahms: Lydia Teuscher (soprano), Konstantin Shushakov (baritone), Chorus of Zurich Opera, Members of the Zürcher Singakademie, (chorus master: Ernst Raffelsberger), Philharmonia Zurich / Gianandrea Noseda (conductor). Zurich Opera House, 7.2.2021 livestream from Zurich Opera, live on ARTE TV, available on ARTE Mediathek as video on demand (until 6.8.2021). (JR)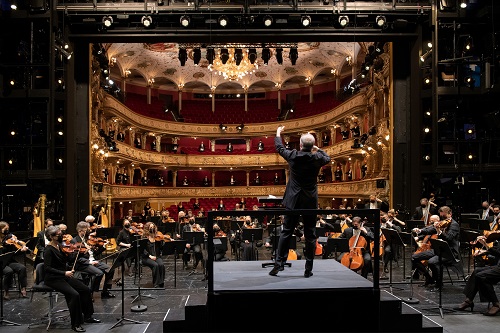 Brahms – Ein Deutsches Requiem Op.45
Picture this, if you can: the conductor at the very back of the opera house stage, orchestra in front of him (string players masked), facing him of course. In the stalls, roughly sixteen ladies of the chorus, socially distanced; the men in the dress and upper circles, again just sixteen of them – one to a box. The soloists took their place in the middle of the chorus; all within sight of the conductor – just. (Maybe they had the aid of screens). No audience, naturally. It looked rather weird; it sounded, well, spatial. In Switzerland, we are still many months away from 'normal' performances, whatever they might look like.
Although this is Fabio Luisi's final season as music director of Zurich Opera, this performance was conducted by the music director designated to take over next season, Gianandrea Noseda.
Brahms was not a religious man; he is described as an agnostic, a religious sceptic, but certainly a humanist with a spiritual side to him. His German Requiem is not a work in the form of a Catholic Mass (though it refers repeatedly to a God), offering prayers for the souls of the dead, but designed to console the living, those who grieve for their loved ones. In today's times, when deaths have sadly re-surfaced in appallingly large numbers and robbed families of dearest relatives, it was an opportune work to perform. Brahms wrote it in the aftermath of his mother's death – he travelled from Vienna to Hamburg when he heard his mother was gravely ill, but arrived two days too late to say his final farewell – and the death of his close friend, Robert Schumann.
In 1868 Brahms took the baton to lead a 200-voice choir and a large orchestra in the premiere of this work. By the fourth movement, many were in tears. Clara Schumann was in the audience. Brahms made his own personal selection of biblical texts for the work and set them to music in his native tongue rather than in Latin.
The work is a progression from darkness to light, although the opening 'Selig sind, die Leid tragen' (Blessed are they that mourn) is echoed in the final section 'Selig sind die Toten, die in dem Herren sterben' (Blessed are the dead who die in the Lord'); it amounts to a closing of a circle. There is no redemption however, simply rest.
I was keen to hear the young Russian baritone, Konstantin Shushakov – and he was magnificent. Hardly looking at the score, he delivered a commanding, virile, stentorian performance – with faultless German diction. Similarly German soprano Lydia Teuscher, standing in for Camilla Tilling, was all that one could wish for, crystal clear with her top notes, firm of voice and very moving in 'Ihr habt nun Traurigkeit'.
The chorus, given the paucity of their number, were more than competent and very well rehearsed; a greater number would have given the forte passages 'Denn alles Fleisch' (Behold all flesh is as the grass) and when the trumpets sound ('Zu der Zeit der letzten Posaune') in 'Denn wir haben hie keine bleibende Statt' more heft, more volume, more thrill; but listening to a major choral work through a computer screen or the television cannot give the listener the full effect of a live performance. The chorus was particularly impressive in the sotto voce passages and in the tricky and tiring 'Kraft und Ehre' section: they did not lack stamina, which they appeared to have in reserve. Top As presented no trouble at all for the sopranos and tenors.
The orchestra, ably led by Ada Pesch, were first rate; I hesitate to pick out any of the solo principals, but the eye and ear was caught by the principal oboe, Bernhard Heinrichs.
Because of the long distance between conductor and choir, Noseda had his work cut out at times to maintain ensemble, especially where there were changes of tempi. Noseda deftly brought out the elements of the piece, combining weight with sweet tenderness.
We were left to reflect on the meaning and message of this great work in these challenging times: it was a moving meditation on the sadness we feel when we lose someone we love.
John Rhodes