This season was to be a celebration of Christopher Hahn's twentieth anniversary with the Pittsburgh Opera. It was, but not as anyone could possibly have imagined a year ago.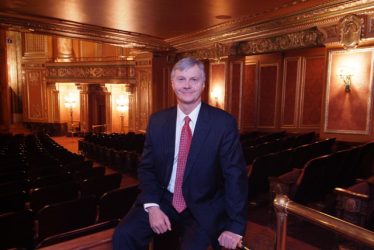 Hahn was appointed General Director of the Pittsburgh Opera in 2008, having served as Artistic Director since 2000. During his tenure, the company has been transformed. Productions of grand operas are still staged in the opulent Benedum Center, but Baroque and contemporary operas are also presented in two smaller venues, both of which seat hundreds instead of thousands.
Beyond expanding the company's repertoire, Hahn has shifted the focus from productions built around opera stars to creating an ensemble company with singers who return regularly to perform here. The loyalty works both ways, as the audience gets to know the singers and welcomes them back, eager to see them in new roles.
Many have come up through the ranks of the Resident Artist Program, which Hahn has expanded over the past twelve years. The productions in which they appear are the artistic equal of those presented at the Benedum. Vision and financial realities drove this evolution, but the result was an opera company with the resilience to weather the pandemic as well as any other in the US.
The virus was briefly in abeyance in October, and the company was able to present all six performances of an abridged Così Fan Tutti as scheduled, albeit with strict COVID-19 protocols in place and very small audiences. Nonetheless, Pittsburgh Opera managed to do something that no other US company accomplished during the pandemic: present an opera with an orchestra before a live audience.
Pittsburgh Opera has made a twenty-five-minute film documenting the staging of the socially distanced Così, which they have called COVID fan tutte, a term first coined and hash-tagged by Crystal Manich, the production's stage director. The documentary reveals what it took to make it happen with behind-the-scenes footage and interviews with cast, crew and others involved in the production. Months later, they are still exhilarated and a bit in awe of what they managed to accomplish.
(The interview has been condensed and edited for clarity.)
Rick Perdian: Where does Pittsburgh Opera find itself in 2021?
Christopher Hahn: The company has few options but a surprising number of new possibilities. There is the potential for reset, reimagining and embracing the fact that we are in a different time. Over the past several months, we have worked on staying connected with the audience and ensuring that our artists are getting work.
It has been a terribly difficult time for singers. They need structure, and they need to sing. That's been ripped away from them. We were fortunate to be able to employ our Resident Artists.
RP: What did you do when the reality of the pandemic hit?
CH: In mid-March, we were in staging rehearsals for Carmen. All of the artists were in town and were sent home. We also had to cancel the run of Norma, which was heartbreaking. For the first few weeks, dealing with cancelled contracts, ticket subscriptions and other administrative tasks absorbed all of our time, but we simultaneously figured out immediately how the company could swivel to digital.
Working frantically, we put together Intermezzo, a daily dose of operatic activity delivered on our Facebook and YouTube channels that featured video from past Pittsburgh Opera performances and serenades from our Resident Artists. The fiftieth and final one was on 10 May, which would have been the last day of our 2019-20 season.
We also reimagined the annual Maecenas Gala in a digital format. Instead of raising money, we wanted to lift spirits by celebrating the history of the company and its achievements through a retrospective documentary. Two awards were also given: Vincent Sarni, former Chairman of the Board and Chief Executive Officer of PPG Industries, received the Lifetime Achievement Award in honor of both his professional career and his philanthropic record; and the Renaissance Award was bestowed on me in honor of my twenty years with the company.
RP: When did you realize that the 2020/21 season couldn't go forward as planned?
CH: That was in June, but rather than cancel everything we came up with a concept to honor the Resident Artists' contracts and celebrate their strengths and talents. It was a natural extension of our ensemble approach. The singers would have to live in a bubble, but they would be able to perform.
We had to rework the season, keeping David T. Little's Soldier Songs and Charlie Parker's Yardbird by Daniel Schnyder & Bridgette A. Wimberly, and adding Mozart's Così fan tutte and Handel's Semele. The Mozart went off as planned, but the performances of Soldier Songs in December had to be cancelled after the dress rehearsal, and a video of it was streamed. The other two operas are both slated for later in the spring so, hopefully, the situation will improve, and they can go forward in some manner.
RP: How has the community responded?
CH: Their support has been extraordinary. Everyone frets about the loyalty of audiences and donors. Building connections with them is on our minds in everything that we do, and it's at times like this that you either sink or swim. Pittsburgh Opera's community of donors at all levels has responded with enormous generosity, ensuring that we can come back healthy and strong.
Pittsburgh Opera has a contract with the community; without their support, we have no permission to perform. Its response has made us double down on our commitment to bring opera to Pittsburgh: we have an obligation to pay them back.
RP: Your efforts in making Pittsburgh Opera more of an ensemble company paid off in spades during the pandemic, didn't it?
CH: 'Where are the stars?' is something I'm asked a lot, and I often respond, 'Who are the stars?' When a production is built around a star, there is an inherent unevenness in the casting that is less satisfying dramatically and musically: all of the focus is on the star. My focus has been to assemble the right team and develop the chemistry between them.
I have often sought out people who have the vocal chops, but haven't gone through the expected progression of roles. If a singer has the right sound and temperament, he or she can take on a role that some might think is too big or challenging. It has to be done in a structured way, however, and they have to have the assurance that they aren't going to be doing anything that is going to be damaging to their voices, but it has worked repeatedly.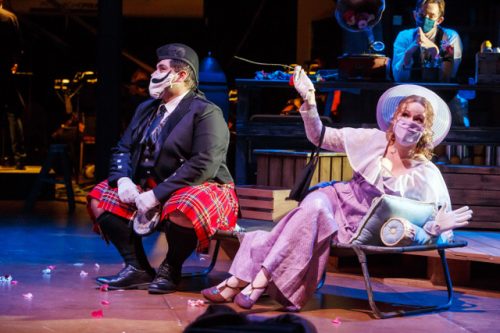 In the best of times getting an opera on stage is a miracle, and in this pandemic it seemed insurmountable. Against all odds, we managed to do it with Così fan tutte. Many people were involved and deserve credit for making it happen, but we were fortunate to have an ensemble of talented young singers to work with who made the production so authentic.
RP: What do you see changing on the other side of the pandemic?
CH: Our goal is to continue to provide as many varied opera experiences as possible. Everyone wants to get back into the theater, but we won't be returning to the pre-digital world. Digital's ability to embrace and entice a wider audience has been a boon. A lot of people have seen a digital offering and now want to experience an actual performance.
We will also continue our exploration of contemporary works and double down on our commitment to develop women stage directors. We need to be good stewards for the future of opera. There are lots of jobs in the theater, and people must be trained for them and introduced into the workforce. Pittsburgh Opera needs and wants to be a part of that.
Contemporary works will also continue to be important. The majority of people want to be exposed to something new. During COVID, composers have had a lot of time to work. We hope to give the world premiere of In a Grove by Christopher Cerrone and Stephanie Fleischman, which is still in development.
I am hopeful about the future, but we'll have to roll with the punches. Opera companies in the US have been good at that. They are very creative about how they approach things.
The big question is how will this go? If you plan too far ahead, you end up in a rut and can't respond when you need to. Since the financial crisis in 2008, the industry has moved away from booking singers so far in advance. I take a risk by delaying future planning as long as I can, but I want to be able to make changes if I have to. Being on the knife's edge like that, so to speak, is dangerous, but you can't be planning too far out. If anything, the past year has taught everyone that.
To view COVID fan tutte, click here.