United Kingdom Various, Hallé's Movie Classics: Nardus Williams (soprano), Sergio Castelló-López (clarinet), Petroc Trelawny (presenter), Hallé / Stephen Bell (conductor). Recorded (directed by Jonathan Haswell) on 10.12.2020 at The Bridgewater Hall, Manchester, and streamed on 11.2.2021. (JPr)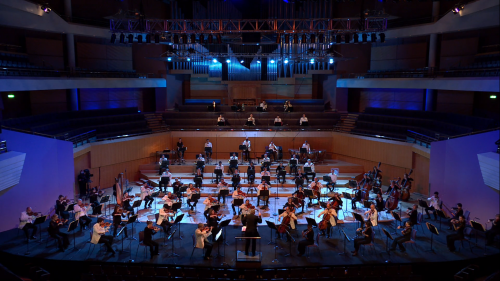 Verdi – The Force of Destiny, overture
Dvorák – 'Song to the Moon' (Rusalka)
Tchaikovsky – Sleeping Beauty, waltz
Handel – 'Arrival of the Queen of Sheba' (Solomon)
Ponchielli – 'Dance of the Hours' (La Gioconda)
Mozart – Clarinet Concerto in A major, K622 (Adagio)
J. Strauss II – 'On the Beautiful Blue Danube'
Purcell – 'Dido's Lament' (Dido and Aeneas)
Mendelssohn – 'Wedding March' (A Midsummer Night's Dream)
Elgar – Enigma Variations, 'Nimrod'
Verdi – 'Sempre libera' (La traviata)
Offenbach – Orpheus in the Underworld, overture
Not long before the country went into (yet) another lockdown the Hallé recorded this very pleasant concert entitled 'Movie Classics'. This is not classic film music, but classical music used by movie-makers for a very specific purpose. While presenter Petroc Trelawny put into their film context the works we heard, why they might have been used was best explained by the Hallé's Associate Pops Conductor Stephen Bell when talking to the orchestra's Permeant Guest Leader Paul Barritt. Bell said that it was because 'Directors knew exactly what they are getting musically. I suppose when you commission a film composer to write a score, until you hear it, until you put it together with what you have already filmed, you don't know exactly what the emotional impact is going to be. But obviously with all these pre-existing pieces of music you know what you're getting, you know the emotional impact of what you are trying to achieve.' Under discussion was the use of Elgar's 'Nimrod' in Christopher Nolan's 2017 Dunkirk. We learnt from Bell how Elgar's original was heard in Hans Zimmer's score as a 'fragmented version […] slowed right down to become even more atmospheric' and later that the director 'was quoted as saying he can't hear Enigma Variations – particularly "Nimrod" – without feeling the weight of his father's coffin on his shoulder'. It received a suitably elegiac account from Bell and the members of the Hallé socially distanced in front of him.
When you watch this you can access a full programme (click here) giving the background to all you can hear and it is not necessary for me to go into too much unnecessary detail which repeats what you can read for yourselves. The concert opened with the overture from Verdi's La forza del destino used by director Claude Berri for his 1986 films Jean de Florette and its sequel Manon des Sources. This is staple of galas such as this and was the rousing start we needed and showcased – amongst a number in the orchestra – eight brass players isolated in the choir seats of Manchester's The Bridgewater Hall.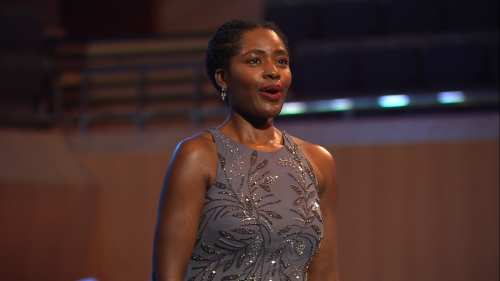 Dvorák's 'Song to the Moon' is from the opera Rusalka, as well as the 1989 Driving Miss Daisy and 2015 Departure films. It introduced us to the young British soprano Nardus Williams who revealed a warm rich – surprisingly mezzo-ish – register during her prayer-like aria. There was then a suitably lilting waltz from Tchaikovsky's Sleeping Beauty (used most notably in Disney's 1959 animated version of the classic fairy tale). Handel's 'Arrival of the Queen of Sheba' (Four Weddings and a Funeral, 1994) was sprightly whilst the Hallé's highly spirited 'Dance of the Hours' (from Ponchielli's La Gioconda) brought back memories of the balletic elephants, hippopotamuses, ostriches, and alligators in Disney's 1940 Fantasia. Also, who can forget Allan Sherman's 1963 comedy song 'Hello Muddah, Hello Fadduh'?
The Adagio from Mozart's 1791 Clarinet Concerto has been heard in several films and was given a mellow and meditative rendition by the orchestra's Principal Clarinettist Sergio Castelló-López. The very familiar 'Blue Danube' waltz features in a spaceship docking sequence in Stanley Kubrick's 1968 2001: A Space Odyssey. While waiting for composer Alex North to come up with something, Kubrick put together his own temporary score of classical pieces which in the end he stuck with. Apparently North never knew his music was wasn't to be used until he saw the film for the first time! The 'Blue Danube' from Bell and the Hallé was nice enough but lacked authentic Viennese schwung.
Another frequently used aria for film soundtracks is 'Dido's Lament' from Purcell's seventeenth-century Dido and Aeneas. Nardus Williams sang this magnificently and it was deeply affecting with her repetitions of 'Remember me' having an otherworldly quality. Williams thoroughly deserved Petroc Trelawny's approbation and how it had been an 'exquisitely heart-breaking rendition'. Williams later sang the challenging 'Sempre libera' from Verdi's La traviata (heard in the 1990 Pretty Woman and 1994 The Adventures of Priscilla, Queen of the Desert) with its stratospheric high notes. I hope Williams will forgive me -that as heard through my loudspeakers – she sounded more naturally a high mezzo.
A jaunty 'Wedding March' from Mendelssohn's A Midsummer Night's Dream is something else that has recurred in several films and as for me, I was reminded how its main theme was purloined by Wagner for his own one in Lohengrin! Finally, there was the joyous – and ultimately exuberant – overture to Offenbach's Orpheus in the Underworld which was the perfect choice for Baz Lurhmann's 2001 Montmartre-based Moulin Rouge. Under Bell's ever-encouraging baton several members of the wonderful Hallé had given virtuosic contributions here – as elsewhere during this concert – Barritt's violin of course, as well as Rosa Campos Fernandez (clarinet), Amy Yule (flute) and Nicholas Trygstad (cello).
Jim Pritchard
For more about the Hallé click here.