United States Vivaldi, Le quattro stagioni (The Four Seasons): Gil Shaham (conductor and violinist), Philadelphia Orchestra, recorded at Verizon Hall in the Kimmel Center for the Performing Arts, Philadelphia, in November 2020, and reviewed from a 6.2.2021 WHYY TV broadcast. (BJ)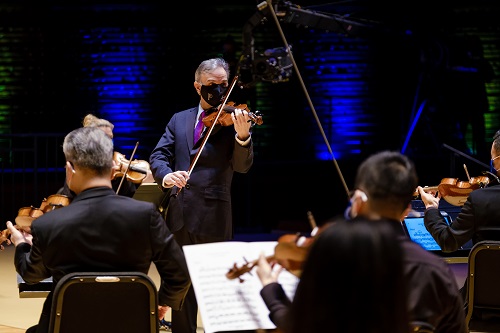 It would be both frivolous and foolish if I attempted to minimize the depredations that, aside from its wider social consequences, the pandemic has inflicted on our musical life. There is a magic in sitting in a concert hall and sharing communally with an audience the experience of direct contact with a great orchestra playing great music whether deeply inspiring or merely entertaining – and it is a magic that, like millions of fellow music lovers, I have sorely missed these last 12 months.
But along with that loss I have had the opportunity to experience music in a different way through modern technology, and thereby to find satisfactions and illuminations that are in their own way not inferior to those I have been enjoying in halls large and small for more than half a century.
The public television broadcast of a recent Philadelphia Orchestra performance of Vivaldi's Four Seasons, featuring Gil Shaham as conductor/soloist, was both satisfying and illuminating in the utmost degree. I cannot recall any previous encounter with this iconic set of violin concertos – even on an occasion when I was on stage to preface each concerto with a reading of the anonymous sonnet that heads it in the score – from which I have come away with so profound an appreciation of its greatness and so vivid a pleasure in its presentation.
With so many brilliant young violinists now dominating the musical scene, and older masters like Perlman and Zukerman still magisterially active, it is all too easy to forget about Gil Shaham, who belongs between those two groups – the TV transmission I watched was broadcast in the month of his fiftieth birthday. But to see and hear him in this truly magical performance was to be bowled over for the umpteenth time by his musical acumen, his sensitive understanding of the music's message, his still pristine technique and ravishingly pure tone, and his seemingly effortless gift for communicating in the most natural and charming way with both his audience and his fellow performers. On this occasion they included a fine harpsichordist named Avi Stein, whom I should very much like to hear more of. In regard to hearing the harpsichord, by the way, his instrument's silvery sound was beautifully balanced with that of the tutti strings, as was Shaham's solo line.
All of this was enhanced by the visual engineering, which focused the listener's attention skillfully but unobtrusively wherever, from moment to moment, it belonged through the course of this groundbreaking set of programmatic concertos.
And what a work it is! It celebrates with equally compelling penetration nature, humanity and the sheer splendor of music. Let me conclude by saying that I should think it a deprivation if I were never to hear The Four Seasons in the concert hall again, but that I feel immeasurably enriched by having experienced it in this enlightening form.
Bernard Jacobson