United Kingdom Night Owl Digital Concert – Luna: Graham Vick (narrator), David Le Page (violin/director), Orchestra of the Swan. Concert performed on 11.10.2020 at Stratford Playhouse, Stratford-upon-Avon, and can be streamed for free from 17 to 19.2.2021 click here. (CC)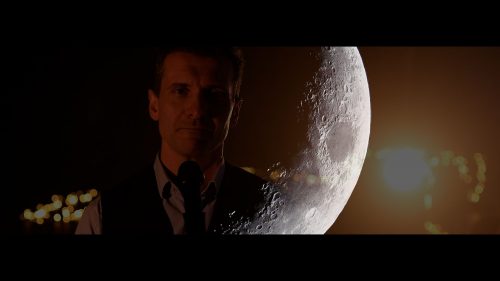 The wonderful Stratford-based Orchestra of the Swan alongside narrator Graham Vick present the latest in their series of films, Luna, devised and created by David Le Page and filmed and recorded at the Stratford Playhouse, Stratford-upon-Avon on 22 October 2020.
Beginning with distant sounds of the moon landing against titles ('A Night Owl Digital Concert'), Luna is OOTS's most recent streamed concert and is being made available free for everyone as part of Random Acts of Kindness Day, 17 February 2021, for 48 hours.
John F. Kennedy's speech (written by Ted Sorensen) at Rice Stadium, Houston, Texas on 12 September 1962 is excerpted, a plea for exploration without global conflict. As he speaks through the excellent narrator, aspirational and inspirational in his words, we hear an excerpt Philip Glass's Company, itself otherworldly music that takes us out of quotidian experience.
An excerpt from Moondust, Andrew Smith's book relating astronaut/moon walker Charlie Duke's experiences (and concerns about the diminishing numbers of folk alive who know what it is to see the Earth from the surface of the Moon) offers another viewpoint before an arrangement of Paul Simon's America by the OOTS's leader, David Le Page; some of the repetitive inner lines here surely linking back to the minimalism of the Glass, underpinned by some fabulous pizzicato double-bass playing from Claire Whitson and producing textures of miraculous cleanliness.
Interesting to hear Schoenberg's Verklärte Nacht (Transfigured Night) in a chamber arrangement for piano trio. It is fascinating how an arrangement can shed light on a work's materials: suddenly (around the 15-minute mark in the concert) we seem to be in the world of Schoenberg's Klavierstücke, Op.11. The sudden addition of bowed percussion takes us on a curve-ball path as Buzz Aldrin's words are superimposed over otherwordly harmonies.
When it comes to the trip home, it is David Le Page's Navigator that leads us back, deeply sonorous, richly melodic, welcoming, ushering in a more philosophical examination of our celestial neighbour and companion.
'How the moon was formed' traces possible origins of our satellite. Haydn's 'O Luna Lucente', an aria from Il mondo della luna is heard in a version for strings with piano. A full staging at the Royal College of Music in 2019 (review click here) acted as a reminder that one really should not ignore Haydn's operatic output; the arrangement is charming, Haydn's melodic flow unstoppable.
Andrew Smith's book Moondust sought to examine the effects of walking on the moon on those who returned … and as if to track the sense of turning round, we move from strings with piano to piano with strings: an arrangement of first movement of Beethoven's Piano Sonata in C sharp minor, Op.27/2 – 'Moonlight' – gentle and fragile; and how lovely to have a superimposed moon in all its cratered detail over the players. This is an intriguing choice, in that it reminds us that another of Beethoven's Piano Sonatas (E major, Op.14/1, 1798) was successfully transcribed by the composer for string quartet in 1801. On solo piano, we hear both 'Moonlight' and Op.14/1 as intrinsically pianistic; and yet the scores have the ability to bend with the wind, to convince in other garbs that illuminate that which we thought we knew.
Tahereh Mafi's famous The Moon is a Loyal Companion leads to a Fritz Kreisler arrangement of Frederic Knight Logan's Pale Moon, Le Page's lower register smoky, his stoppings forceful and true, his harmonics at the close heavenly.
A description of the Luna Maria (Seas of the Moon) brings a list of sea names is underpinned by a pulsing jazz riff leading into the main body of David Le Page's Shadow Falls, complete with some truly discombobulating camera work.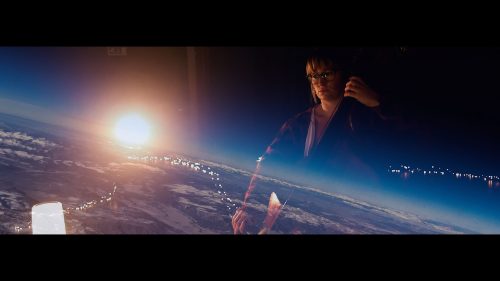 The Moon and the Yew Tree by Sylvia Plath (1932-63) overlaps with Debussy's Clair de lune – along with Beethoven's so-called 'Moonlight' the most expected of the music here, in a lovely performance by pianist David Gordon. Disappearing into more moon landing radio communication, David Le Page's Sea of Tranquillity takes over; 'One small step for man' is heard over the slowly evolving piece, as is a quotation from Alan Bean (the fourth person to walk on the moon) 'What did it feel like to walk on the moon?'. Photos of the utmost beauty of the earth from near space remind us of our place in the Universe … perhaps offering us a sense of perspective at a time when the world has a propensity to turn inward.
Simon Allen's recording and mixing offers an experience of fabulous presence. Do take advantage of this terrific opportunity to experience a full, phenomenally inventive hour-long film of the Orchestra of the Swan in action.
Colin Clarke